This is a new announce from Vembu Technology. Their product Vembu BDR 3.9.1 Update 1 is now supporting vSphere 6.7. It has been not so long time ago when we wrote about their latest release 3.9.1 which brought in the "Standard" release for SMB customers as well as many new features as well. Today, the Vembu BDR Suite 3.9.1 Update 1 supports vSphere 6.7 and is generally available(GA) and ready for download.
Just to recap what Vembu BDR suite is about? It's a data protection suite which can protect not only VMware vSphere and Microsoft Hyper-V workloads, but also physical systems (servers and workstations). Vembu does a backup as well as replication.
The previous release, 3.9.1, introduced a new Standard edition of Vembu BDR Suite, destined for small business. SMBs has still unlimited VM backup (no limits on the size of datacenter), fast VM recovery, Instant file recovery, granular recovery and much more, but it lacks some of the top-notch features which add more comfort and permit to do more with your data.
Note: Check our post – Vembu BDR Suite 3.9.1 Released With New Standard Edition.
Now, the 3.9.1 Update 1 brings awaited compatibility with vSphere 6.7, so it's only a maintenance release. No new features were announced in this update.

Vembu BDR can also replicate VMs – VM replication
If you're into replication, I'd suggest reading VM Replication for High Availability with Vembu BDR where you'll find out about VM replication. It does not need agents and still allows replicating even MS Exchange or SQL as it uses Application-Aware processing for Microsoft application VMS.
Microsoft Volume Shadow Copy (VSS) is used during the snapshots to create shadow copies by coordinating with business applications, file-system services, backup applications, fast-recovery solutions, and storage hardware. Vembu can failover and also failback (when you main datacenter recovers, you revert back to where you were).
Vembu BDR has also an efficient Deduplication – Reduction of storage size through global deduplication with variable length, block level, client-server based is used. It allows saving costs of bandwidth and storage space. With block level deduplication, the files are divided into chunks of blocks of variable size.
Those blocks are deduplicated so only blocks of different size are stored at the storage layer. Variable size of data chunks allows which can find more data to deduplicate, and thus allow better deduplication ratios.
To restore your VMs and (or) your data with Vembu BDR
The Vembu quick restore is fast because the backups for VMware, Hyper-V and Physical Windows Disk Image backups are stored at block level in a neutral format. (in a DB) and presents those backups through the Vembu Virtual Drive.
Vembu's file system called Vembu HIVE, which exposes every incremental backup as a virtual full backup. It means that not only that a restoration of a backup will not require a merging of all the changes to a previous full backup, but also that through Vembu Virtual Drive backup files get exposed as VHD, VHDX, VMDK-Flat, and RAW image files – at the same time. Those files are created (assembled from chunks) in seconds thanks to Vembu VHFS (Vembu Hive File System).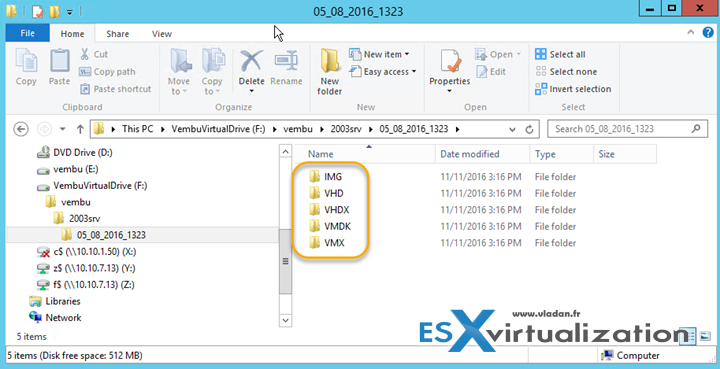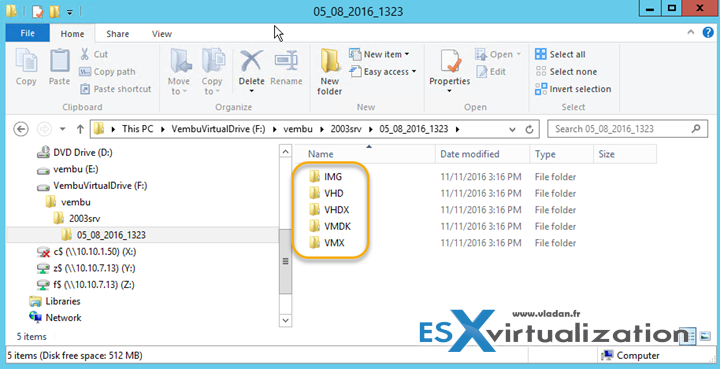 There are several techniques used to make the system very robust and efficient, such as deduplication or error correction. In fact, the system has built-in Compression, encryption, and deduplication, as well as auto error correction.
This allows instantly restore any incremental backup in any virtual disk format including VHD, VHDX, VMDK, VMDK-FLAT or IMG.

Additionally, Vembu BDR suite has traditional recovery features such as Instant Granular Recovery for Microsoft Exchange, SQL, SharePoint and Active Directory
Vembu Free Edition
Note: We have posted the details in this post – Vembu BDR Suite Free Edition – Details and Compare and you can check the details and compare at Vembu too. (things might have changes since I wrote about the free version too).
Basically, you get a lot for free. Plus, the features "reserved" for the "paid version" are limited for 3 VMs of your environment within the "free edition". Also, there is a discount of 50% for SMBs destined for customers running their environment with up to 6 CPU-Sockets. So you can get all features at half price if you're running for example Essentials or Essentials plus.
Vembu BDR has a web-based UI which is fast enough to get a seamless experience. You can access it from anywhere and you don't need any plugin in your browser. Check out Vembu BDR suite details here.
More about Vembu on ESX Virtualization:
Links:
More from ESX Virtualization:
Stay tuned through RSS, and social media channels (Twitter, FB, YouTube)