Vembu BDR suite 4.0 has been announced. The exact release isn't known yet, but shall be out sometimes next month – November. Vembu BDR suite 4.0 has some new features which we'll detail in this post.
We're slowly approaching VMworld Europe 2018 so I think that every backup vendor out there will be announcing lots of new stuff coming to their product line. And Vembu isn't different. Even if the product isn't released just yet.
We'll talk about their new features coming in their Vembu Backup and Disaster Recovery (BDR) suite 4.0, but also some of the highlights they do a different way then the other vendors. I think it's worth to look. Last, but not least, I think you already know that they also have a Vembu BDR Free Edition allowing you to protect 3 VMs within your infrastructure with incremental backups and more.
There are quite a few new features concerning Microsoft Hyper-V hypervisor. One of the new features of Vembu BDR 4.0 is a possibility to do a shared VHDX backup, which is basically a virtual hard disk that appears to guest cluster nodes as if it was a shared Serial Attached SCSI disk.
A shared virtual hard disk file between multiple virtual machines. Sharing a virtual hard disk file (.vhdx) provides the shared storage that is necessary for a Hyper-V guest failover cluster. It's also called a virtual machine failover cluster.
Hyper-V cluster backup – New in Vembu BDR 4.0, if you have Hyper-V cluster, you backing up a VM which runs within the cluster, and the VM is moved to another host within the cluster, the VM is still protected. (Honestly, I just discovered that this wasn't done yet, as it seems that otherwise only single Hyper-V running VMs would have been protected). Well, this is now done.
Checksum Based Incremental backups – Vembu uses change block tracking (CBT) for incremental backups. Every vendor does as this technology relies on VMware virtual disk development kit (VDDK) and uses vSphere storage APIs. In some cases, for some CBT failure cases, the Vembu BDR will be using CheckSum for the incremental to happen without any interruption.
Credential Manager –  Vembu Credential manager allows you to manage the credentials of the host and the VMs running in it. Pretty useful to keep your credentials stored by the backup server itself.
VM disk inclusion – Previously, after the initial full backup, the newly added disk of the VM is backed up only on the next additional full backup. From v4.0, the newly added disk will be backed up along with the successive incremental.
Illustration photo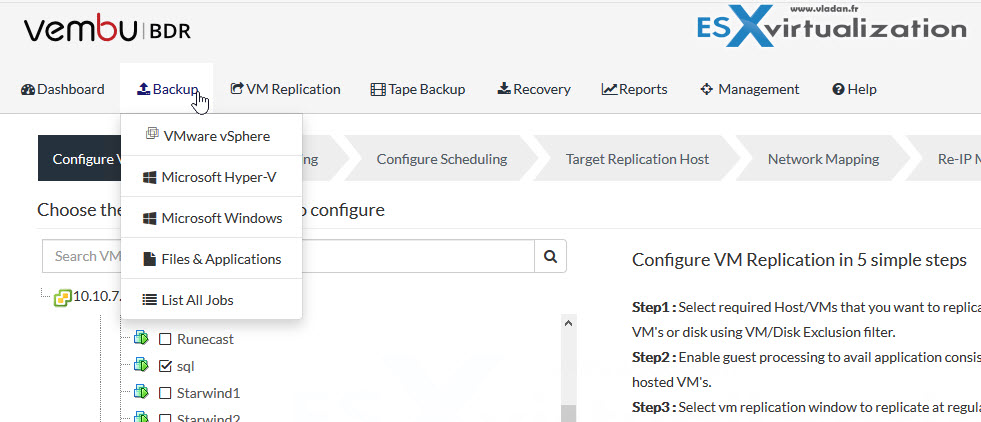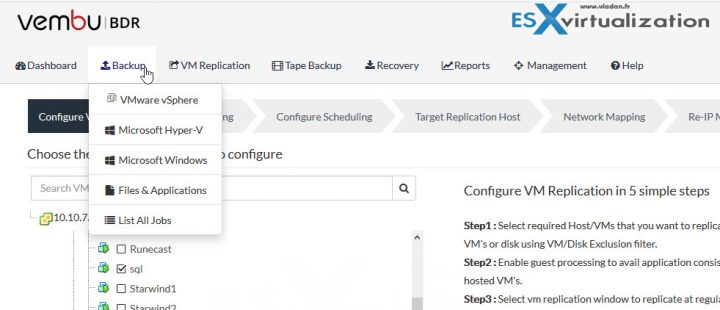 Then there are many new enhancements as well. Here are some of them:
New API's to fetch storage details –  There is a new set of APIs which gives a detailed report on storage utilization like the size of the VM, storage space utilized by a backup job, compression rate etc.
Virtual hardware selection –  You can now configure the specification of the Virtual Hardware during the live recovery like the socket and core counts, memory, hard disk provision type, and network adapter.
Quick VM Recovery report – Now it's possible to get a report for Quick VM recovery process with details like VM Name, Recovery point, Start and End time, target hypervisor and the status of the recovery.
Improved Application-aware for Hyper-V Backups – For all Hyper-V VMs, you can individually select the VM to which you want to enable Application Aware processing.
Our previous articles about Vembu BDR suite, including VembuHIVE shows that they do things quite different when it comes to storing backed up data. This allows those data to access faster and different manners. For example, it's quicker to have the recovered disks ready when they are "built" by assembling metadata and ready to go rather than copying or moving things around.
Vembu quick restore can be fast because the backups for VMware, Hyper-V and Physical Windows Disk Image backups are stored at block level in a neutral format. (in a DB) and presents those backups through the Vembu Virtual Drive. This allows instantly restore any incremental backup in any virtual disk format including VHD, VHDX, VMDK, VMDK-FLAT or IMG.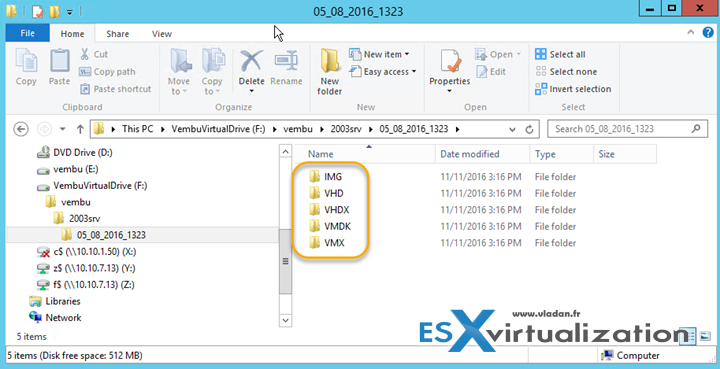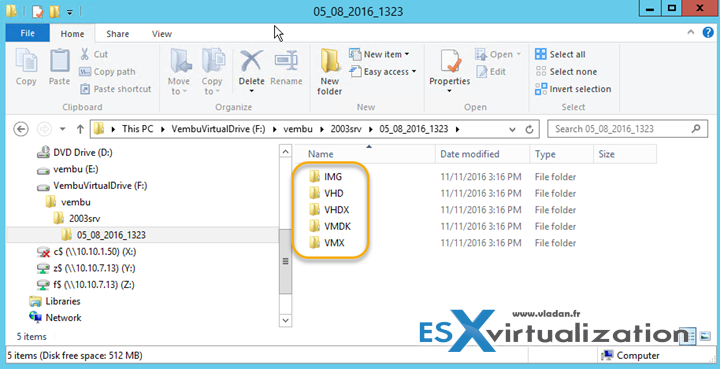 The technology behind this is called VembuHIVE.  The backup application can instantly associate the data in VembuHIVE to any file system metadata. It can read the image file directly without mounting it. It has built-in versioning and error corrections.
It is an efficient cloud file system designed for large-scale backup and disaster recovery (BDR) application.
Vembu BDR Free Version is a full-featured version which is limited to 3 VMs within your environment. This is a smart move as it allows you to test different functions you might need, for few VMs, and then decide by yourself, whether it fits your needs or not.
Check out Vembu BDR suite details here.
More about Vembu on ESX Virtualization:
More from ESX Virtualization:
Stay tuned through RSS, and social media channels (Twitter, FB, YouTube)