VMware is announcing a lot during this year's VMware EXPLORE 2023 in Barcelona. One of the first announcements is within the AI space where we can see a shift trend this year towards more of a Generative AI used in Marketing, customer operations, sales, legal, human resources, software development, finance, IT, or manufacturing.
The market estimate in this space is around 4.4 Trillion so you can see a tremendous value here.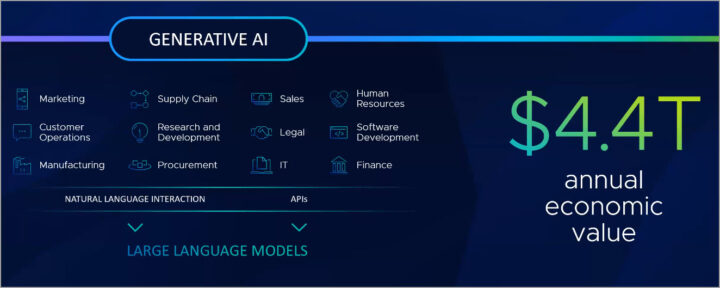 One more aspect that is interesting is the Privacy within the AI, and it's privacy to be the core value.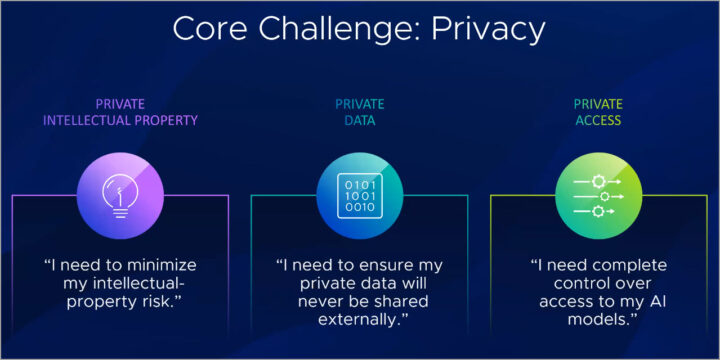 The private AI addresses key enterprise requirements. The space is moving too fast so organizations are not betting on a single solution. The services can be run internally in VMware which helps to keep costs down.
VMware is partnering with Intel and Watsonx for Private AI
Here are some of the core challenges and news.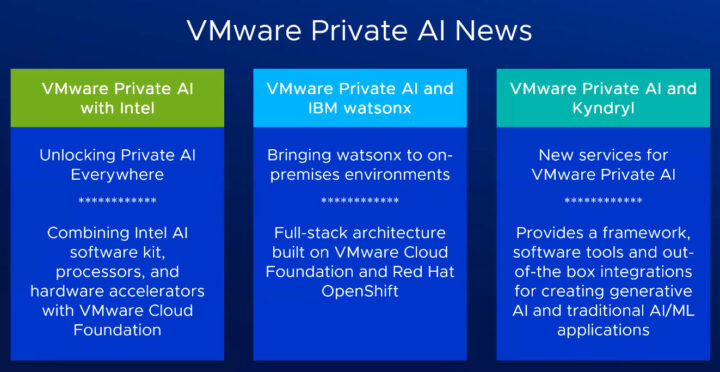 And on the next slide, we can see the new Private AI ecosystem as a whole. VMware is announcing a reference architecture with Intel hardware as well as the Intel software suite, for Private AI. All this running on VMware Cloud Foundation.
There is a number of really important capabilities that you're getting from VMware with Cloud Foundation the usual common concern from clients is the availability of CPU or GPU capacity and the core benefit from VMware is to intelligently schedule the resources to applications that might need them.
VMware showcases the 4th-generation Xeon processors with great performance with less than 100ms queries with AI.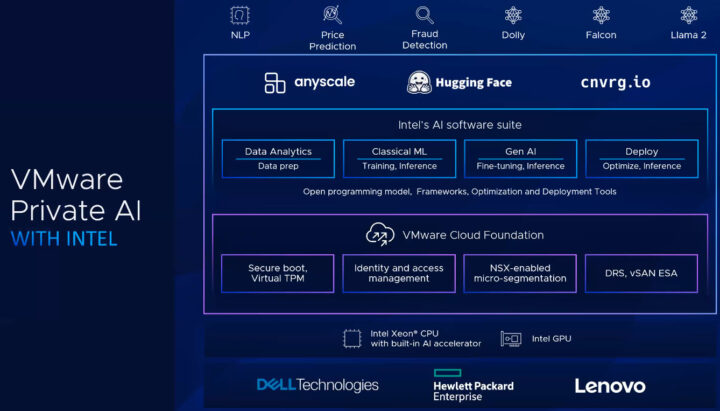 VMware Private AI with IBM and WatsonX.
The Watsonx service will be able to run on-premises within the VMware Cloud Foundation. A number of customers have a desire to run the WatsonX service on premises whether they do business.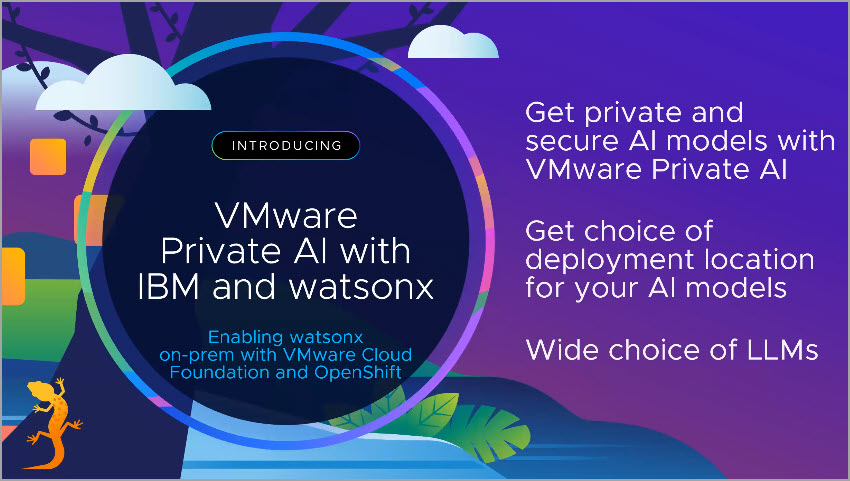 Wrap-up of the AI section
Private AI will become the default architecture for enabling GenAI in the Enterprise.
VMware Private AI brings compute capacity and AI models to where enterprise data is created, processed, and consumed.
VMware Is quickly expanding its open ecosystem to enable flexibility and choice in adopting Private AI.
VMware Cloud Innovations
VMware Cloud Foundation 5.0 has already been announced in Las Vegas, with 3x faster upgrade times, 10x faster speed of operations, 60% workload domain capacity for greater scale.
With VCF 5.1 which will be released in a few weeks, VMware expand this even more with 2X GPU capacity, 4x storage performance boost (vSAN Express Architecture), and also Policy enforcement and self-service VPC (via NSX).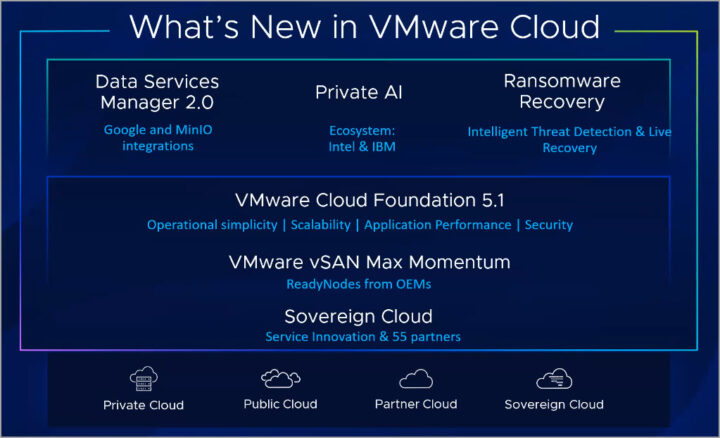 vSAN MAX Update
Customers can extend their storage scale up to Petabytes. They can independently scale storage from their compute workloads, provide a huge increase in performance, and reduce cost by up to 30% for their modern DB.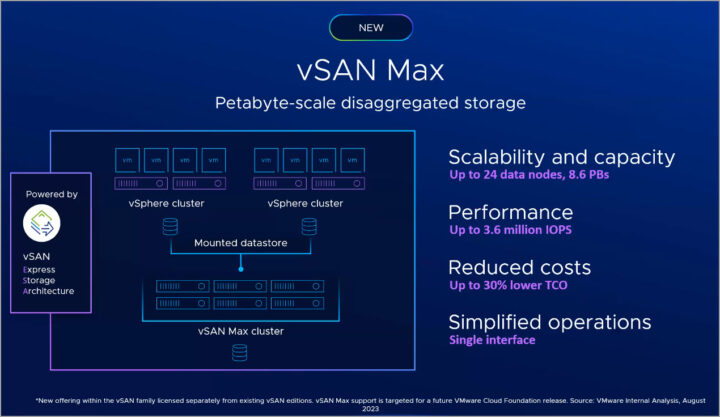 In Barcelona, VMware announced new vSAN MAX Certified Ready nodes from Dell, HPE, Lenovo, Cisco, Supermicro or XFusion.
Data Services Manager 2.0 Release
More than 25% are DB services workloads.
The Data Services Manager 2.0 is built natively in the VMware Cloud Foundation (VCF). You can now provision data services and databases with instant-clone technology. This use to take hours, but now it takes minutes.
VMware Tanzu with PostgreSQL and MySQL is now supported also with Google AlloyDB Omni.(for 2x performance Up for traditional DB, and 100x Up performance for analytics. (when the DB runs on vSAN ESA.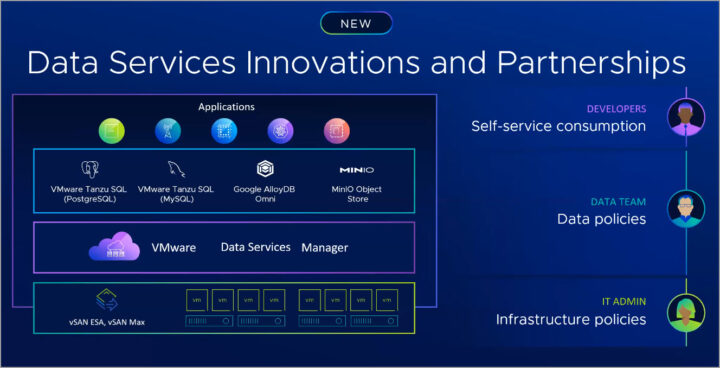 Ransomware Recovery
VMware Ransomware recovery is now enhanced with Intelligent Threat Detection.
Proactively detects hidden ransomware in their running snapshots. (before ransomware starts to encrypt their data).
Analyze offline data for encryption events.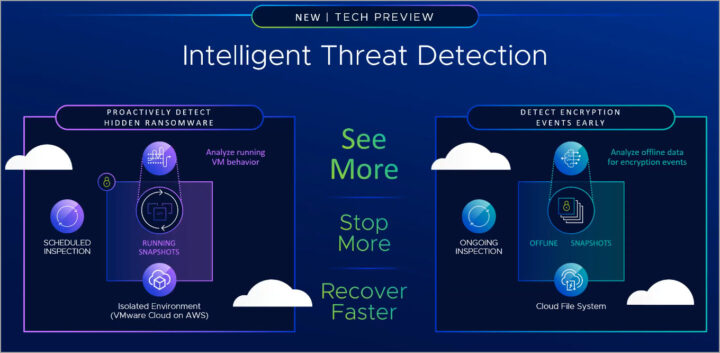 VMware Live Recovery – is now a single solution (single subscription offer), helps to protect and recover whether you're hit by ransomware.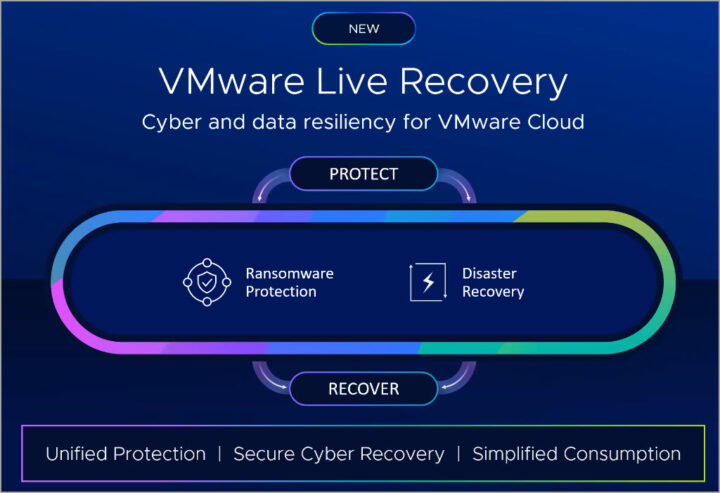 VMware Sovereign Cloud News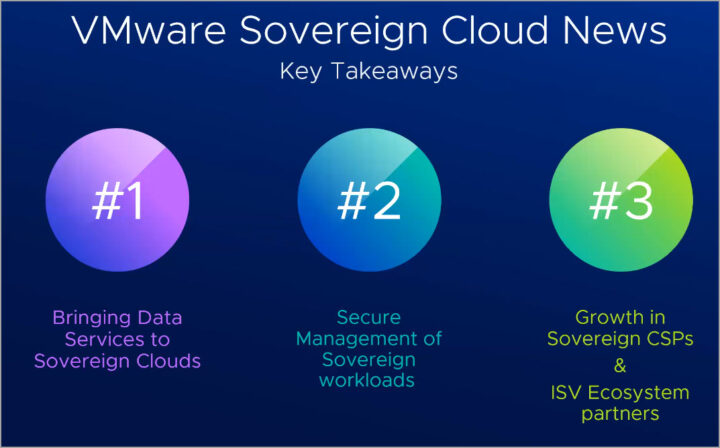 Newly this space joined with NetApp (for StorageGRID Object Storage ) and Thales (CipherTrust Bring Your Own Encryption Key Management) solutions.
VMware Tanzu Announcements
VMware Tanzu Application Services is a single unit that gives you everything from development services to a secure supply chain to offer a complete manage platform that you can build applications rapidly. Cloud foundry-based service. There is a built-in AI/ML tile that helps build AI/ML apps and connect to trained LLMs (Beta).
There is an enhanced Postgres tile
Enhanced platform cost efficiencies and DR workflow automation.
Oracle Cloud VMware Solution Availability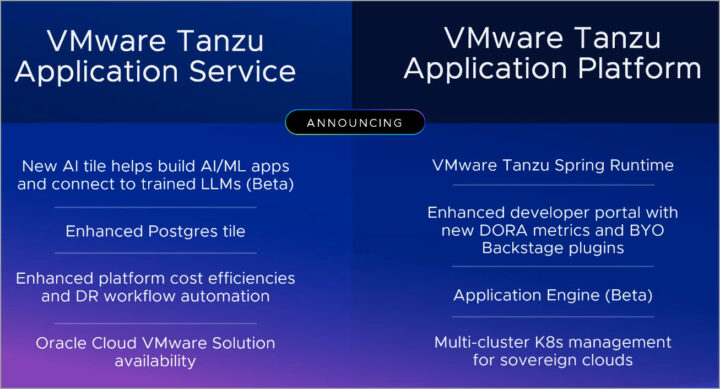 VMware Tanzu Application Platform
VMware Tanzu Spring Runtime
Enhanced developer portal with new DORA metrics and BYO Backstage plugins
Application Engine (Beta)
Multi-cluster K8s management for sovereign clouds
The Tanzu Application Platform is where many of VMware products were taken and unified into.
Tanzu Application Engine – creates application space on the top of Kubernetes that allows you to define availability, compliance, encryption and with a click of a button you can import that across your applications and Kubernetes environments.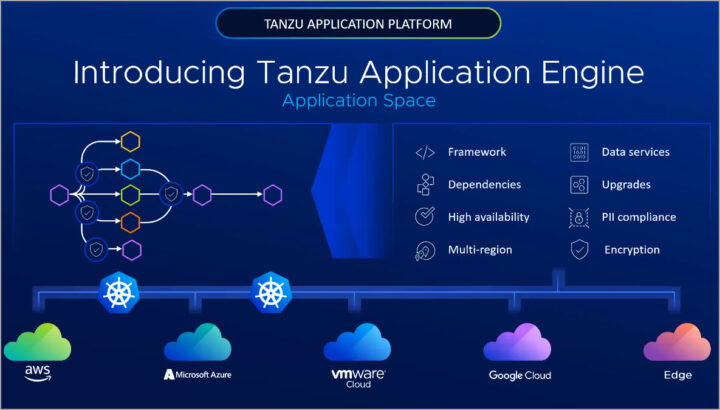 Example of DORA metrics intergrated into development portal.

Spring
Spring runtime subscription included in the Tanzu platform
Spring AI project adds genAI functionality
Tanzu Spring Health Assessment
Spring Consulting
Spring Boot 3.2 and Spring Framework 6.1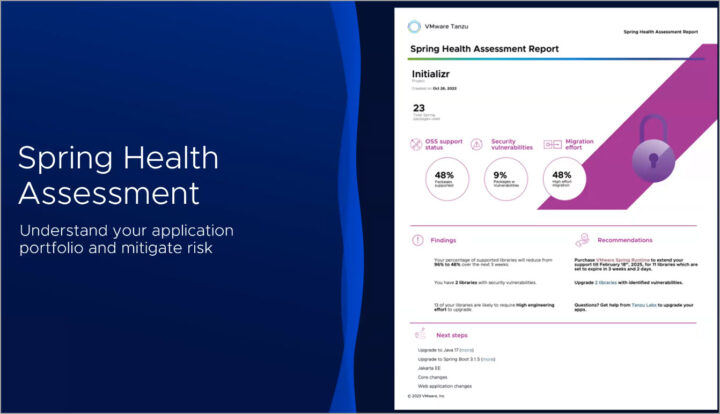 Tanzu Data Services
Multi-cloud multi-K8s data control plane with Tanzu Data Hub (Tech Preview)
Data messaging for IoT and Edge apps with RabbitMQ
High-Speed data ops for genAI with GemFire
Automated ML learning agent (Beta) with Greenplum
Tanzu Intelligence Services
Greenops (Beta) and deep K8s costing in CloudHealth
Expanded governance visibility in Guardrails
ML-Based Insights and Hub Integration
Intelligent Assis in Hub (IA)
Multi-Cloud app transformation in Transformer
App Catalog security enhancements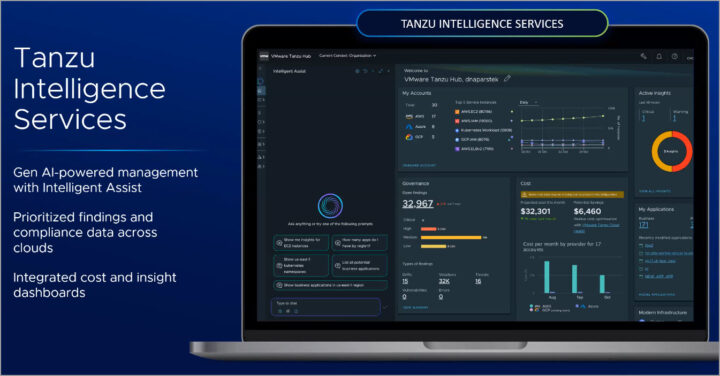 Tanzu accelerates application delivery with the possibility to develop, operate, and optimize next-generation apps on any cloud. Tanzu platform is optimized for enterprise Spring Applications, cloud-native, and brings ML/AI capabilities into the platform seamlessly for platform engineering to serve app development teams.
Tanzu data services have updates for ML/AI and Edge/IoT use cases with high performance, and the best possible user experience.
Tanzu Intelligence services provide visibility and deep insights with ML/AI-aided assistance to proactively optimize and govern cost, and performance, and expand to GreenOps reporting and control (beta).
Software-Define Edge (SDE)
SDE – running distributed digital infrastructure for running workloads.
VMware is announcing a new VMware Edge Cloud Orchestrator Telemetry capability for insight and visibility into edge workloads.
Announcing Intelligent Assist for the VMware SDE, to simplify operational experience across multiple stakeholders.
New Workflow hub for VMware Telco Cloud Automation.
Unifying technology partner ecosystem into a software-defined edge ecosystem, and integration with Symantec to enhance Security.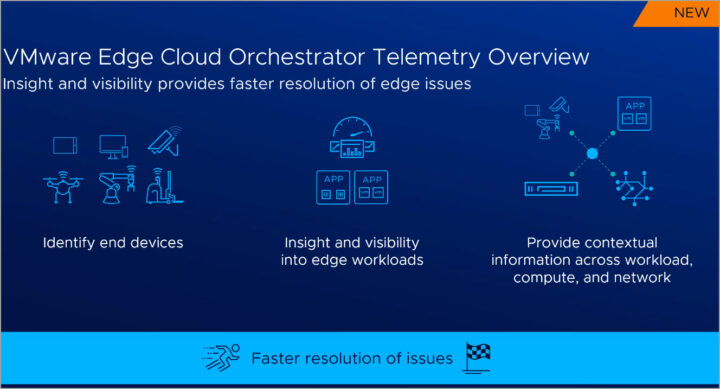 VMware EUC announcement
MAC management is coming….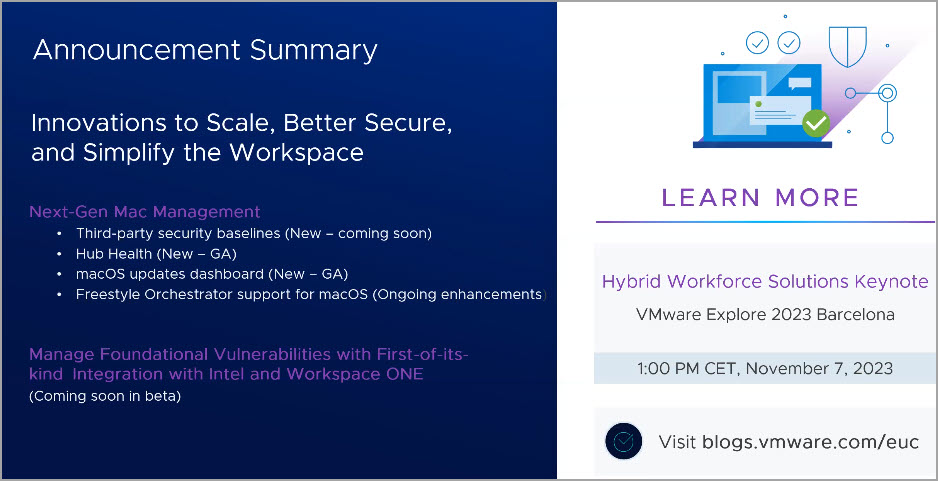 And much more…. stay tuned for more articles from Barcelona and VMware EXPLORE 2023. ESX Virtualization blog is present and we'll be doing some interesting partner video interviews with DEMOS in the solution exchange today!
More posts from ESX Virtualization:
Stay tuned through RSS, and social media channels (Twitter, FB, YouTube)