It's been several months since VMware hinted with a new release of VMware Workstation 16 and Fusion 12. It was during the last VMworld that we saw Hyper-V Mode at the same time as VMware nested virtualization running at the same time.
Both products were also announced through VMware blogs earlier in August but many people were on vacations. VMware Workstation 16 and Fusion 12 are getting more parity features. They're like 90% identical with the parity feature set. This wasn't the case before but VMware was willing to bring all features on both products so it follows the product roadmap.
Top of the list is bringing Kubernetes and Containers to Workstation for Windows with the CLI 'vctl' command.
New pricing! (VMware Workstation is now Cheaper!!!)
Quote:
Workstation Pro has undergone some changes as well. Firstly, the upgrade and new license pricing are now  $99 for existing customers, or $199 for new customers. For individual customers, are also now licensing Workstation for use on up to 3 personal devices. And now, those devices can now also be a Mac by simply applying your Workstation Pro license key in Fusion Pro.
New Features in VMware Workstation 16:
Hyper-V Mode – Support for Windows Hyper-V Mode
Increased VM scale – 32 vCPU, 128GB RAM, 8Gb VRAM
Vulkan Rendering Engine on Linux Hosts with integrated Intel GPUs
Supports the latest Windows 10 and major Linux OS updates
DirectX 11 Graphics – DX11 Games and graphics
Container Support – possibility to work with Kubernetes environments on the desktop. Run, Build, Push or Pull OCI Containers With vctl
Enhanced Security – Sandbox Graphics Rendering Engine
vSphere 7 compatibility and support (nested ESXi 7 template)
USB 3.1 Gen 2 support
Improved Accessibility Features
Dark UI mode
Performance Improvements around VM operations and File Transfer

Quote from the product page:
Workstation 16 Pro improves on the industry defining technology with DirectX 11 and OpenGL 4.1 3D Accelerated graphics support, a new dark mode user interface, support for Windows Hyper-V mode on Windows 10 version 2004 and greater hosts, a new CLI for supporting containers and Kubernetes clusters: 'vctl,' support for the latest Windows and Linux operating systems, and more.
The product is available for download.
During the upgrade on my system, I noticed a new checkbox there….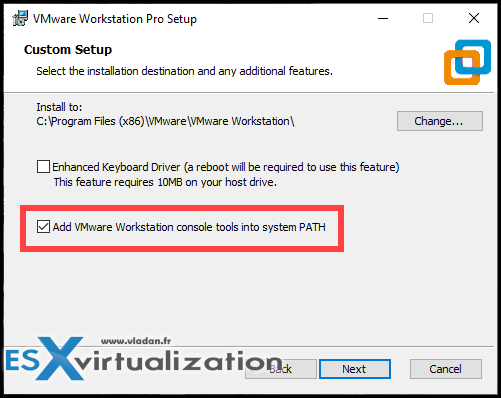 And the new dark theme option is in the Settings…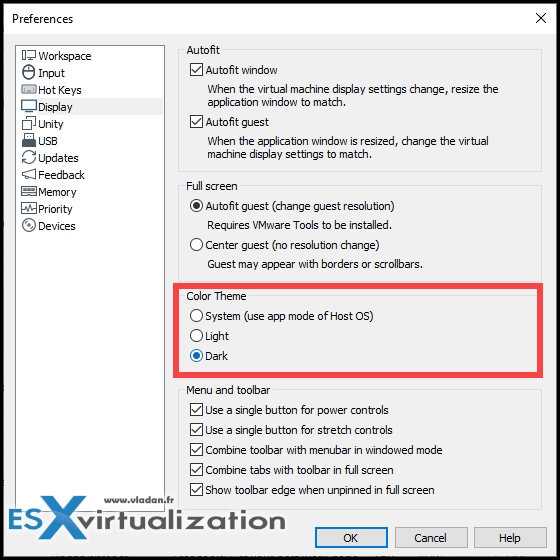 and here is a screenshot from the new VM creation wizard which has vSphere 7 as an option. Note the Workstation 16 hardware compatibility which brings new virtual hardware…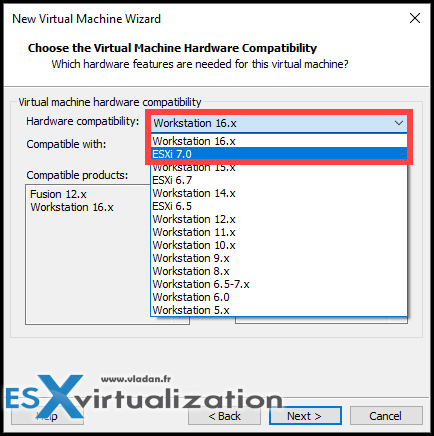 VMware Fusion 12 What's New?
New OS and Hardware support (Windows 10, MacOS 11.0 "Big Sur"
Container support – new command line tool for containers: vctl
DirectX Graphics – up to 8Gb of vRAM (also added eGPU support)
Enhanced security with sandbox graphics rendering engine
vSphere 7 compatibility (Pro)
USB 3.1 gen 2 support
Improved Accessibility features
So what are you waiting for? Upgrade or shop for a new version if you don't have a Workstation yet. It's the best desktop virtualization software out there -:)…
Links:
More from ESX Virtualization
Stay tuned through RSS, and social media channels (Twitter, FB, YouTube)