I think that VMturbo needs closer look as it seems that fairly often they're put into a "monitoring" solution basket. That's not what they're doing. Of course they monitor the virtual infrastructure, but only to be able to take corrective actions so the application can perform in state where its performance is not degraded.
They can deep dive across your entire IT stack to find that your SQL, IIS or other application runs in not optimal state, and provides you with actions which are configurable to be executed automatically, during off-business hours or not at all. (just alarming you).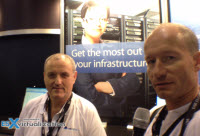 VMturbo Operations Manger can right-size the VM (up or down). There is some magic behind the scenes. For example concerning the CPU. In case there is performance problem and there is not enough CPU power during some time period. Automatically the VM can be right-sized, to match the workload.
Or the other way around. When a VM does have 2 vCPUs and there are wasted resources (high CPU ready time), so the VM gets re-configured with a single CPU only so the CPU cycles are not wasted.
The same concerning memory. To optimize memory, VMturbo can right-size the VM, to fit the needs and the workloads. The system is continuously monitoring the infrastructure in order to take corrective action.
They do much more than that. Not only they support multi-hypervisor platforms, they can also provision hosts automatically in case you need more CPU power in your cluster…
I've met Shmuel Kliger, the VMturbo's founder, during my VMworld Barcelona 2013. Here is the short video from the show.
I've installed VMturbo in my lab to quickly show the UI, you can find the post here. Multi Hypervisor Free Monitoring Tool from VMturbo – Virtual Health Monitor. The free tool does monitoring only, but it installs as 30 days Full product trial, so you can play with it during 30 days to see what it does.
VMworld Barcelona 2013 coverage:
The article was published first at ESX Virtualization website. Feel free to subscribe via RSS or by e-mail to get the latest news to be delivered via weekly newsletter.