There are many options when it comes for backing up file shares within your company's environment. There is a variety of tools and solutions, but I think that consistency and security should be key values to keep in mind. What if that X software tool does not provide enough security or scheduling options? What if your existing backup solution does not fit your needs? Or what if your existing solution just got better?
That's the case for Nakivo Backup and Replication which has released an interesting update that provides not only virtual, physical, or NAS backup, but also a file-share backup possibility. Your file share can now be protected by Nakivo backup on a daily basis. You can store your backups pretty much everywhere, even on a highly secured Linux host with immutability –How to configure immutable backups with Nakivo.
You can back up file shares or specific folders within file shares on NAS devices and recover the entire share or specific files. The feature supports backup and recovery of file shares using the NFS and SMB (CIFS) protocols on NAS as well as Windows and Linux file servers.
The backup of file share is periodical and incremental so only first full backup, then incrementals. The restore screen shows below.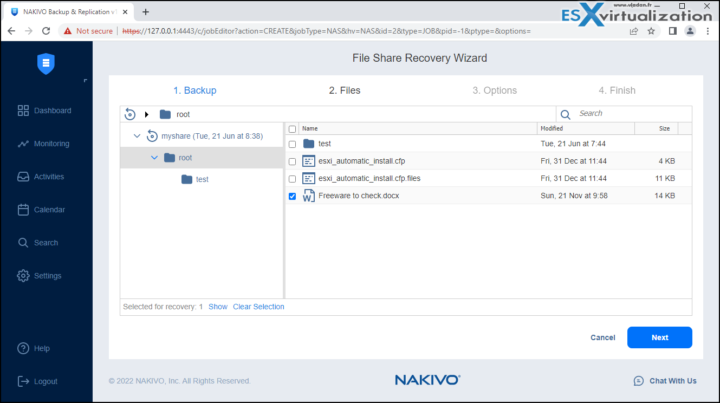 Nakivo Backup and Replication file share backup – How do I setup this?
First, you need to add the file share you want to backup, to the Nakivo inventory. Go to Settings > Inventory > Add New File share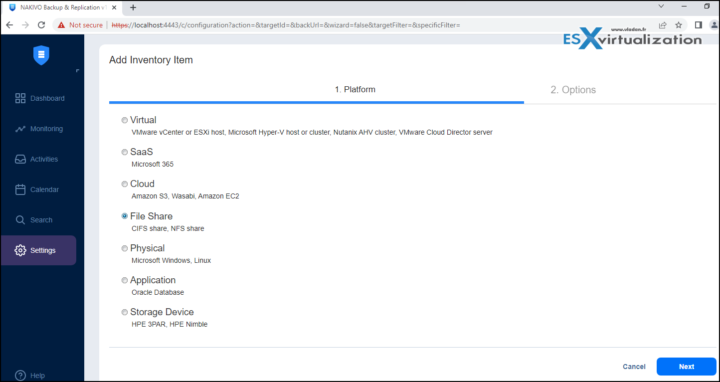 Click Next and enter your file share details, such as connection type, path to the share, username and password.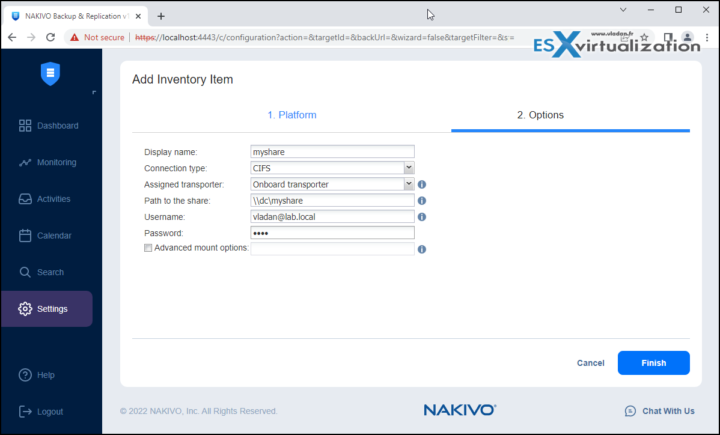 Your file share should appear allow with other inventory items.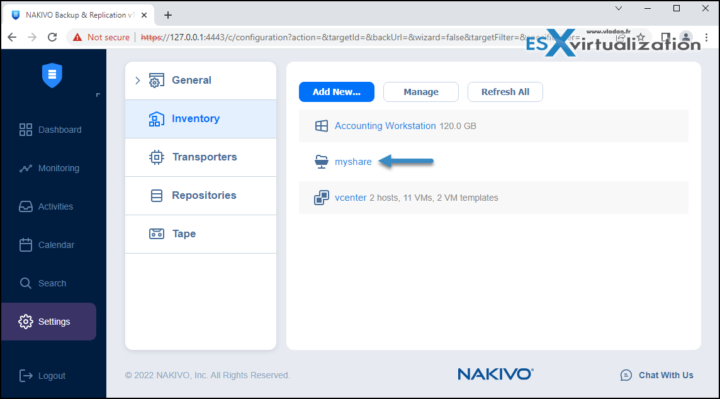 Like this…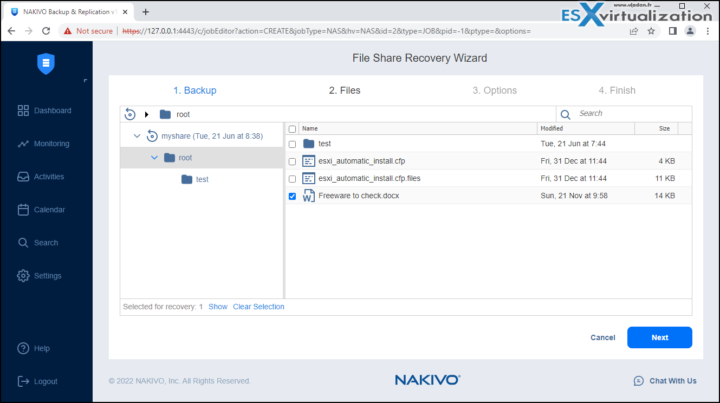 Then only you can create a new backup job and use the link (which is otherwise grayed out) for file share backup.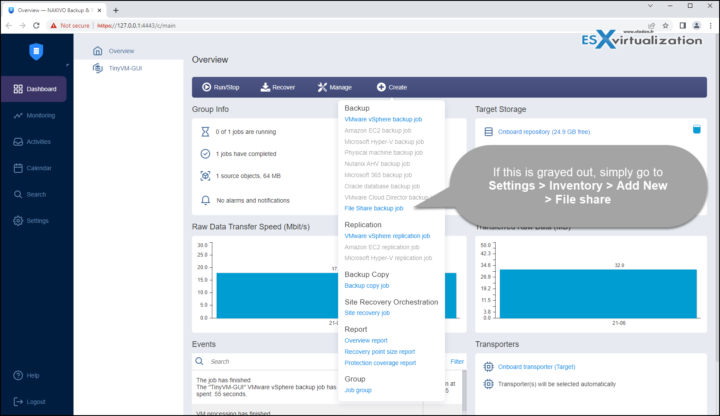 The rest of the screens of the wizzard are pretty much the same. You'll have to specify the job's name, schedule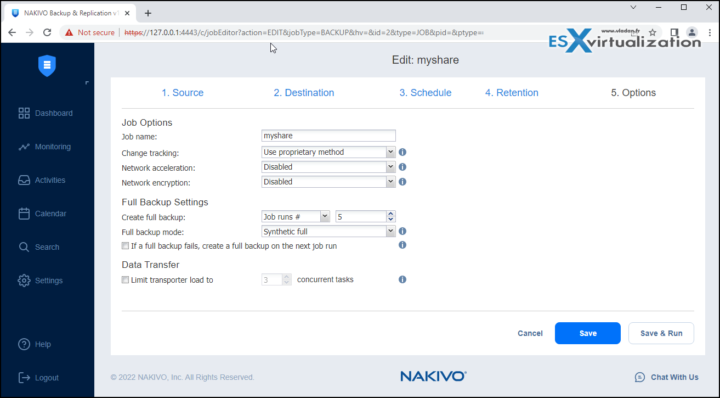 Backup of the file share is not possible to the following destinations:
Backup repositories in Amazon S3
Local type backup repositories that have backups with immutability enabled
SaaS backup repositories
Backup repositories in Wasabi Hot Cloud Storage
Deduplication Appliance (HPE Catalyst, Dell EMC, NEC HYDRASTOR)
Setting Different Backup Repositories for Shares
To back up the selected shares to different backup repositories, follow the steps below:
Click Advanced setup.
In the share boxes, choose a different backup repository for each share individually from the Destination drop-down list.
Note: You have to have setup a second backup repository first.
Screenshot from my tiny lab setup….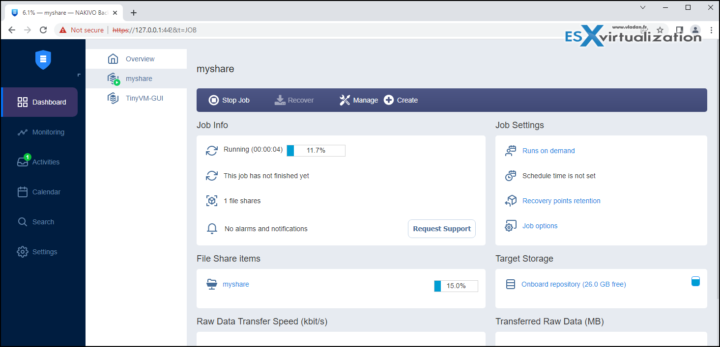 What else is new in Nakivo Backup and Replication 10.6?
Hardened AMI – The Hardened AMI feature offers an efficient way to safeguard data against ransomware and accidental deletion. Deploy the solution as an Amazon Machine Image (AMI) running Ubuntu Server and protect backups sent to the repository deployed as part of the AMI against ransomware.
Microsoft 365 Groups Backup – Ensure seamless protection for Microsoft 365 groups against data loss and downtime. Back up and restore group mailboxes (including mail, files, and OneNote items) and group sites (including document libraries, lists, and subsites).
External Database for NAKIVO Backup & Replication – For large environments, the built-in database in NAKIVO Backup & Replication can get corrupted or overloaded, causing significant workflow disruption and delays. In such cases, use an external database for the solution to make data protection even more reliable and seamless for large infrastructures.
Backup from Nimble Storage Snapshots – Data protection activities require extra bandwidth and increase the load on production environments, especially when large volumes of VM data are processed. This newly-added functionality lets you back up VMware VMs hosted on a Nimble storage device from storage snapshots instead of regular VM snapshots. This approach can lower the additional impact from backup and replication activities on production.
Wrap UP
As you can see, it takes only a few min to setup a backup job for file share. If you want to secure your backup infrastructure and make your backups more resillient against ransomware, you should definitely check how to configure immutable backups with Nakivo. You can also send your backups to Amazon S3 repository whcih also handles immutability via Object Lock and also supports versionning.
Via a single web-based interface, Nakivo can handle most of your enterprise backup needs. Whether you need to backup some of your physical workstations or laptops, your virtual infrastructure running small VMware or Hyper-V cluster, or file shares. Nakivo can be deployed pretty much everywhere, including some compatible NAS devices.
Download trial:
You can download NAKIVO Backup & Replication Trial.
More about Nakivo on ESX Virtualization
More from ESX Virtualization
Stay tuned through RSS, and social media channels (Twitter, FB, YouTube)