StarWind Virtual SAN (VSAN) Linux version for VMware vSphere has some different features that the Windows-based version for Hyper-V. In this post we'll have a look at some of those details. I assume that our regular readers already know StarWind VSAN as we have published many articles detailing the solution.
For those of you who are new readers here, it's important to know that StarWind VSAN can be deployed on VMware vSphere or Microsoft Hyper-V as 2-Node or 3-noder (or more) configuration assuring High Availability (HA) for storage. The shared storage created by StarWind VSAN and In case one server is down, the remaining host is still providing the shared storage (mirror).
StarWind can even be connected via direct connection for 2-node setup saving you additional money on 10Gb switch.
The deployment in VMware vSphere environment is fairly simple. Just download the VSAN Linux appliance from the StarWind website then open the VMware vSphere Client to deploy new OVF template.
StarWind can do 2-way or 3-way replication (synchronous mirroring) which does not require storage redundancy on nodes since 3-way synchronous mirroring already ensures the required level of data protection. It means that you can basically achieve the best performance of the underlying storage (via RAID0) as the redundancy is ensured via starwind synchronous mirroring.
Synchronous mirroring between 3 storage nodes has in 33% usable capacity and as such, it provides a higher level of utilization compared to 2-way synchronous mirroring.
To give you an idea of how it looks like, here is the architecture overview from the Starwind website.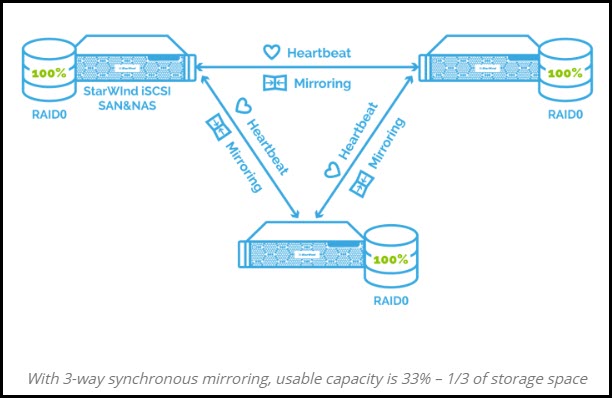 Note: A few months back I blogged about the fact that StarWind HyperConverged appliances are All-Flash only.
StarWind Linux Based VSAN features
Management – Web-based or Thick client management (on Windows management workstation). Also via Powershell
Caching – RAM and Flash cache
Virtual devices – ImageFile, VTL
Replication – 2-way or 3-way replication, VTL replication to the cloud
Hybrid Cloud – Yes
Stretched Clustering – Yes
Licensing – StarWind only (no need Windows license to install to).
The Hyper-V release uses Windows Server as a host, so it's a traditional Windows-based installer.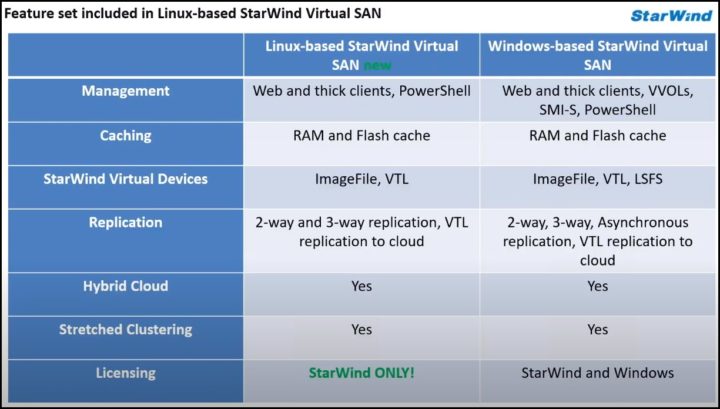 The Linux based VSAN is based on Debian distro.
Veeam Backup & Replication integration via StarWind Command Center
If you buy StarWind as a Hyper Convergence Appliance (HCA) you'll find out that part of the solution is also StarWind Command Center. It is single-pane-of-glass management for the whole solution.
StarWind Command Center has also a complete integration with Veeam Backup & Replication allowing to monitor and manage Veeam backup jobs directly from the console.
StarWind HCA comes for the price of a hybrid. Instead of buying an array of expensive hardware to update your existing one, you can invest in an option that will dramatically decrease your TCO, increase ROI, and ensure infrastructure stability and high performance
So the solution is a perfect fit for ROBO and SMB and can be also coupled with vSphere Essentials or Essentials plus license.You'll get a performant and resilient platform for a reasonable cost without investing in costly hardware SAN devices.
StarWind's Advantages:
Low-cost solutions with high availability, StarWind offers either a single cluster of two physical on-site nodes or one physical on-site node and one virtual node in the cloud.
For IT leaders seeking specific features and functions, StarWind offers a high level of customization through its engineering teams.
StarWind's NVMe over Fabrics (NVMe-oF) support for Windows Server uses significantly less compute resources than nonfabric NVMe solutions for Windows
Note that StarWind has also Free version which limitations are minimal. You might be interested too….
Check StarWind website for further details.
More posts about StarWind on ESX Virtualization:
More from ESX Virtualization
Stay tuned through RSS, and social media channels (Twitter, FB, YouTube)