Over the past couple of years, the importance of security and compliance has become even more important than performance or best practices. The reason is that organizations of all sizes are not prepared enough for ransomware attacks, without a proper plan of what to do when they're hit, or who is responsible for what. Also, organizations working within the financial services (but not only) will be, or will need to show that they have DORA compliance (Digital Operational Resilience Act) and that they are prepared for ransomware attacks and know what to do in case they hit.
One of the products out there (and btw, this one is the only product so far) that can help is the Runecast platform which combines best practices, security compliance, and vulnerability assessment, as well as DORA compliance.
Photo with Stan during VMware EXPLORE Barcelona 2023 in front of the Runecast booth.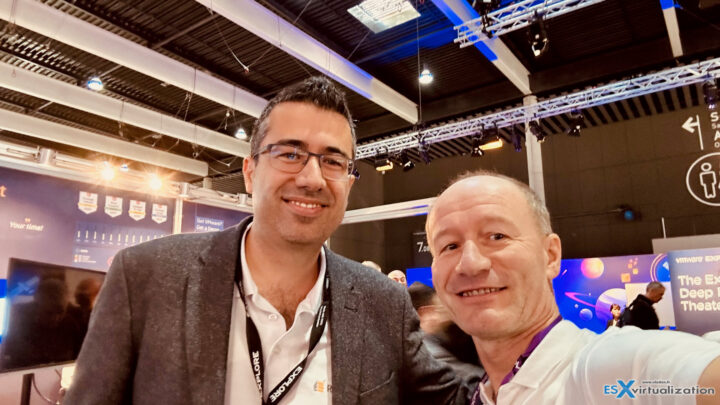 One of the key capabilities of Runecast is its vulnerability assessment and management capabilities. The platform analyzes the entire IT infrastructure, including virtualization, network, and storage layers, to identify potential security risks and vulnerabilities. It uses various sources of vulnerability data, including CVEs, security advisories, and known Exploited Vulnerabilities (KEVs) from the Cybersecurity and Infrastructure Security Agency (CISA), as well as vendor bulletins, to ensure that the assessments are accurate and up-to-date.
Lately, the platform has added a possibility to scan systems without pushing agents (so totally agen-less). We'll talk about this with Stan Markov in the video, the DORA compliance, as well as many new integrations. The latest Runecast platform integrates with VMware vSphere, VSAN, NSX-T, VMware Horizon, and vCloud Director as well as cloud platforms (AWS, Azure or Google Cloud Platform) and Kubernetes (Tanzu, Amazon EKS, Google Kubernetes Engine, Azure Kubernetes Service (AKS), OpenShift and others.
IT administrators have a centralized platform to manage compliance and security across their entire IT infrastructure.
Runecast Website here.
More about Runecast from ESX Virtualization Blog
More posts from ESX Virtualization:
Stay tuned through RSS, and social media channels (Twitter, FB, YouTube)