A new very nice solution from StarWind I want to share the news with you today. In fact, StarWind software just released a free version based on their flagship product, StarWind VSAN, but with some additions and a completely new UI and wizard that makes the setup really much easier. This version is free and is destined for VMware users willing to get started with a lightweight NAS and SAN product.
There are 2 basic scenarios, but whether it is as standalone high-performance storage or by creating a storage pool with 2 or more ESXi hosts, both solutions provide iSCSI, SMB or NFS.
There is a new UI that has been developed, including a vCenter server plugin, but most importantly, the solution is using Ubuntu Linux as a solid base.
Quote from the product page.
The solution allows turning your server with internal storage into a redundant storage array presented as NAS or SAN, exposing standard protocols such as iSCSI, SMB, and NFS. It comes with Web-based UI, Text-based UI, vCenter Plugin, and Command-line interface for your cluster-wide operations.
The internal disks of each ESXi host should be attached as an RDM, for best performance, but other options of deployments are also possible. You can attach physical disks via RDM Press the "Rescan Storage" button to identify the attached storage to your appliance and proceed with the configuration.
StarWind engineers have done a great job putting together a completely new How-to deploy and install guide of the StarWind Free NAS and SAN solution. That's why we won't go through of all the steps again here.
Screenshot from the lab…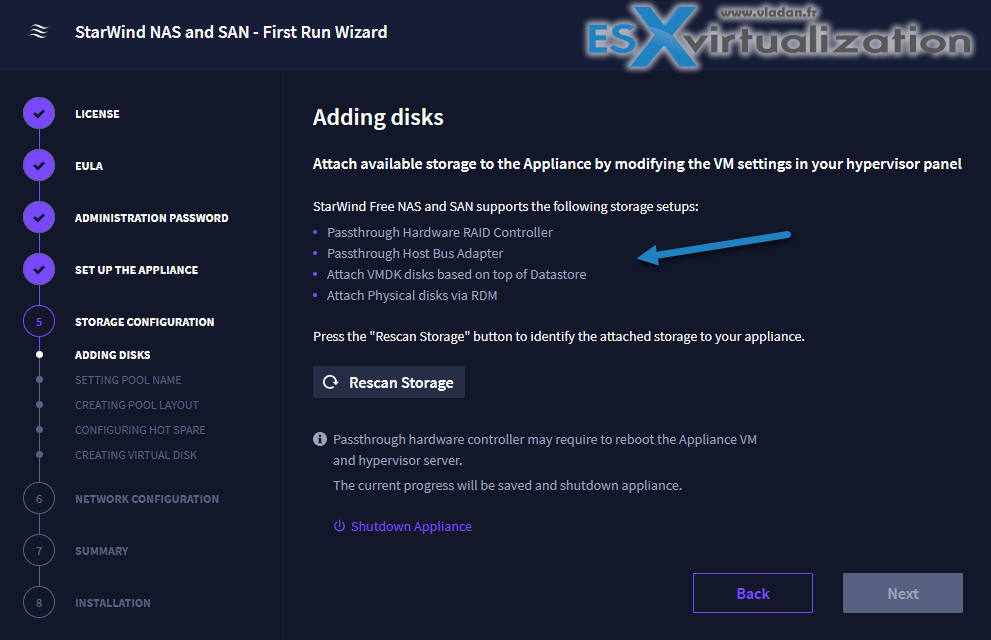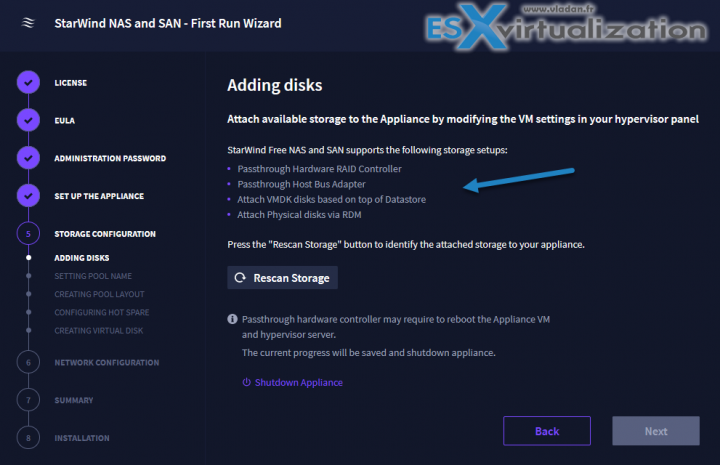 The solution is really nice and clean. In addition, the online user guide shows you how to set up the storage pool, networking and also shows some monitoring options where you can see the IOPS and other performance metrics such as disk throughput or network throughput.
I think StarWind just nailed it providing a really clean and easy-to-setup solution that is destined either for ESXi Free hosts needing high-performance storage, or clustered environments with a vCenter server so you can set up high availability and redundancy across the cluster.
Screenshot from StarWind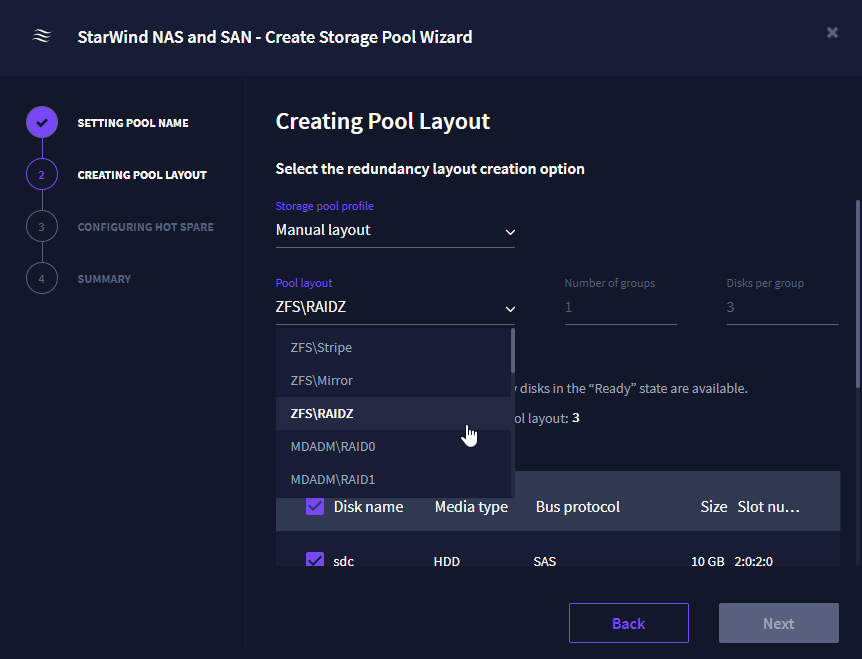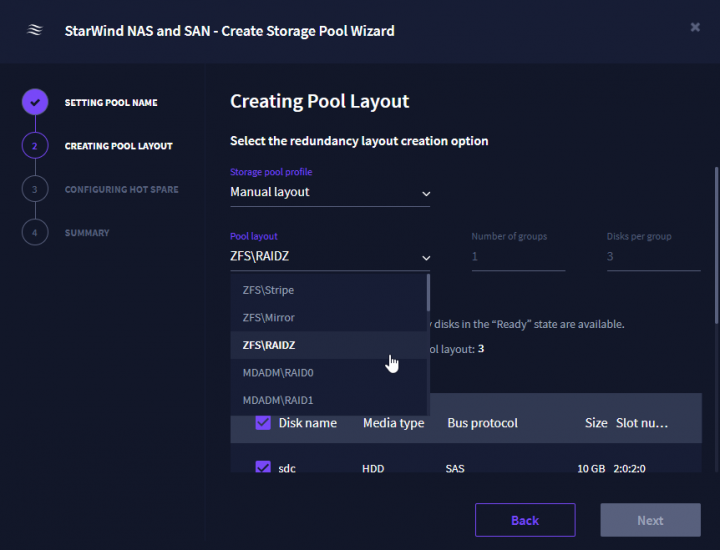 The wizard is really really nice. In fact, you have two options:
You can skip the storage and network config – so in this case, the system just assigns a license, and installs, but skips the rest of the configuration.
You can do all the steps and the end have the solution configured and installed.
Once done, you'll have a nice dashboard showing the Resource usage, performance or tasks and events.
In my case, in my virtual lab I just quickly added only a single disk with no redundancy. Will do that later -:).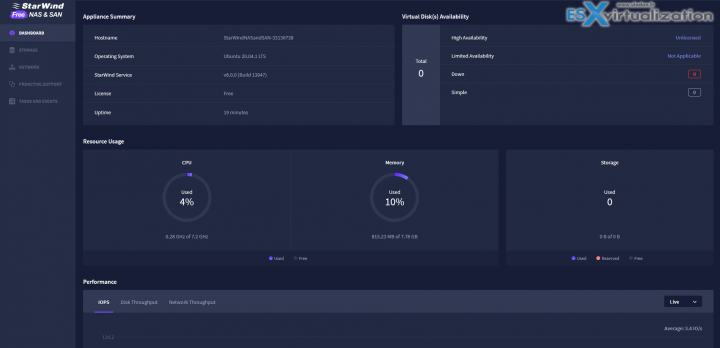 You can upgrade to paid release. The licensing information can be found when you click the Gear Icon and then the small triangle. (as on the screensot below).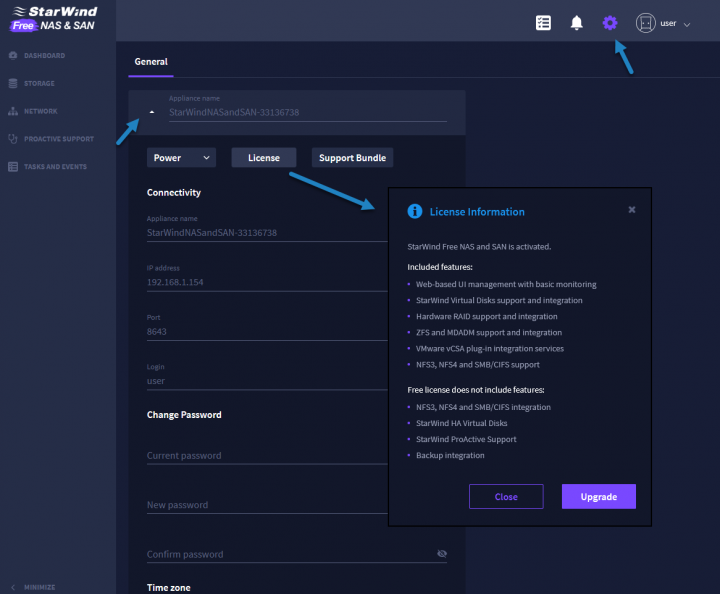 As you can see, the Free license provides you with all this, but you won't have high availability, and redundancy, or Proactive support. The plan is to expand StarWind NAS & SAN to include High Availability and Fault Tolerance features, as well as Commercial Support, as purchasable options down the road.
To be honest, it's really a great pleasure to show you this new UI for StarWind NAS and SAN Free product. After all, if you need any of the paid features, you can always buy a paid license. But to get started with the setup is now much easier than before.
You certainly have older ESXi hardware where you don't know what to do with. You can easily set up a StarWind and have a high-performance solution with integrated web-ui and monitoring.
Check the StarWind SAN & NAS Free For VMware vSphere product page with download at StarWind. Check the technical guide there too.
Recent StarWind news on ESX Virtualization:
More posts from ESX Virtualization:
Stay tuned through RSS, and social media channels (Twitter, FB, YouTube)