Nakivo continues to show regular new updates of their flagship data protection product – Nakivo Backup and Replication. The upcoming 7.2 release (currently in public BETA, you can download and test for free here) brings new features that we'll talk about in this post.
One of them is Microsoft Azure Blog support as a repository. You can backup your infrastructure and send backups hosted in Azure Blog storage. Remember that you can set up immutability in Azure Blog storage. With immutability, you'll be more protected against hackers trying to wipe your backup files from your repositories.
As you know, Nakivo Backup and Replication can be installed on Windows, Linux or deployed as a virtual appliance on VMware or Nutanix AHV. Supported NAS devices where Nakivo can be installed as well are listed here.
New Features in Nakivo Backup and Replication 7.2
Overview Tab – The main menu now includes an Overview tab that displays key statistics for your deployment of NAKIVO Backup & Replication.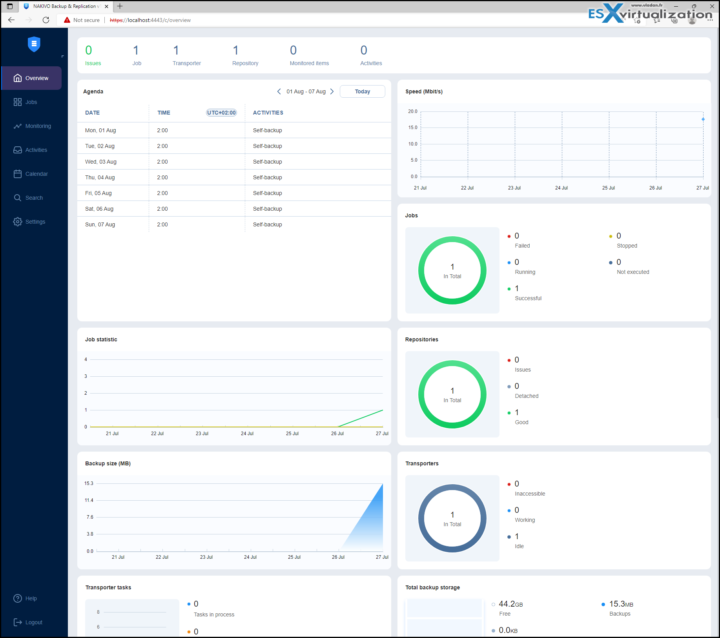 Microsoft Teams Support – You can back up and recover Microsoft Teams data, including channels, posts, tabs, or an entire team.
Microsoft Azure Blob Support – You can add Microsoft Azure storage accounts and Backup Repositories located in Microsoft Azure Blob storage to NAKIVO Backup & Replication. Backups sent to repositories located in Azure Blob storage can be made immutable. (Check out: How to configure immutable backups with Nakivo on Hardened Linux.)
Native Microsoft 365 Change Tracking – This is kind of an upgrade for this type of jobes. In fact, the backup product now supports the use of native Microsoft change tracking for Microsoft 365 backup jobs. All existing Microsoft 365 jobs will be switched to this new option. Each job's first backup run using this option will take longer than previous incremental runs, as it re-scans all source data using Microsoft change tracking. As such, consider editing these jobs and switching over to Microsoft change track gradually.
Recovery to PST File – You can recover Microsoft Exchange items to PST files. This is useful when you want to recover from PST file corruption or Outlook startup problems.
Improvements
Added an option to configure Transporter auto-refresh prior to scheduled job runs.
Added an option to block emails from being read during Microsoft Exchange recovery jobs.
Users may update and install physical agents on physical machines manually.
Added an option to remove previously configured Active Directory integration.
Added support for Ubuntu 22, RHEL 9, and SQL Server 2022.
Bugfixes and stability improvements.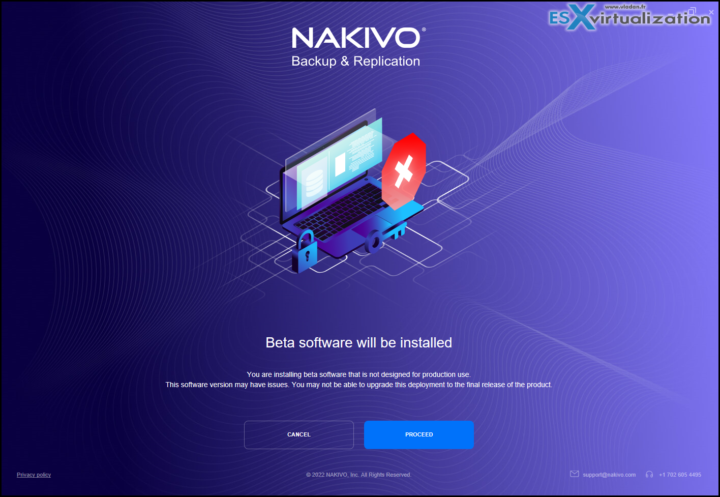 Nakivo rewards you for testing the software. Here is how:
How to Claim Your Amazon eGift Card
1. Download v10.7 Beta and proceed with one of the options below.
2. Send the support bundle indicating the option you chose
to [email protected] by August 30, 2022.
3. Share your feedback by filling out a short survey.
Wrap UP
Nakivo continues to update and improve its product. New product releases are occurring almost monthly which is quite incredible. It's very fast development indeed that leads to product refresh on regular basis. The upgrade is, however, very easy. In one of our next posts, we'll show you the upgrade process. The fact that you can install Nakivo on different OS, as a virtual appliance or on some supported physical NAS products makes this product very flexible and which can fit many scenarios. You can check the supported deployment requirements on this page.
More about Nakivo on ESX Virtualization
More from ESX Virtualization
Stay tuned through RSS, and social media channels (Twitter, FB, YouTube)