You might be wondering whether attend VMware EXPLORE this year. Last year's event in Barcelona has exceeded the expectation in attendance and broke records. You might want to register early and take advantage of the lower price.
Why Attend VMware Explore Barcelona This Year?
VMware Explore Barcelona is a highly anticipated event for professionals in the IT industry. It offers a unique opportunity to learn, network, and stay up-to-date with the latest advancements in VMware technologies. Here are some compelling reasons why you should attend VMware Explore Barcelona this year:
1. Learning Opportunities
VMware Explore Barcelona provides a wide range of learning opportunities for attendees. The event features numerous technical sessions, workshops, and hands-on labs conducted by industry experts. These sessions cover a variety of topics, including cloud computing, virtualization, networking, and security. By attending these sessions, you can enhance your knowledge and skills in VMware technologies, gaining valuable insights that can benefit your career.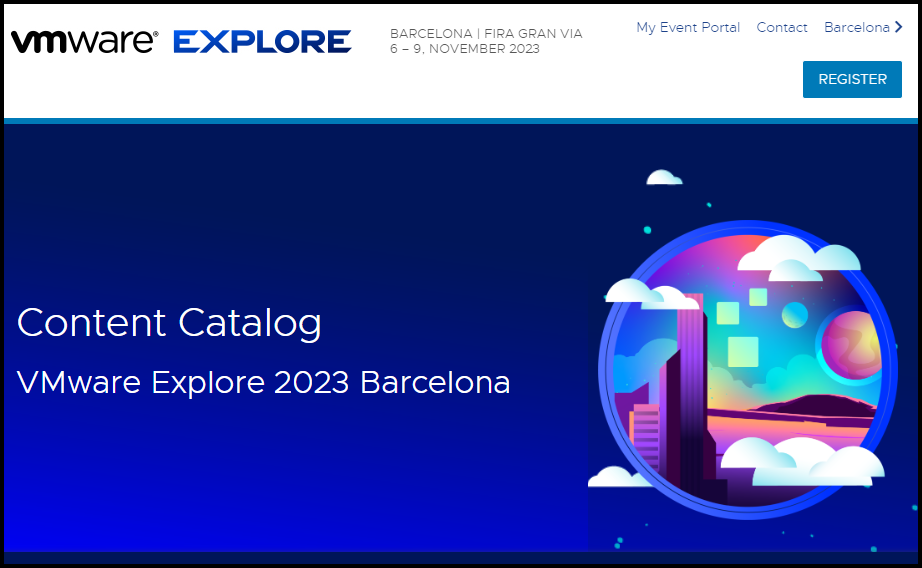 2. Networking
One of the key benefits of attending VMware Explore Barcelona is the opportunity to network with industry professionals, VMware experts, and like-minded individuals. The event brings together a diverse community of IT practitioners, allowing you to connect with peers, share experiences, and build valuable relationships. Networking at VMware Explore can open doors to new career opportunities, collaborations, and partnerships.
3. Hands-on Labs
VMware Explore Barcelona offers hands-on labs where attendees can gain practical experience with VMware products and solutions. These labs provide a unique opportunity to explore the features and functionalities of VMware technologies in a controlled environment. By participating in hands-on labs, you can deepen your understanding of VMware products and gain valuable hands-on experience that can enhance your professional profile.
4. Certification Opportunities
Attending VMware Explore Barcelona presents an excellent opportunity to pursue VMware certifications. VMware offers a 50% discount on all VMware Certified Professional (VCP) and VMware Certified Advanced Professional (VCAP) certifications during the event. This discount can significantly reduce the cost of certification, making it more accessible for attendees. By getting certified, you can validate your expertise in VMware technologies and enhance your professional credibility.
Tips to Save Money While Getting Certified by VMware During the Show
While attending VMware Explore Barcelona, you can take advantage of the certification discount and save money. Here are some tips to help you make the most of this opportunity:
Plan Ahead: Before the event, research the VMware certifications that align with your career goals. Identify the certification(s) you want to pursue and familiarize yourself with the exam requirements and objectives. This will help you make an informed decision and optimize your time at the event.
Prepare in Advance: To maximize your chances of success, prepare for the certification exam in advance. Utilize VMware's official study materials, practice exams, and training resources to enhance your knowledge and skills. By being well-prepared, you can increase your confidence and improve your performance on the exam.
Attend Exam Preparation Sessions: VMware Explore Barcelona often includes exam preparation sessions and workshops. These sessions provide valuable insights and tips for exam success. Attend these sessions to gain valuable guidance from VMware experts and increase your chances of passing the certification exam.
Take Advantage of the Discount: During VMware Explore Barcelona, VMware offers a 50% discount on VCP and VCAP certifications

.

 This discount can significantly reduce the cost of certification. Take advantage of this opportunity to save money while obtaining valuable certifications.
Schedule the Exam: Once you feel confident in your preparation, schedule the certification exam during the event. By scheduling the exam in advance, you can ensure that you have a dedicated time slot and avoid any last-minute scheduling conflicts. Be sure to check the availability of exam slots and book early to secure your preferred time.
Network and Learn from Peers: Engage with fellow attendees who are also pursuing certifications. Share study resources, tips, and insights with each other. Networking with peers can provide additional support and motivation throughout the certification journey.
By following these tips, you can save money while getting certified by VMware during VMware Explore Barcelona. Take advantage of the discounted certification offer, leverage the learning opportunities at the event, and enhance your professional profile with VMware certifications.
In conclusion, attending VMware Explore Barcelona offers numerous benefits, including learning opportunities, networking, hands-on labs, and certification discounts. By participating in this event, you can expand your knowledge, connect with industry professionals, gain practical experience, and enhance your professional credentials. Don't miss out on the chance to attend VMware Explore Barcelona and take your career to new heights.
*******************************************************************
If you want to attend VMware Explore Las Vegas, buy your entry here.
*******************************************************************
Register Here
More posts from ESX Virtualization: