About a week ago, Microsoft has released Windows Server 2019 Insider preview build 17666. We'll have a look at this build and check what's new in this release. We have already reported on Windows Server 2019 here and also we have reported on
Microsoft has released the new build of the Windows Server vNext Long-Term Servicing Channel (LTSC) release that contains both the Desktop Experience and Server Core in all 18 server languages, as well as a new build of the next Windows Server Semi-Annual Channel release in English.
This release is also an occasion from Microsoft to ask large users and beta testers to test some areas of the product with specific functionality or compatibility. For example, for this built Microsoft would like to test and report on those two areas:
In-place OS Upgrade (from Windows Server 2012 R2, Windows Server 2016)
Application compatibility
If you find some incompatibility or malfunction, report it back to Microsoft.
Check this out: Microsoft Windows Admin Center is GA – Free Download (Project Honolulu)

Note: You will NOT need a Key to enter (no license) on the Windows Server vNext Semi-Annual Preview.  The Server Core Edition is available in English only, in ISO or VHDX format. The images are pre-keyed –  no need to enter a key during setup.
Windows Server 2019 What's New – Insider Preview Build 17666
In this build, the performance history feature of Storage Spaces Direct gets even better:
The Get-ClusterPerf cmdlet now includes self-diagnosis logic: if the cmdlet finds nothing to report, it now looks for common issues that would prevent performance history from working properly (for example, if its storage is missing) so that the cmdlet can provide clear error text.
New cmdlets, Start-ClusterPerformanceHistory and Stop-ClusterPerformanceHistory, that are provided in this build make it easy to remediate such issues by cleaning up and/or re-provisioning performance history.
New series, provided in this build, record how much Storage Spaces Direct data needs to repair/resync per server.
And additionally, there is another news which will interest IT admins doing containers and stuff.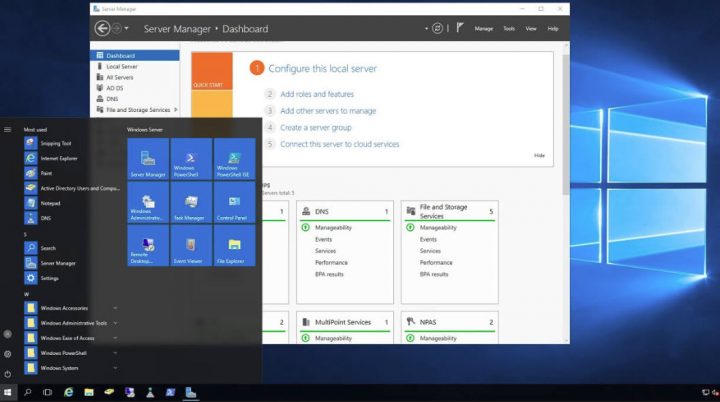 Server Core version gets slimmer
Microsoft is trying to slim a bit more the core version of their OS.
In our continued effort to improve Windows Server Core and reduce its image size, we made the following changes: – we converted non-critical font components into optional components (OC) in Windows Server Core editions, and then removed these OCs from Windows Server Core container images.
This is pretty good news indeed. Smaller is better (and more secure).
Download Windows Server 2019 Tech preview
the page is here –  Windows Server Insider Preview download page
Knowns issues
In place OS upgrade: For example, some Domain Controllers. During an in-place OS upgrade, Active Directory (AD) Domain Controllers (DC) might not be upgraded correctly. Microsoft recommends to back up any AD DCs before performing an in-place OS upgrade.
Remember, this Windows Server 2019 Tech Preview build is for Testing purposes only…
Windows Server Insider Preview builds may be substantially modified before they are commercially released. Microsoft makes no warranties, express or implied, with respect to the information provided here. Some product features and functionality may require additional hardware or software. These builds are for testing purposes only.
Yep… Happy testing.
Windows Server 2019 Release date
Well, sometime end of 2018 hopefully. The product will bring features gearing towards the hybrid cloud. For example, Extending Active Directory, synchronizing file servers, and backup in the cloud.
Source and links:
More from ESX Virtualization:
Stay tuned through RSS, and social media channels (Twitter, FB, YouTube)