Nakivo is the first vendors out there to support the latest VMware vSphere 8 release. It not a surprise because Nakivo is one of the fastest vendors with their release cycles and fastest when it comes to update their flagship product – Nakivo Backup and Replication. However, the vSphere 8 support, for now, it's only a support in compatibility mode, that means:
Quote:
With v10.7.2, NAKIVO Backup & Replication offers support for vSphere v8 (Initial Availability) in Compatibility Mode. This means that new workload properties introduced in vSphere 8 are skipped during backup, replication, and recovery if a workload is protected in Compatibility Mode.
The latest release, v10.7.2 is compatible with VMware vSphere (Initial Availability – IA) in Compatibility Mode so you can test the latest vSphere platform. Most production systems stays on older releases of vSphere and most of wise folks aren't ready to jump into vSphere 8. Most of wise folks know that 8.0 U1 is the one which will most likely make it into the production. Ritht now, you should be running vSphere 7 as 6.7 went out of general support recently. (Note: Technical Guidance for vSphere 6.5 and vSphere 6.7 is available until November 15, 2023 primarily through the self-help portal.)
However, if you're building a new Proof of Concept (POC) environment with VMware vSAN Express Storage Architecture which is designed to get the most out of high-performance storage devices, resulting in greater performance and efficiency, including much faster snapshots management (needs only delete metadata…)
For your information, about vSAN ESA snapshots:
Instead of using a traditional "chain" of a base disk and delta disks, the snapshot mechanism uses a highly efficient lookup table using a B-Tree. The log structured file system of the vSAN ESA allows for incoming writes to be written to new areas of storage with the appropriate metadata pointers providing the intelligence behind which data belongs to which snapshot. Snapshot deletion times were over 100x faster than previous versions of vSAN snapshots. The new architecture prevents any need of the computational and data movement effort found in a traditional snapshot deletion. Snapshot deletions, merges, or consolidations were one of the most resource intensive activities found in the traditional redo-log architecture, but also one of the most common activities due to how most snapshots are used. When a snapshot is deleted in vSAN 8 using the ESA, the snapshot delete action is largely just a metadata delete activity. It is immediately acknowledged after logically deleted, and at a later time (asynchronously), the metadata and data will be removed.
I think that test backups on workloads running on vSAN ESA would be pretty cool If I had the necessary hardware. Either way, the fact that Nakivo is the first vendor to support somehow vSphere 8, we know that other will follow, sooner or later.
Nakivo Configuration Backup Importance
Let's talk about backup configuration of Nakivo.
If the Nakivo product that you've installed as a VM, crashes or become corrupted, struck by a virus attack, or accidentally deleted. You will need to restore the disrupted product as quickly as possible.
New instance of NAKIVO Backup & Replication can be installed in less than one minute. However, you will still need to restore the product configuration (such as jobs). Also, you do not want to lose the backup history. To save you time, NAKIVO Backup & Replication automatically backs up the entire configuration, including all jobs, inventory, information about connected Transporters, Backup Repositories and other.
The option to backup the config to All available repositories is good in a way that if you loose one repo where the config is located, you have no more backups to restore from. If you have multiple-copies of the backup, then you're fine if you need to restore and you have one repo that is down. You still have the other repositories where you can restore the whole config.
Bellow, screenshot from the lab, showing configuration backup possibilities. You can either backup to a selected repository or to all repositories. In addition, you have nice (clickable) schedule below where you can specify when you want configuration backup to be executed and how many restore points you want to keep.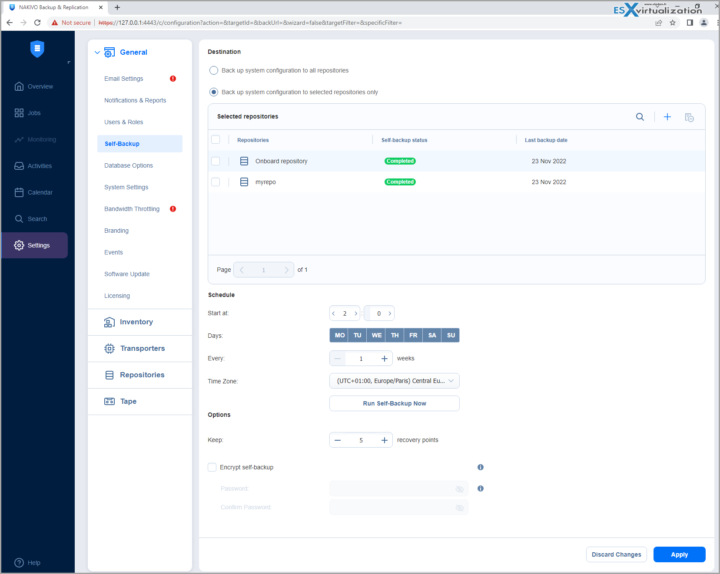 The 10.7.2 release does not bring any major new features and carries out still some bugs that you can check in the release notes, but the fact that the product is updated on regular basis, that the software is evolving fast, makes me pretty confident, when it comes to a selection. I mean, it would not be fun if we had only a single vendor providing affordable backup tool and software that works, right? We need more vendors so we can chose, we can test and we can see which tool is right for particular environment.
The UI gets better in every release. It's polished, clean and fast. On the image below, you can see where to check for updates from within the UI.

Nakivo 10.8 BETA just went out!
During the article write-up, an email from Nakivo Beta team showed up. You can test the Beta 10.8 that fully supports vSphere 8, and test the latest features! Additionally, you can claim an $30 Amazon eGift Card if you provide some feedback from those tests.
The 10.8 beta brings new features!
From the 10.8 BETA page:
vSphere 8 GA Support
S3-Compatible Object Storage Support – Efficient backup targets for hybrid setups.
Improved Backup Retention – Switch to a simplified wizard for configuring job schedules and retention settings in a single step. This improvement gives you greater control and flexibility by allowing you to specify retention settings for each schedule and set expiration dates for recovery points.
Merge Jobs – Merge the content of jobs of the same type and for the same platform into a single job. Aggregate backup, backup copy and replication jobs into a single job to keep data protection activities organized and simplify the management of critical workloads.
Direct Recovery from Tape – recover full virtual machines and EC2 instances directly to your infrastructure from backups stored on tape media. When restoring specific virtual machines, you can improve recovery times by not using a staging repository first. Supported platforms are VMware vSphere, Microsoft Hyper-V, Nutanix AHV, and Amazon EC2.
Job Priority – Ensure that the most critical jobs run first by setting the priority level (from 1 to 5). Assign priority level 1 to jobs that should be processed first in a queue and for the solution to allocate resources as soon as they become available to higher priority jobs.
Persistent Agent – Perform file-level recovery more securely without the need to input VM credentials. You can install a persistent agent on VMs for guest processing, allowing the solution to communicate with the VM guest OS. This improvement streamlines data protection in enterprise environments while ensuring compliance with security policies.
Wrap Up:
Nakivo has been around for a very long time. The installation for different architectures and different places (Linux, Windows, selected NAS devices, public cloud) makes this product pretty versatile, fast, affordable, top rated…
What I really like is the speed of the UI which does not lag and makes you almost forget that you're dealing with web-based UI. If you're here for a while, you knew the pain that VMware admins had with vSphere web-based client in the past and the nightmare with Adobe Flash based UI.
Nakivo since the day 1 had things right and I always noted that within my posts. Whether you need to do an Amazon EC2 Backup, Backup Copy, Backup to Cloud, Container Protection, Microsoft 365 Backup, Oracle Database Backup, Physical Machine Backup, Backup to Tape, Virtual Machine Backup, File Share Backup, you know that there is this vendor that has this solution. It's not the only one out there, but on this one we keep a close eye.
More about Nakivo on ESX Virtualization
More posts from ESX Virtualization:
Stay tuned through RSS, and social media channels (Twitter, FB, YouTube)