There is many of the features from vSphere 6.0 Beta program which are under NDA. However VMware has unveiled some bits here and there and one of the announce from the What's New in vSphere session – INF1502.1 – presented by Michael Adams from VMware. The session is available for Free, and One of the new features is a support for hosts with 6Tb of RAM. While I was re-watching the session I actually found out that the 6Tb support will be available in the 5.5 Update 2! (shall be available in September). It's difficult to imagine – vSphere 6.0 Will Support Hosts with 6 Tb of RAM.
Also discussed in the session, New ROBO packages which will get FT and sVMotion (in both standard and advanced). Also VDS and Host Profiles/AutoDeploy (in advanced version).  Details in this post.
Hosts which supports 6Tb of RAM are not currently available on the market, but the time vSphere 5.5 Update 2 6.0 will come out it will be the case. Do you Imagine having a host with 6TB of RAM? I don't. How about creating a cluster with such monsters.. -:). You can use that ram to create a persistent storage and run VMs out of RAM.  Solutions like this exists!
One other screenshot from the session shows a slide of vSphere 5.5 Update 2 (will be released in Q3 2014) and will bring over 100 fixes, plus will have vSphere Client (Windows, legacy) supporting VMs (for modification) with virtual hardware 10. Previously you only could use vSphere Web client to do modifications. However you could also downgrade the VM back to virtual hardware 9.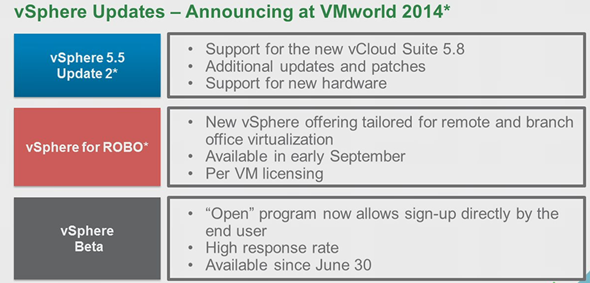 The slide showing the upcoming release of vSphere. As you can see, also vCenter will be supported on Microsoft Windows Server 212 R2.


vSphere 6.0 will also support RedHat 7 and SQL 14.
Storage vMotion with CBT (change block tracking).
As you can see on the screenshot there shall be more product integrations like container support, InMemory Database or NVIDIA Grid for VDI.
Also present, VVoLS, vMotion enhancements and Multi-Processor Fault tolerance, which are tech preview.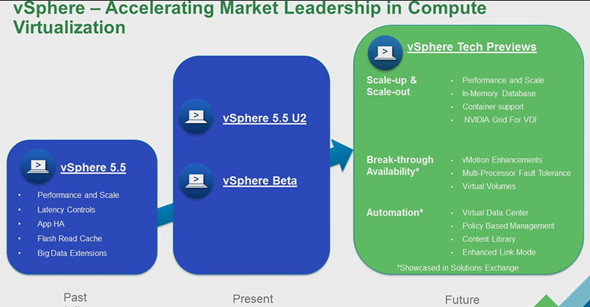 New ROBO packages announced
Remote Office Branch Office (ROBO) packaging is evolving as well. Newly added FT and Storage vMotion. Will be available in Q3 2014, in two editions:
*********************************************************************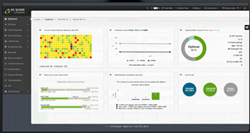 DC Scope for VMware vSphere – optimization, capacity planning, and cost management. Download FREE Trial Here.
Tracks the performance of VMs with a summary view of the resources and metrics in degradation.
Easily improve the performance of your infrastructure.
DC Scope is affordably priced per VM.
*********************************************************************
ROBO Standard – FT, sVMOTION (new) plus the features that were previously already in the package (vSphere, HA, vMotion, VDP, vSphere Replication, vShield)
ROBO Advanced – FT, sVMotion, VDS, Host Profiles/Auto Deploy (new) plus the features that were previously already in the package (vSphere, HA, vMotion, VDP, vSphere Replication, vShield)
Better seen through the graphics:

It's available at the packages per 25 VMs and you can actually spread it through multiple sites (EX. pack of 25 VMs can be spread out with 17VMs on one site and 8 on other site).
Availability Q3 2014.
The free session What's new in vSphere has more in it. Talk about Hadoop integration, Big data extensions 2.0, and what's coming in vCloud Suite 5.8.You can watch the full session (1h) here.
vMotion enhancements were reported in my post here.
Fault Tolerance will get 4 vCPUs with fast-checkpointing technology which sync the primary and secondary VM. When the Beta of vSphere 6.0 will come close to release, there will be more informations and papers concerning the overhead this or that application.
A screenshot on the roadmap… Larger clusters?… It seems so that the boundary of 32 hosts will be lifted.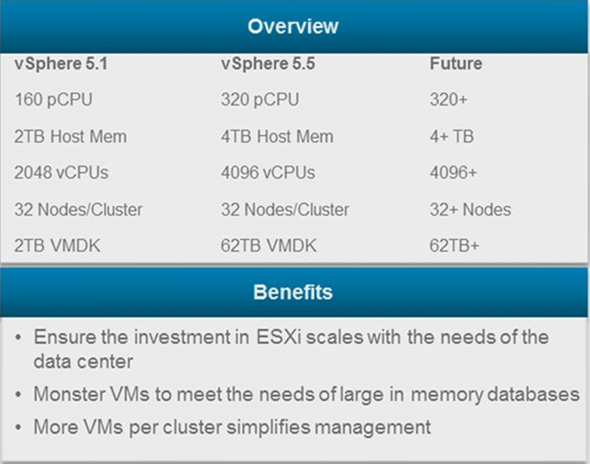 Special Report:
Stay tuned via RSS or Twitter.