VMworld Party – The good. Last night, like most of you I went to the VMworld party held in the same place where the conference was held since the beginning of the week. VMworld party which was a success, as usually. VMworld parties are great place to hang out with friends and folks you know from Twitter, so you know their avatars, but not the real faces. VMworld Party is today's topic.
So it's great to see actually to who you're chatting through Twitter after you meet the person in a real life. I had finally occasion to meet some peers from Paris where, as for now, I wasn't very hot to attend a French VMUG. You ask why? Because I do not like big cities full of atmospheric pollution.
I prefer to live at some more quiet place, and do much of my work remotely. After all, webex, RDP or SSh are tools you all know…. and we're living in an IT era where this kind of remote solution don't really surprise anyone (except your boss?).
The party, since the beginning, was very good. There was some food. I especially liked the mini pizzas and the pasta served in small cubed glass like aperitives.
There were places to play with mini cars in a small closed area. There was a place to create a tatoo (not a real one), and also there were some games where you could play and de-stress… -:)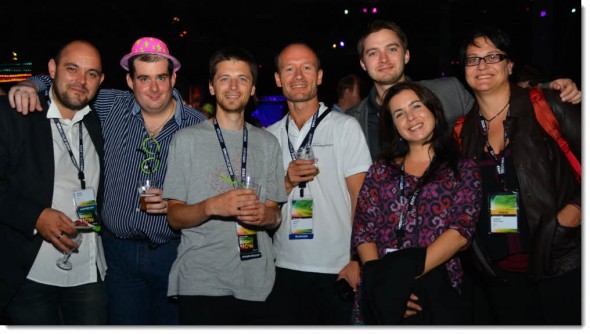 The Bad
Meeting friends and folks is great. To talk to them is better, but to hear them what they're saying is even better. This wasn't the case. During several occasions, we had to stand very far away from the music or even leave the hall to hear each other…..
And this morning, I had almost no voice, because I was trying to speak loud enough so my friends could hear what I'm talking about…
Another Idea, which wasn't very good, and what me and all the french group experienced, was the fact, that there were two groups playing music at one moment. And all of us, we were actually standing in the middle. This wouldn't be too bad if both groups could be more synchronized and play the same songs and artists at the same time…. But this wasn't the case since the second group played some Queen's songs and the first group playing on the big podium played something I never heard.
The Ugly
Before I say what I think that wasn't ok, I must tell you where I'm coming from. This will help you to understand. I was born in Czech Republic, and now I'm French living in France. As you might already noticed, during your visit in Prague (if you have been there), it's a beer country. The Czechs are second first consumers of beer in a world. But that's not important. Important fact is that during the VMworld party there was no draft beer.
The only beer there was a bottled beer, which wasn't too bad. Followed by canned beer, which was ok. But then followed by bottled beer from one-liter size. This one wasn't too sexy… but still, there was a beer. Until about 11 PM, where the beer started to be missing from the bars.
So one advice, VMware. If you're looking for a place to organize next year's event, ask the Czechs. I think Prague is too expensive now, but cities like Ostrava, Brno or Ceske Budejovice would fit the needs, concerning the beer at least.-:)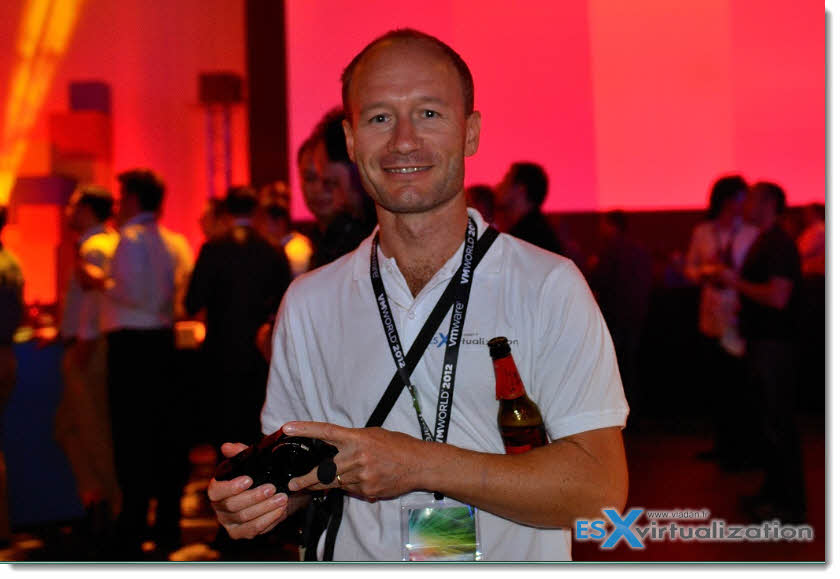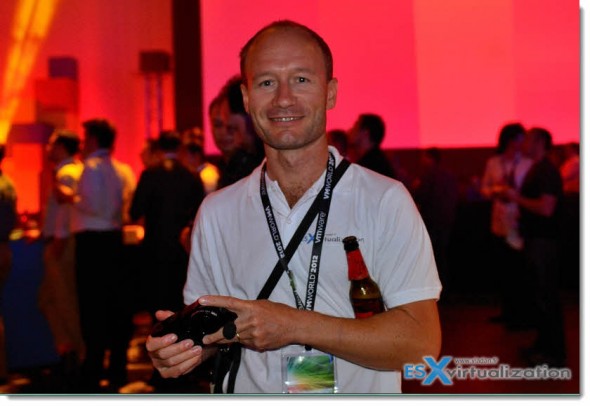 Wrap up.
This leaves me with some kind of an impression un-achievement…. That however excellent VMworld can be, if the party isn't good, the overall experience get a hit too….
I have still my best so far experience from VMworld Copenhagen 2010, despite the cold weather, the "Abba" group stays in my memories…. -:)
For English purists. Sorry about my poor English, since I'm half French and half Czech. I don't know which half is bigger.. -:). My school English isn't perfect, and I hate  to speak in public – do have to work on it to win my fear of speaking in public.
Thanks to Olivier (@DS_45) for the photos.
One last note, which has nothing to do with VMworld, but it's more or less a plug for myself. Partners (hardware), if you're reading my blog and have some hardware which could place (during long time period) for demo purposes in my lab, you know how to contact me… -:).
Here is a short video from the event.
VMworld Barcelona 2012
VMworld Party – The Good, The Bad and The Ugly – this post