Tintri VMstore Demo. If you don't know Tintri or you not sure, you can have a look at this Tintri demo video from VMworld Barcelona 2012, where all the Tintri's features will be showed. This video should have been published right from there but with many things to do and watch when you're attending the show, it happens that this video hasn't been published yet.
You might remember my post which I published some time ago, where I was able to assist an Online Demo with Tintri's Fast cloning feature, scheduling snapshots and VAAI for NFS. Those features was released in the version 1.4 of Tintri's VMstore.
This video is from VMworld Barcelona 2012, where I passed by the Tintri's stand. You'll be able to see the Tintri's dashboard where you can monitor the throughput, IOPS, latency. You can actually see which VM is generating the most IOs in real time.
At the VM level you can see the IOPS consumption, space consumptions, and the performance. By right clicking the VM, you can chose many of other metrics. You are also able to look at the VMDK level, which VMDK is consuming high IO etc.
Tintri VMstore also automates flash placement to isolate VM performance. It's possible to pin an individual disk to a flash. A VMDK which needs the best performance for example can be directly stored in the flash storage. The system's flash storage is 2.4Tb of data which is combined with inline deduplication and compression, so the Flash storage gets actually much greater capacity. The MLC flash modules are part of the 3U storage system.
Tintri is preparing to release a replication feature, which I haven't been able to see there due to a technical problem during the show (remote switch failure).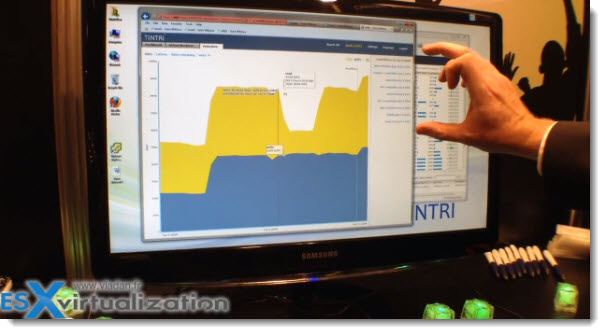 Here is the video….. It's HD video, so the best way to watch is full screen. The length is 8:30.
VMworld Barcelona 2012
Tintri Demo VMworld – this post

 
This post Tintri Demo VMworld has been published first at vladan.fr