It's been some time that every Veeam user has been waiting for this upgrade of Veeam Backup and Replication 6.5. This release brings compatibility with VMware vSphere 5.1 and Microsoft Server 2012 or Windows 8 running as a VMs in VMware vSphere 5.1.
Also, Veeam Backup and Replication 6.5 support Hyper-V 3 as a virtualization platform, where changed block tracking on CSV v2 and SMB v3 shared storage are supported. The new VHDX disk format is supported as well, where those disks can be very large – up to 64TB.
The product has integrated one important feature for many IT admins running Microsoft Exchange 2010 installations. The feature is called Veeam Explorer for Exchange and It's have been demoed during VMworld Barcelona 2012 – see the post and the video. Enables you to browse directly your Veeam backups and restore individual Outlook Items (e-mails, notes, contacts etc…) How cool is that..
This feature – Veeam Explorer for Exchange – is even integrated in the Free Version of VeeamZIP !!! Free version of Veeam Backup, which is a "light" version of Veeam.
Veeam Backup and Replication 6.5 brings also other new features and enhancements:
One of them is the Veeam Explorer for SAN snapshots which can browse snapshots on HP Store Virtual VSA and HP LeftHand bases SAN. It's been co-developed with HP, hardware specialist.
The Explorer for SAN Snapshots enables you to perform Veeam restores (Instant VM Recovery, Instant File-Level Recovery and Explorer for Exchange item recovery) of VMware VMs directly from array-based snapshots. As for now, only the HP products are compatible, but in the future other hardware vendors will join.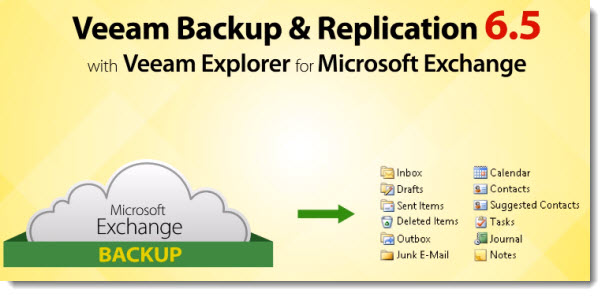 A quick quote from the What's new document concerning other enhancements:
Not only does Veeam Backup & Replication 6.5 support the new version of Hyper-V, it can also facilitate deployment of 2012 Hyper-V:

Safeguard in-place upgrades: Make a backup copy of VMs before performing an in-place upgrade. If something goes wrong, you can reinstall 2008 R2 Hyper-V and restore VMs from backup.
Simplify migration: Backup VMs on 2008 R2 Hyper-V and restore to 2012 Hyper-V. You can also replicate VMs from 2008 R2 Hyper-V to 2012 Hyper-V.
You can have a look at the full PDF document – What's new in Veeam Backup and Replication 6.5 here.
VMworld Barcelona 2012
Veeam Backup and Replication 6.5 has been released – this post

 
This post Veeam Backup and Replication 6.5 has been released was published by ESX Virtualization website at www.vladan.fr.
Enjoy…