vCloud Connector 5.1 with Improved Workload transfer, new UI and features. vCloud Connector 5.1 which has been announced during VMworld 2012 in Barcelona, brings new features and new user interface. This release of vCloud Connector brings also 2 versions – Free Basic Edition, and Advanced Edition (included in the vCloud Suites).
There is many more news concerning new VMware Products, that has been announced during the VMworld 2012 Conference in Barcelona, like the new vCloud Automation Center (this product was previously called DynamicOps) or the new version of vCenter Operations Management Suite (vOPS) 5.6.
Two versions of vCloud Connector 5.1 Introduced.
One of the interesting ones is the possibilities of using the layer 2 extention from enterprise network to public cloud over secure SSL VPN tunnel. This feature is only available in the Advanced Edition of vCloud Connector 5.1.
vCloud Connector 5.1 Free Edition – What's new?
Improved Workload Tranfer, whereyou can move workloads between vSphere, vCloud Direcotr and 15+ certified vCloud services.
New User Interface and Features – improved user experience and troubleshooting Cross-cloud search of VM or Template by name.
Multi-tenant vCloud Connector (VCC) node – Makes it easier to adopt the VCC in private / public vClouds.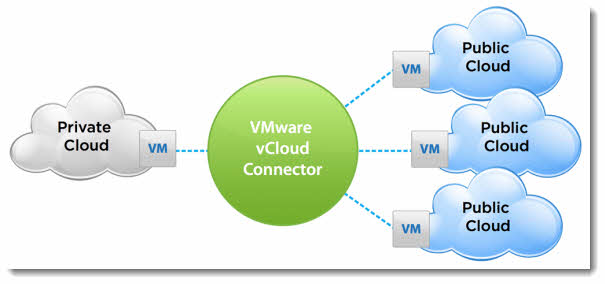 The Functions present in the Advanced Edition of vCloud Connector only:
DataCenter Extention – the feature tha I introduced in the beginning of my article. It enables to move VMs to the cloud, but use and manage them with the same tools as if they were in the datacenter. The VM keeps the same IP address, when moved to the cloud datacenter.
Content Sync– Enables you to have single source catalog from which there are copied the files to what's called synced catalogs. Publish a vSphere folder or a vCloud catalog as a "source" catalog and then subscribe to it from one or multiple vSphere folders / vCloud catalogs.
So then, the new or modified templates in the source will be securely copied to the subscribers. Folders/catalogs across clouds are kept synchronized.

And here is a screenshot from the user interface, showing the integration of the VCC. It seems that all the cloud components together with the vSphere now looks the same, and are managed through the same web console. So that's where we're heading…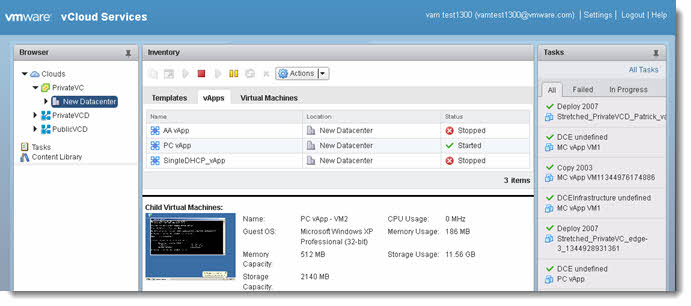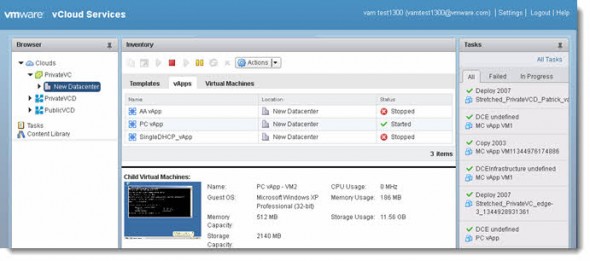 vCloud Connector 5.1
This post was a post from ESX Virtualization.
VMworld Barcelona 2012
vCloud Connector 5.1 – What's new? – this post