VMturbo is present during VMworld Barcelona 2012 with it's latest release of VMturbo Operations Manager 3.2 which has broaden the hypervizor support. Read my latest post about VMturbo here: VMturbo Operation Manager 3.2 with Red Hat 3.0 support, OpenStack integration and more.
In addition, a new self service provisionning support enables the users to place new VMs directly in the right cluster, datastore and host depending on the load based not only on real time, but also historical datas. It's possible also to create a template based
VMturbo has joined Openstack recently, and so the future releases might bring interesting capabilities as well, since the alliance with Openstack opens wide the developpement of Open Source applications and protocols
You can download and test VMturbo Operations Manager 3.2. The 30 days trial version will at the end of the trial period continue to function as a Free Community Edition. The Free edition provides fully featured monitoring and reporting with real-time visibility across all virtualized hosts and virtual machines.
As usually, the VMturbo virtual appliance comes as easy to deploy OVF file which can be directly improted into vCenter or single ESXi host.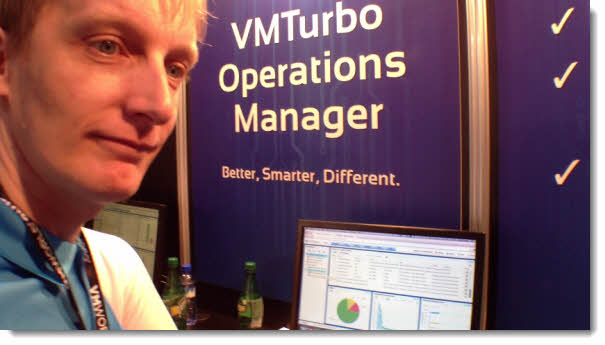 And here is the demo of the new features which are present there.
Enjoy…
VMworld Barcelona 2012
VMworld Barcelona – VMturbo Operations Manager Video – this post