VMworld 2012 in Barcelona was great opportunity to create new connections. VMworld Barcelona is a history now. Mattias Sundling, a fellow vExpert from vKernel has asked me about which 3 was my top picks during VMworld in Barcelona. Difficult tasks, there were so many cool technologies and great atmosphere.
I told him that it was great to discover who is "sitting" behind this or that avatar on Twitter. So discover several folks behind their avatars was a very enjoyable experience, even if I would like to meet many more people. I think that next VMworld I'll plan ahead some meetings with folks I don't want to miss.
I also heard about the preparation of opening the VMworld labs for remote connections. This is apparently a priority for VMware, since this possibility can help partners, clients and all VMware fans to touch all VMware products without the need to buy an expensive hardware. The learning through remote labs I think would help everybody, since the number of VMware products offerings just quite exploded. It's time to take a specialization journey….
And the third point I had in mind was a visit at the Nutanix booth where I discovered their converged solution. Very interesting to have 4 modules in one box. Each of the modules has Fusion-IO flash card, leveraging ultra fast flash storage.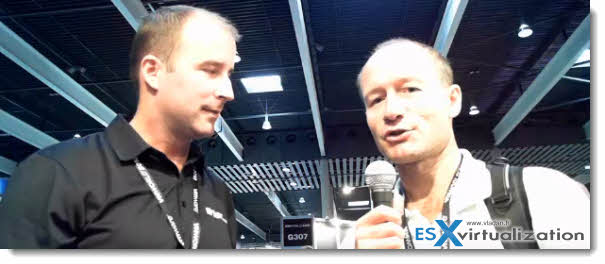 And while there they showed me the new updated vFoglight product which has just been released. The vFoglight Storage 2.0 can get you graphical view (end-to-end) of your storage infrastructure, with detailed characteristics. And also detect possible bottlenecks and problems on the storage side of your virtual infrastructure.
You can download this product for testing from Quest's website.
Here is a demo video presented by Roman Karpov  – product manager of vFoglight Storage.
VMworld Barcelona 2012
VMworld 2012 Barcelona – My Top 3 picks – this post