There has been a new update from Zerto that released their latest flagship software for DR and backup – Zerto Platform 9.7 Update 1. This latest release supports vSphere 8 that many vSphere admins will be installing in the near future and upgrading their virtual infrastructures. We have asked Zerto during VMware EXPLORE Barcelona last November about their platform and some details. Catch up with this here.
This release includes many exciting new features and enhancements aimed at improving the overall experience of using Zerto and vSphere together. In this blog post, we'll take a closer look at the key features and enhancements in Zerto Platform 9.7 Update 1 and vSphere 8.
Zerto uses Continuous Data protection that allows you to have Recovery Point Objectives (RPO) in seconds instead of minutes or hours. If there is a disaster, you only lose a minimum amount of work. There are significant savings when it comes to storage as there is no snapshots that usually takes a lot of storage space.
Don't Miss: Protection for 10 VMs for FREE during whole year
Zerto allows organizations to keep their environments safe by continuously replicating to DR sites, the workloads running on-prem or in the cloud. Zerto can replicate from on-prem to DR site or the other way around, as well as in between different cloud locations.
Zerto does not using hypervisor snapshots and as such there is no pressure for the underlying storage system. The changes are stored in the journal that can be rewind back in time for recovery of particular VMs placed in a protection group. With its Virtual Protection Groups (VPGs), you can group VMs and virtual disks to be protected and recovered together to the same point in time. The continuous data protection will have zero production impact because there are no snapshots or agents.
Zerto for Hyper-V, AWS and Azure had also been updated to the 9.7 U1 release so if you're running one of those environments, you'll need to proceed with the upgrade for those particular platforms.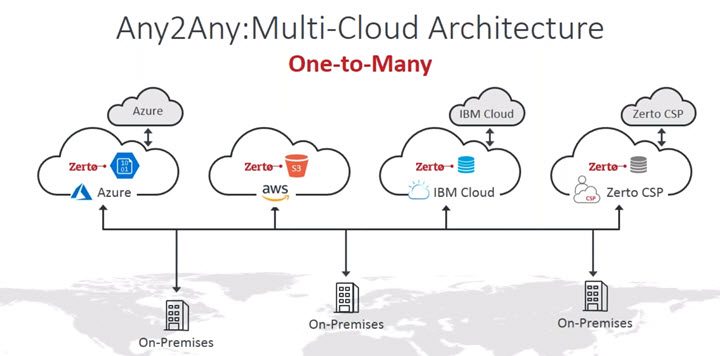 What's new in Zerto Platform 9.7 Update 1?
Integration with vSphere 8
One of the most significant enhancements in Zerto Platform 9.7 Update 1 is its integration with vSphere 8. This integration provides a seamless experience for users, allowing them to easily manage and protect their virtualized infrastructure with Zerto and vSphere 8. The integration also provides customers with enhanced visibility and control over their virtualized environment, making it easier to identify and resolve any potential issues. Zerto recommends upgrading to Zerto 9.7 U1 before upgrading your vSphere environment.
"ZVM on Linux" is now "ZVM Appliance – In the past, Zerto virtual replication appliance was usually installed on Windows machine. Now since several releases, Zerto pushes in to Linux due to increased security tightening's.
Zerto's Linux-based virtual appliance introduced in Zerto 9.5, formerly known as ZVM on Linux, is now called ZVM Appliance.
Pairing ZVM Appliance to an Azure ZCA – You can now pair a ZVM Appliance running Zerto 9.7 U1 and later to an Azure ZCA running Zerto 9.5 and later.
Long-term Retention becomes "Extended Journal Copy" – The Long-term Retention feature is now called Extended Journal Copy.
NSX-T Support – All Zerto features supported for NSX-V are supported for NSX-T for Windows ZVMs.
Data Center Groups – You can now configure NSX-T Data Center Groups for VCD recovery.
Improved Disaster Recovery Performance
Another key enhancement in Zerto Platform 9.7 Update 1 is improved disaster recovery performance. This means that customers can recover their data and applications more quickly and efficiently in the event of a disaster, reducing downtime and minimizing the impact on their business. This improvement is due to the optimized algorithms used by Zerto to process and restore data more effectively.
Ease of Use and Enhanced User Experience
Zerto Platform 9.7 Update 1 has also been designed with the user in mind, providing an enhanced user experience and increased ease of use. This includes a new user interface that is more intuitive and easy to navigate, making it easier for users to perform common tasks and manage their data protection and disaster recovery activities. Additionally, Zerto has added several new tools and features that simplify the process of setting up and managing protection groups and recovery plans.
The 9.7 release that went out before the U1, has brought those following features:
ZVM on Linux can now be paired with Windows-based ZVM deployments to allow for adoption of the appliance in existing environments where ZVM is already running on Windows.
Zerto Self-Service Portal Flexible Management on ZVM on Linux – In an expansion of the management capabilities, the Zerto Self-Service Portal available through Managed Service Providers of Zerto now includes an API set available to tenants to access functionality of the portal via scripts and automation. Integration with Zerto Cloud Manager and the Zerto Self Service Portal make the ZVM on Linux deployable for MSPs for DRaaS with Zerto for enhanced security and end-user management.
Local VPG and Migration VPG Support in ZVM on Linux – For users looking to perform data protection and recovery locally or perform migrations, ZVM on Linux now supports Virtual Protection Groups (VPGs) for local replication within the same site and VPGs for migration operations.
Import and Export VPGs in ZVM on Linux – In order to enhance VPG management capabilities, VPG settings may now be imported to or exported from ZVM on Linux. VPG settings can now be imported to or exported from the ZVM via the user interface. Zerto saves the VPG settings periodically. You can choose to export either the settings from the current point in time, or older settings.
ZVM on Linux REST API changes – The ZVM on Linux leverages a new authentication method and no longer uses the Add Session API. All REST API scripts will need to be updated before they are compatible with the ZVM on Linux. In addition to the authentication, ZVM on Linux also leverages the standard HTTPS port of 443 instead of 9669. For more information, see ZVM on Linux.
ZVM Enhanced Recoverability upon Disk Detach – ZVM has been improved so that detaching a disk of a VM will now continue to keep the VPG history. When a disk is detached from a protected VM, the user will be able to recover to a point in time in the journal that contains this volume, in a consistent manner. Journal checkpoints will be preserved for the VM that encountered the disk removal event, as well as for other VMs that are protected within Zerto that may exist within the same VPG.
Limitations: Applies to on-prem sites only.
FLR flows are not supported for a detached volume – When adding a new volume on the same location as the removed one, the removed one will not be recoverable anymore.
Support VMware Cloud Director Built-in MQTT (Replace RabbitMQ). Zerto 9.7 uses the new built-in MQTT message functionality. MQTT is supported from VCD 10.2 and above, therefore only VCD 10.2 and above is supported, and the Tenant UI is supported in VCD 10.2 and above.
Final Words
In conclusion, Zerto Platform 9.7 Update 1 and vSphere 8 provide a powerful and flexible platform for disaster recovery and data protection. With its improved backup performance, ease of use, enhanced user experience, and integration with vSphere 8, Zerto Platform 9.7 Update 1 is a must-have for any organization looking to improve their data protection and disaster recovery capabilities. Whether you are a small business or a large enterprise, Zerto and vSphere 8 provide a reliable and effective solution for protecting your critical data and applications.
Links: Zerto website
More about Zerto on ESX Virtualization
More posts from ESX Virtualization:
Stay tuned through RSS, and social media channels (Twitter, FB, YouTube)