If your environment has an aging hardware SAN device that performs poorly, you might be wondering whether you should replace it with another device or rather go for a 2-node HA cluster powered by a software. High Availability (HA) provided by some of the solutions out there is something your hardware SAN cannot compete with. If the motherboard of your hardware SAN dies, so does your storage, and your VMs running on the top. That's why HA software solutions, including those for storage, are a modern way to mitigate the problem.
By adopting StarWind Virtual SAN you can completely eliminate the need for a traditional physical SAN. Rather than replacing a SAN that is end-of-life with a new one, you can adopt a hyper-converged solution with StarWind Virtual SAN and save  on CAPEX and OPEX.
StarWind VSAN: Revolutionizing Storage Solutions with High Availability, Performance, and Ease of Use
In today's fast-paced digital landscape, businesses are constantly seeking storage solutions that offer high availability, optimal performance, and seamless user experience. StarWind VSAN emerges as a frontrunner in the field, providing organizations with an innovative software storage solution that exceeds expectations. This blog post explores some of the features and advantages of StarWind VSAN, focusing on its high availability, performance, and user-friendly interface.
High Availability
One of the primary concerns for any organization is ensuring uninterrupted access to critical data and applications. StarWind VSAN addresses this concern with its robust high availability architecture. By employing a fault-tolerant design, the software solution eliminates single points of failure, delivering continuous uptime and data accessibility.
StarWind VSAN achieves high availability through its synchronous replication feature. This feature ensures that data is mirrored across multiple nodes, creating redundancy and preventing data loss. In the event of a hardware failure, StarWind VSAN automatically fails over to the remaining nodes, ensuring seamless operations without any downtime. This redundancy also allows for maintenance and upgrades without disrupting the workflow, further enhancing business continuity.
Quote:
StarWind runs virtual storage on multiple hypervisor nodes. In non-converged scenarios, storage runs on many dedicated commodity servers. The shared Logical Unit is basically "mirrored" between the hosts, maintaining data integrity and continuous operation even if one or more nodes fail. Every active host acts as a storage controller and every Logical Unit has duplicated or triplicated data back-end.

Multi-Path nature makes sure that even if some I/O fail, the work will just continue instantly with zero downtime. This way 99.99% uptime is achieved with 2-way replica and 99.9999% with 3-way replica.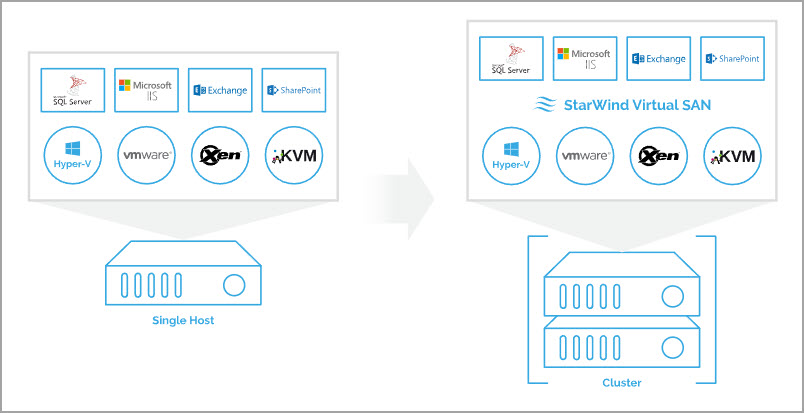 Performance
Storage performance is a crucial factor that directly impacts the efficiency and productivity of any organization. StarWind VSAN excels in this aspect, providing exceptional performance that meets the demands of modern workloads.
The software leverages cutting-edge technologies, such as log-structuring and caching mechanisms, to optimize read and write operations. By reducing latency and maximizing throughput, StarWind VSAN significantly improves application response times, resulting in a highly responsive and efficient storage infrastructure.
Furthermore, StarWind VSAN integrates seamlessly with industry-standard hypervisors, such as VMware and Microsoft Hyper-V, Xen or KVM, allowing organizations to leverage their existing virtualization environments. This compatibility ensures that businesses can achieve high performance without requiring significant infrastructure changes or complex configurations.
StarWind's NVMe-oF protocol implementation allows maximum PCIe SSD utilization in Hyper-V environments.
Ease of Use
While robust features and performance are critical, ease of use is equally important when considering storage solutions. StarWind VSAN distinguishes itself by providing a user-friendly interface that simplifies deployment, management, and monitoring.
The software solution offers a centralized management console, enabling administrators to easily configure and monitor the entire storage infrastructure from a single pane of glass. This intuitive interface eliminates the need for extensive training or specialized expertise, empowering organizations to streamline their storage management processes.
Moreover, StarWind VSAN's flexible scalability makes it an ideal choice for businesses of all sizes. Whether organizations require a small-scale deployment or an enterprise-level solution, the software adapts to meet evolving storage needs. Adding new nodes and expanding capacity is a straightforward process, ensuring that businesses can easily scale their infrastructure as they grow.
Additionally, StarWind VSAN supports various storage protocols, including iSCSI and SMB3, providing organizations with the flexibility to integrate the software seamlessly into their existing IT environments. This compatibility enables businesses to leverage their current investments in storage infrastructure and further simplifies the adoption of StarWind VSAN.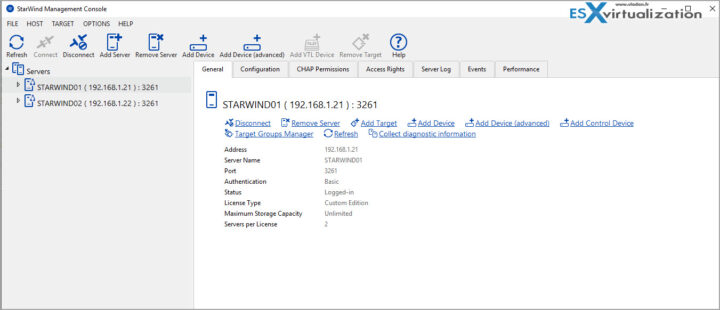 Final Words
In the rapidly evolving world of storage solutions, StarWind VSAN shines as an exceptional software storage solution that prioritizes high availability, performance, and ease of use. With its fault-tolerant design, remarkable performance optimization, and user-friendly interface, StarWind VSAN empowers organizations to achieve unparalleled uptime, efficiency, and scalability. By choosing StarWind VSAN, businesses can confidently tackle their storage challenges and unlock the full potential of their data and applications.
StarWind VSAN Product page
More posts about StarWind on ESX Virtualization:
More posts from ESX Virtualization:
Stay tuned through RSS, and social media channels (Twitter, FB, YouTube)