I was able evolve my lab a little bit, add some more hardware and achieve a setup of my lab which is composed :
2 physical ESX(i) hosts with 24Gigs of RAM each.
1 Haswell Whitebox with 32Gb of RAM
Another NAS Whitebox – running Nexenta - for my shared storage.
1 switch (Cisco SG300-10) running VLANs and have a routing in between those VLANs.
Plus one Drobo Elite iSCSI SAN with SATA disks. Slow, but good to store the backups of my critical VMs.

Let's start with the hosts setup.
Both of my ESXi hosts are whiteboxes running on non server hardware. It's basically a PC with a lot's of RAM (24 Gigs) each. Both boxes are running lates VMware ESXi hypervizors, which are installed onto USB Flash 2 gigs each.
Both boxes runs on Intel i7 Nehalem CPU architecture. The CPU are not the same, since the first box is the one I had last year already, and I just added one more box. But the CPU which I bought last year were not available as a new anymore. I could have probably find those as a second hand, but I did not bother. So one of those boxes has Intel i7 920 and the other i7 960 (since there were no more the 920 available). 
Update: Recently I added a new Haswell i7 whitebox, with 32 Gigs of RAM.
Here is my list of pieces with are present in those 2 ESXi boxes:
Kingston DataTraveler G3 – 2 Go – USB stick to install the VMware ESXi hypervizors
Antec HCG – 400W – Power Supplies
Intel PRO/1000 GT Desktop (OEM) – NICs
Asus Sabertooth X58 – Motherboard
Intel Core i7 950 – CPU
G.Skill Kit Extreme3 3 x 4 Go PC10600 Ripjaws CAS 9 – DDR3 RAM kit
Case Thermaltake V3 black
And the box which I made last year – with the Asus P6T SE and Intel i7 920 CPU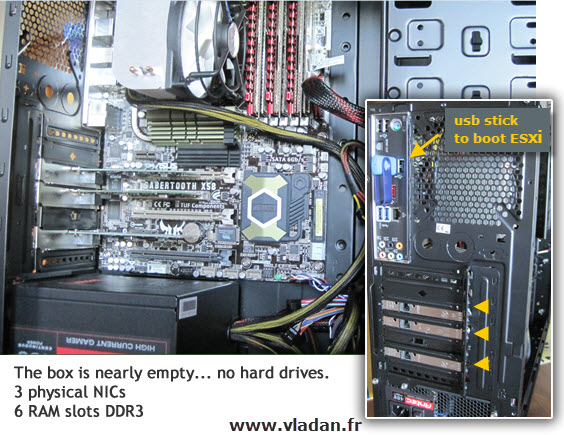 The 2 physical boxes with the Antec power supply make almost no noise. I must say that I took a special attention to pick this particular model of Antec, since the fan in those models is 135 mm large and the efficiency is 82%. The max. power of those power supplies are 400W, which is more than enough, since both systems does not have any CD/DVD drives or even Graphic cards….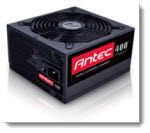 The silence of those power supplies is just ….. awesome ! The Whiteboxes are just right next to me. Also, I must say that the original Intel CPU Fans were replaced by more silent models. I think that everyone confirms, that those original Intel Fans are quite noisy.
I also I digged in bios of both systems to find an option where on can setup "quiet mode" for CPU fan. Once activated, the RPM went down… and the noise level too..
I might loosed some performance there, but that's not a problem. So that's the White box pat of my lab. Now let's move on with other parts.
My Network setup.
What's in my home network or how I designed the network for VMware vSphere lab? Recently I bought a Cisco switch which is a Layer 3 switch. It comes as a Layer 2 switch, but if you go to the CLI (command line) you can change mode for L3 and benefit of Inter routing VLAN functionnality. The setup was a bit tricky, you can read quite detailed article about how I configured the switch and how I make those VLANs working. There are 2 detailed articles – a real story – which in detail shows you my homelab networking experience: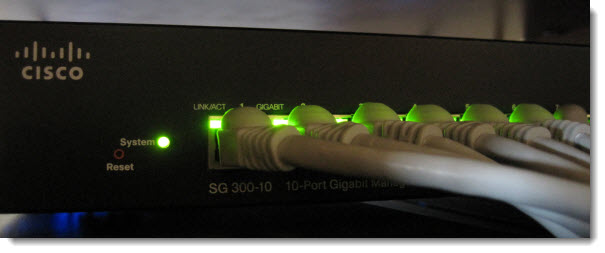 My switch: Cisco SG 300-10
The switch is fanless so no noise at all….. -:)  Now I'll show you how I made my home made NAS box and which parts I used for that…
In order to benefit vMotion, and so DRS/DPM or FT (fault tolerance), you need to have a shared storage in your lab. The shared storage is accessible from all of your ESXi hosts and the VM's files lives there. The VMDK, VMX and other files are physically stored there.
ESX Virtualization site has started as a simple bookmarking site, but quickly found itself a lot of readers and subscribers.
Vladan
is as an Independent consultant, professional blogger, vExpert 2009 - 2014, VCAP5-DCA/DCD, VCP 4/5 and owner of this website.
Latest posts by Vladan SEGET (see all)