With Covid-19 every company (small or large) is facing the same problem. How to setup a remote access to the infrastructure for your co-workers and office users? It's very important so your company can continue its activity by remote workers connecting to internal resources, file shares, DBs and other resources. But the connection must be fast, secure and easy to setup.
There are many ways that this can be done. While this situation might affect all of us during several weeks/months perhaps years, it might be a perfect time to ask the question whether the organizations should change the way they have built their IT environment and adapt it to such pandemic situations which might stay as N° 1 thread in the future as well.
StarWind organizes a webinar that replies to some of those questions, but you can also, as a participant ask questions in the chat, if you want to.
Quote:
The upcoming webinar is related to the new requirements of the corporate world. The current pandemic had a great impact on the way we achieve business-critical tasks. This calls for the simplification of the decision-making process. The webinar will touch upon preparing your infrastructure for remote client access. Learn about relevant security issues, remote access methods, cloud migration, existing infrastructure, and VDI vs. RDS, so that you can make the right decision and conduct the migration easier.
I think it is highly relevant during those times, to stay informed about what might be a good solution.
Register for the webinar here. The webinar is the 16th of April at 11 AM PT (2PM ET).
Update: Watch YouTube Video Recording here.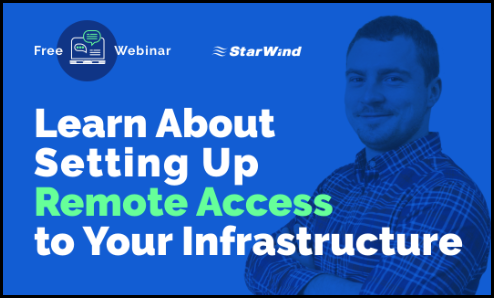 **********************************************************************************
StarWind Virtual SAN (VSAN) is a software solution providing shared storage virtual infrastructures. With only 2 hosts and their internal storage (DAS – direct-attached disks) you're able to build a very resilient storage solution that has a built-in High Availability (HA). You basically eliminate the need for an external NAS or SAN device proving storage.
StarWind only needs two physical servers where other solutions usually have physical shared storage as a third physical "box" or use 3 hosts to create a shared storage pool. StarWind HCA is cost-effective because it's an optimized package including configuration and installation and proactive support
Since StarWind VSAN is very flexible, there are many different use cases possible:
Shared storage for Microsoft Hyper-V VMs and SQL Server DBs (HA iSCSI & CA SMB 3.1.1)
Shared storage for Microsoft Failover Clusters, Exchange, Oracle and SAP DBs (HA iSCSI)
Shared storage for KVM, Citrix XenServer and Xen Project VMs (HA iSCSI & CA SMB 3.1.1)
HA file server (general purpose file sharing, VDI profiles, backups etc.) (SMB 3.1.1 & NFS 4.1)
Scalable backup storage (iSCSI & VTL)
There is also Free Version of StarWind.
Quote from StarWind:
Free version comes with an unrestricted set of features: multi-tiered server-side caching is available out of the box, scale-up and scale-out are both allowed, VTL is not included.

StarWind Virtual SAN Free also supports any deployment scenario, such as: "Hyper-Converged", "Compute and Storage Separated", and various combinations. In the first scenario, StarWind Virtual SAN Free allows creating a hyperconverged infrastructure by converting the internal storage capacity of the clustered servers into a Virtual SAN. In the second scenario, when the environment is separated into compute and storage components, StarWind Virtual SAN Free can be used to build the dedicated SAN/NAS storage cluster. Free version can be deployed on a bare-metal Windows Server or installed inside a virtual machine.
More posts about StarWind on ESX Virtualization:
More from ESX Virtualization
Stay tuned through RSS, and social media channels (Twitter, FB, YouTube)