StarWind has announced that they are now using Intel Optane in their StarWind HCA appliances. You may wonder how that performs? Well, a while back there was some detailed testing done and a 12 nodes StarWind cluster hit a record of 26.8 million IOPS. We have reported on this here.
Intel Optane is one of the fastest enterprise SSDs on the market and has proven its reliability over time. StarWind uses 375 GB Intel® OPTANE™ memory cards in two of their three different configurations. They have Performance, Capacity, and Value configs. Each adapted to different needs with different components and storage capacity. The detailed PDF can be found here.
To remind our new readers, with StarWind HCA you're not only getting the hardware, the software preinstalled. You also get the guarantee of performance and ProActive support. Proactive support is composed of, on one side, proprietary analytics, and a real-time Health Monitoring Service, and on the other side, the experienced team behind which acts and allows issues to be resolved before causing major issues. Check the details of ProActive support here.
StarWind Command Center is included as well. StarWind Command Center brings true single-pane-of-glass management and monitoring experience to HCA. It is a sophisticated
dashboard that covers all the important information about the state of each environment component on a single screen. Use just 1 browser tab to perform 20% of your IT-related routines that would otherwise take 80% of your time.
You might wonder that this might get some premium cost with it. Well, the costs can be kept down as StarWind has partnered with xByte Technologies to provide significant cost savings with their certified refurbished HCA options. The refurbished HCA nodes have the same warranty and support from StarWind, so neither the warranty nor the quality is sacrificed.
Note: Check with your account representative to find out what options are available in your region.
That being said, StarWind has those HCA's that are ready to be deployed. However, if you just want to get the look and feel on StarWind and want to install it in the lab, you can. There is a VMware or Hyper-V version of StarWind VSAN that you can test as a trial, but for the deployment and configuration you'll need to follow one of the guides and you'll only get a community support.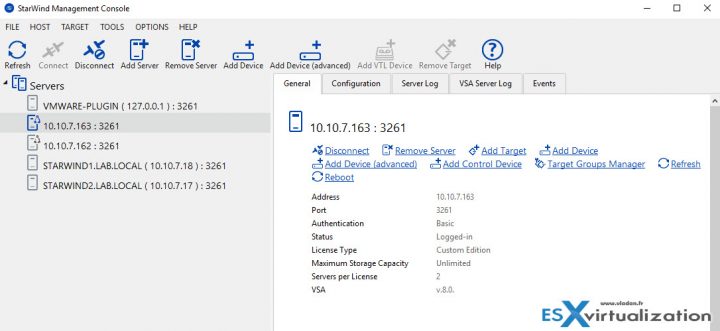 We have published quite a few guides in the past. Let me get you some links. The best however is to look directly at StarWind site where you'll find the guide for your environment. StarWind is able to create shared storage for virtual environments running VMware vSphere, Microsoft Hyper-V, KVM or Citrix XEN.
Source: StarWind HyperConvergedApplicance (HCA) datasheet (PDF).
StarWind VSAN is very flexible and fit into many configurations. If you're not willing to do hyper-converged infrastructure, it's fine. StarWind can be installed different way and provide only storage nodes, but still helps with HA as it is fully redundant.
But the best savings can be done for ROBOs. Imagine you'll need to deploy a IT to 200 ROBOs and budget is limited. With StarWind you only need 2 servers direct-connected back to back with networking. Running just 2 ESXi hosts with local disks and you're able to create a shared storage pool with StarWind VSAN.
Why 2 nodes only where competitors need 3 nodes?
Good question. StarWind uses an internal mechanism to sync data across those two nodes and doesn't need a third host which usually acts as Witness and runs a tiebreaker code.
StarWind VSAN can be deployed on any commodity hardware that you already have. You'll leverage the internal disks in each host and create a shared storage pool where you'll execute your VMs. If one of the nodes fails, the second node is still up so no downtime for the VMs running on that node. The VMs that died with the first node can be either manually restarted on the second node or if you have VMware HA, those are restarted automatically on the second node.
A very flexible software solution that can be configured not only for HCI and using local storage for creating a shared storage pool. You can also use StarWind as a highly available storage solution only where your hypervisors connect remotely. The solution has also a free version which we have covered a while back here. You can find further details on StarWind's website.
Check out StarWind website.
Recent StarWind news on ESX Virtualization:
More from ESX Virtualization
Stay tuned through RSS, and social media channels (Twitter, FB, YouTube)