StarWind Software has just released their new product StarWind SAN & NAS. There are two versions depending on the hypervisor you're using. StarWind supports VMware vSphere and Microsoft Hyper-V. We have briefly reported on the free version for ESXi and vSphere a few weeks back in this article here. Now the final, commercial release is also available.
StarWind SAN & NAS is cost-effective and can be installed on commodity hardware. StarWind SAN & NAS is a fully HCL-certified software-defined shared storage for VMware vSphere and Microsoft Hyper-V.
You can also repurpose your servers into certified backup targets if you're using Veeam. StarWind SAN & NAS, as a Linux-based VM uses all the features of ZFS to ensure optimal storage use, data safety and integrity. ZFS allows you to do a redundancy with RAIDZ on various levels (mirroring, Z1/2/3).
Additionally, every byte is protected against silent data corruption since ZFS is doing integrity checks for both data and metadata. Furthermore, disk scrubbing operations can be scheduled to eliminate any potential bit rot errors.
If you want to look a little bit into the technicals, there is a very good guide at the StarWind site here. The internal disks of each ESXi host should be attached as an RDM, for best performance, but other options of deployments are also possible. You can attach physical disks via RDM Press the "Rescan Storage" button to identify the attached storage to your appliance and proceed with the configuration.
The schema of the StarWind solution below. We can see ESXi hosts with their internal storage, each ESXi has at least two NICs where one is for management and the second one for iSCSI/Data channel.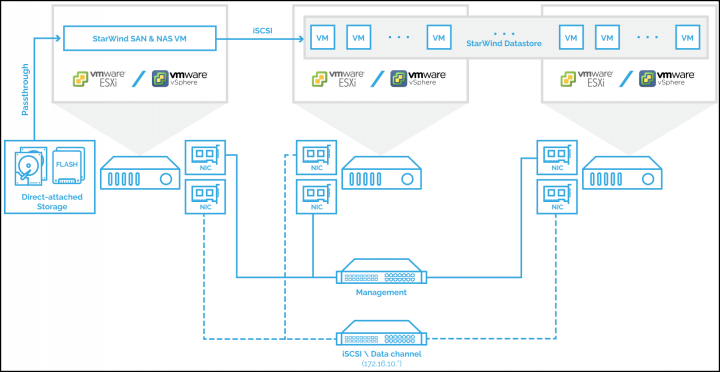 The main difference between the Free and paid version is the High Availability (HA) feature which allows you to "loose" a host while preserving your workloads. In fact, the setup which is the most interesting in my opinion (on the vSphere version) is the one where you don't have HA managed with vSphere but with StarWind. In this case, the license for vSphere is way cheaper compared to vSphere with HA. And StarWind has a HA with their licensed version. The free version does not provide HA
The other advantage with StarWind is that when you pick the paid version, you also get support. I don't know how you, but I like to have support on storage arrays or storage systems. In case something goes wrong with storage and you loose access to your VMs, you really need to know your solution perfectly otherwise you'll most likely loose time figuring things out via free forum access and calling support anyway.
From the product page:
StarWind SAN & NAS is shipped as a ready-to-go Linux-based virtual machine (VM) deployed onto your chosen industry-grade hypervisor, Microsoft Hyper-V or VMware vSphere. The solution shares the same software-defined storage (SDS) features as StarWind VSAN, which allows it to fully unleash to power of ZFS as well as expose standard protocols like iSCSI, SMB, NFS, and others. Coming as a lightweight piece of software, StarWind SAN & NAS is not only easy to install and use thanks to a user-friendly Installation Wizard and an elaborate web-based user interface (UI) for storage management, but it also increases your return on investment (ROI) by repurposing your aging servers instead of wasting them.
Yes, StarWind is now Linux-based with ZFS support.
The wizard in action…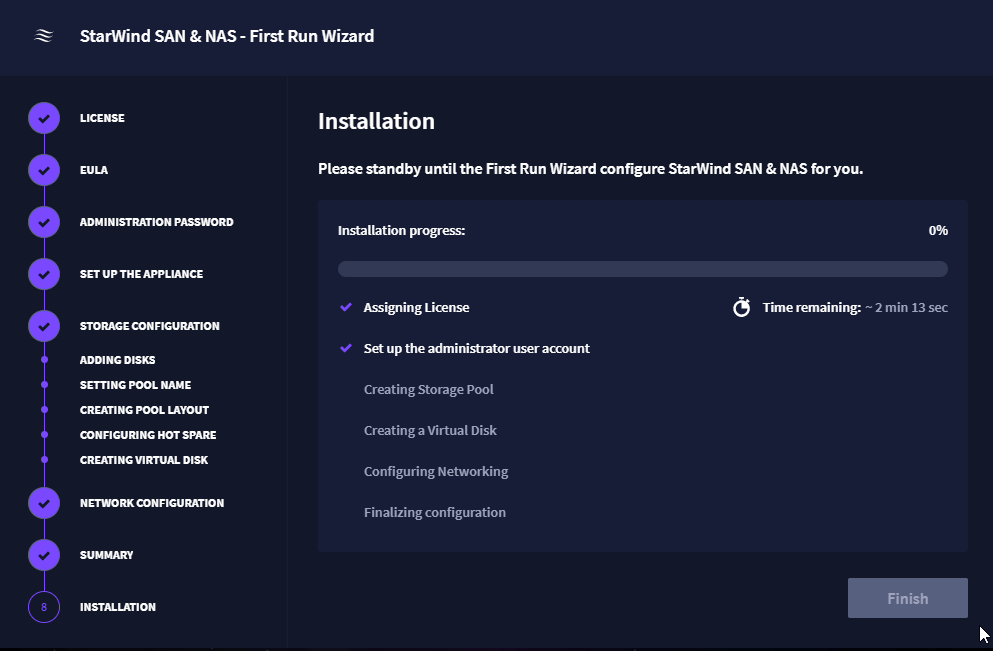 For vCenter server, there is a StarWind vCenter Plugin available. See details here.
Free Trials and Free Downloads
Links:
What does NOT offer the Free version:
NFS3, NFS4, SMB/CIFS integration
StarWind HA Virtual Disks
StarWind ProActive Support
Backup integration
What DOES the free version include:
Web-based UI management with basic monitoring
StarWind Virtual Disk support and integration
Hardware Raid support and integration
ZFS and MDADM support and integration
VMware vCSA plug-in integration services
NFS3, NFS4 and SMB/CIFS support
Check the StarWind SAN & NAS Free For VMware vSphere product page with download at StarWind. Check the technical guide there too.
Recent StarWind news on ESX Virtualization:
More posts from ESX Virtualization:
Stay tuned through RSS, and social media channels (Twitter, FB, YouTube)