Data backup is an essential part of any organization's IT strategy, especially for data stored in cloud services like Microsoft 365. Microsoft 365 provides various built-in data protection features, but they are not always enough to ensure data safety. Veeam, a leading data management company, offers an efficient and reliable backup solution for Microsoft 365, called Veeam Backup for Microsoft 365 v7.
In this product review, we will talk about the product features, enhancements and usability of Veeam Backup for Microsoft 365 v7 and its suitability for various organizations. This is no mean a detailed step-by-step post or a review which details all possibilities, but rather a honest review highlighting some of its features.
Veeam recently released already the 7th iteration of their Veeam Backup for M365 v7 product that allows you to protect your user and coworker's mailboxes, contacts, calendars or other M365 documents, Sharepoint sites, Team's chats and OneDrive documents as well as other individual items. You can protect your Microsoft 365 organizations, including Microsoft Exchange, Microsoft SharePoint, Microsoft OneDrive for Business and Microsoft Teams data, as well as data of on-premises Microsoft Exchange and on-premises Microsoft SharePoint organizations.
The product has matured over the years and the 7th version is more than ever, very efficient and reliable.
Why would you need to protect your user's data if your cloud provider already backs them up? Well, public cloud providers aren't really responsible of your data and if any problems occurs, they might, or might not, will be able to recover. But most importantly, they won't be able to do a granular recovery.
What's New in Veeam Backup for Microsoft 365 v7.0?
In fact, there are a lot of performance enhancements that aren't really visible for the end user. But larger organizations and Veeam Cloud Service Providers will see the difference. Veeam Backup for Microsoft 365 v7 has some ground up architectural enhancements and optimizations of execution which at the end make the product faster, smoother, with fast speed of backup and restoration.
Self-service Restore Portal enhancements
Much better integration with Veeam Service Provider Console
Deeper Integration with Veeam ONE v12
Immutable backup copies
Backup copies to ANY object storage
Veeam Backup for Microsoft 365 v7 Features
Veeam Backup for Microsoft 365 v7 offers a comprehensive set of features to ensure complete data protection for Microsoft 365 services. One of the most critical features is that it can backup Exchange Online, SharePoint Online, and OneDrive for Business data, including emails, contacts, calendars, sites, documents, and more. Veeam Backup for Microsoft 365 v7 provides flexible backup scheduling options to meet various organizations' needs. It can perform incremental backups daily or multiple times a day to ensure minimal data loss in case of a disaster.
Another key feature of Veeam Backup for Microsoft 365 v7 is that it can recover data at various levels. Organizations can recover an entire mailbox or individual items, such as emails, contacts, or calendars, with ease. The solution also allows granular recovery of SharePoint Online sites and OneDrive for Business files and folders, making it easy for users to find and recover lost data quickly.
What to backup and where?
You can backup either the entire organization, or, if you don't need the backup of everything, you can granularly choose what to backup within a particular backup job. In the example, I'm selecting the radio button called Backup the following objects > Add > User.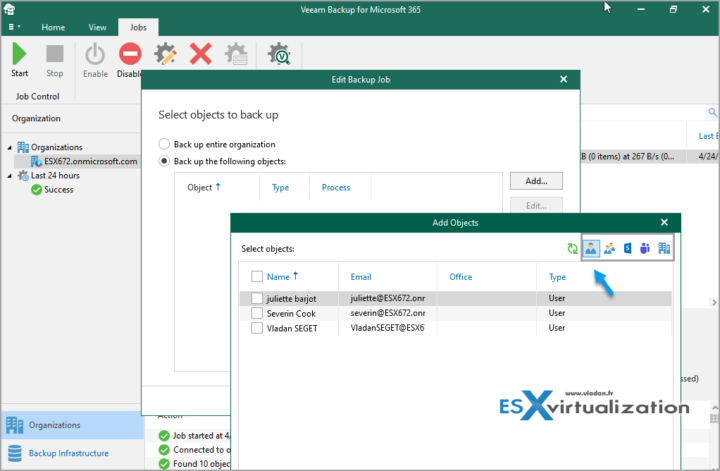 The same way I can create another backup job which will backup only sites….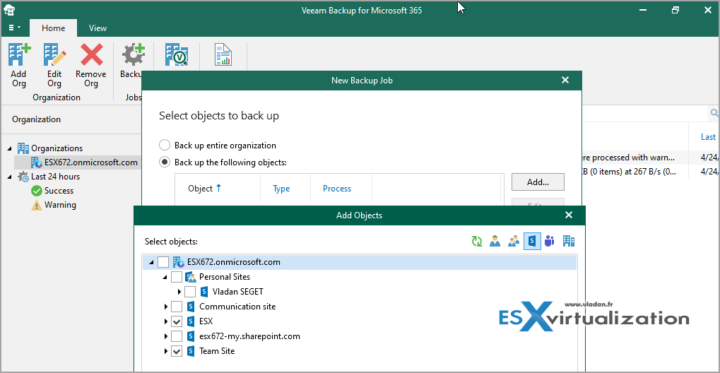 And the jobs then runs one-by-one and you can chose each job being directed to different backup repository. You can have a different strategy and data location for backing up user's emails and different strategy with backup locations for other items. Really flexible.
Obviously it's best to gather some best practices from Veeam and follow those guidelines.
Storage Of Backups
When you first install the solution, it creates a default backup repository on a local disk. But Veeam creates a local backup repository on the system drive by default. This is not what you would like to have, in general. You'd like to separate the system from the data in order to be able to troubleshoot the system volume (if necessary) separately from the volume where are your backups stored.
Yes, you'd typically want to use a dedicated drive specifically for your backups. If sometimes the system volume ever has an issue, you can still access your backup data after repairing (or reinstalling) the system volume. So to create a storage repository, you need a data volume on the system.
In my lab I quickly created a local DATA repository and as you can see, the wizard allows you to specify the retention policy settings. You have a choice between Snapshot-based retention or Item-level retention. You have a choice to change the default 3-years retention into longer or shorter time period. You can go longer (5-7-10-25 years or forever) or shorter (2 or 1 year), or custom number of days.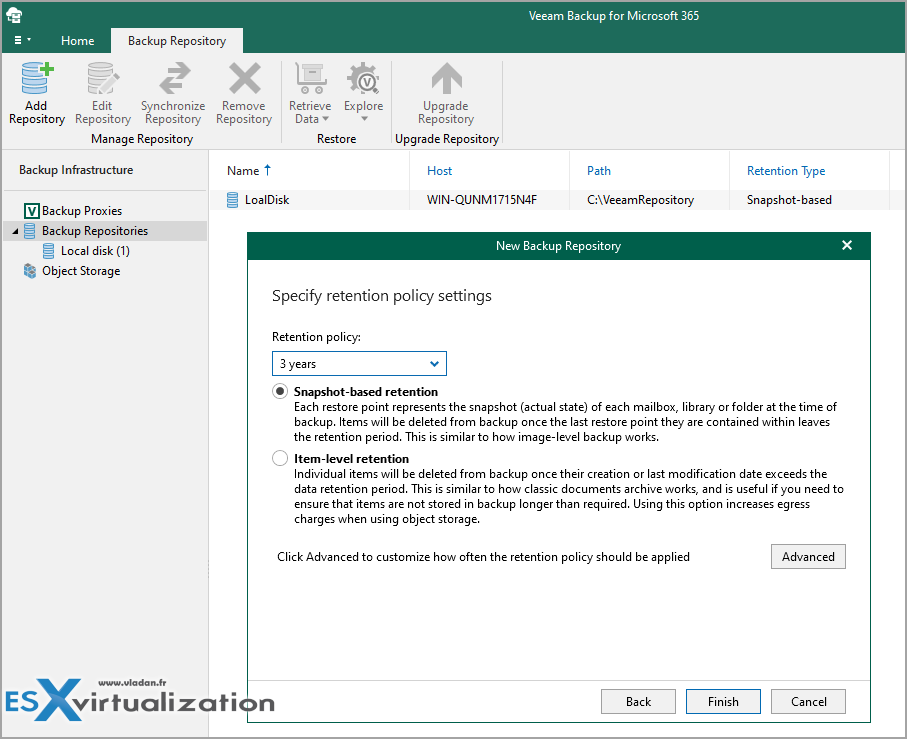 The other type of storage is object storage. Again, a wizard driven UI when you right-click on the Object storage object on the left. You can see that there are 5 different possibilities to create object storage repo:
S3 compatible
Amazon S3
Microsoft Azure Blob storage
IBM cloud Object Storage
Wasabi Cloud Storage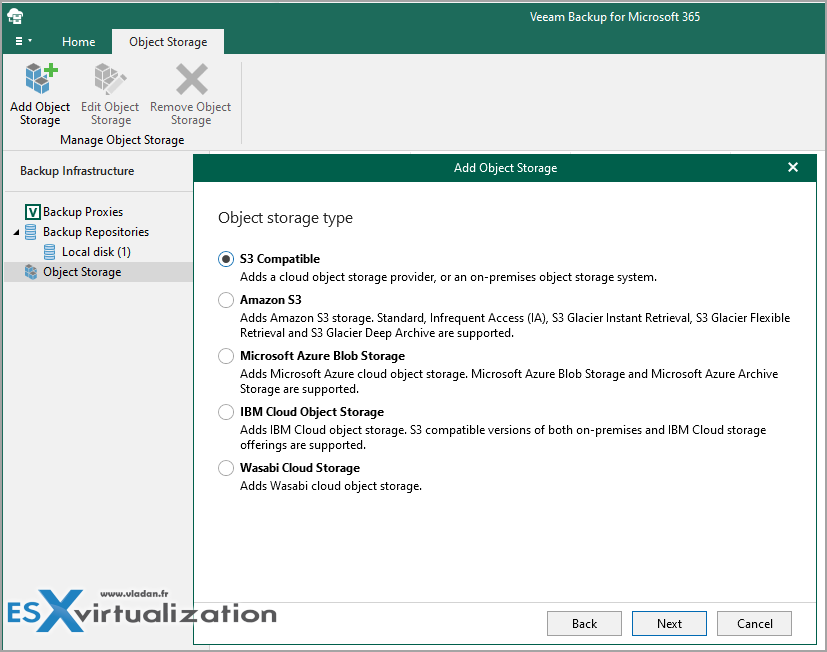 It's important to define ahead of time the number of days that those data will be immutable (undeletable), as nobody including you as an admin, won't be able to delete. Let's say you set this for 5 years, and you most likely run out of space on the repository because older backup will not be automatically deleted by newer ones and the repository, the bucket will just fills up quickly.
So the idea here is to set some reasonable number of days, let's say 1 week or 2 weeks, during which, those data are undeletable.
Backup to Object Storage
You can check out the latest addition to cloud object storage options on the support website here.
There are two different usage scenarios that you can do depending on your needs.
Keeping Backups – In this scenario, you extend a backup repository with any of the listed object storage except Azure Blob Storage Archive access tier and all Amazon S3 Glacier storage classes and target a backup job at such an extended repository. When performing a backup job, data will be compressed and backed up directly to object storage.
Storing Backup Copies – In this scenario, you extend a backup repository with any supported object storage and select such an extended repository as a target for a backup copy job.
The backup copy job can be executed immediately or during different time of the day. In the example below you can see the first options is active so once the main backup of the organization is done, it immediately starts the backup copy job.
NOTE: Backup copy capabilities are only available if you have specified an extended backup repository as a target for your backup jobs.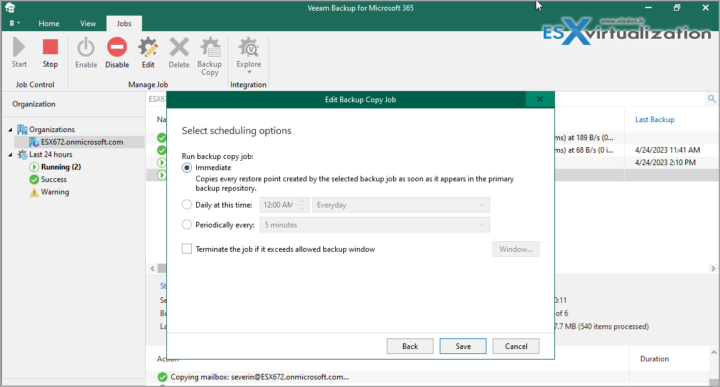 You can create the backup on the attached local/on-prem repository and then push the backup copy to a secondary location (Azure Archive tier, Wasabi, S3 or any other object storage).
Restore operations can be done via two ways:
Via Restore Portal – Perfect solution to ease the job of small IT admin groups that cannot handle the load of support tickets. It is a web based solution that offers two scenarios for data restore: self-service restore and operator restore. Please note that the self-service restore portal has being improved quite significantly in version 7 with the new addition of Microsoft Teams restore, point-in-time restore options and enhanced folder restoration in SharePoint and OneDrive. You can allow a delegated restore operators to orchestrate restores for teams and export posts without having to grant unnecessary elevated access to the Microsoft 365 environment or the backup server. To access the Microsoft Teams self-service restores, the user who connects as a restore operator must open a web browser to your company's configured restore portal.
Via Veeam Explorers – The Veeam Explorers are installed by default when you install the solution. By launching the Veeam Explorer you directly pick a latest restore point or you chose a date from which you want this object to be restored.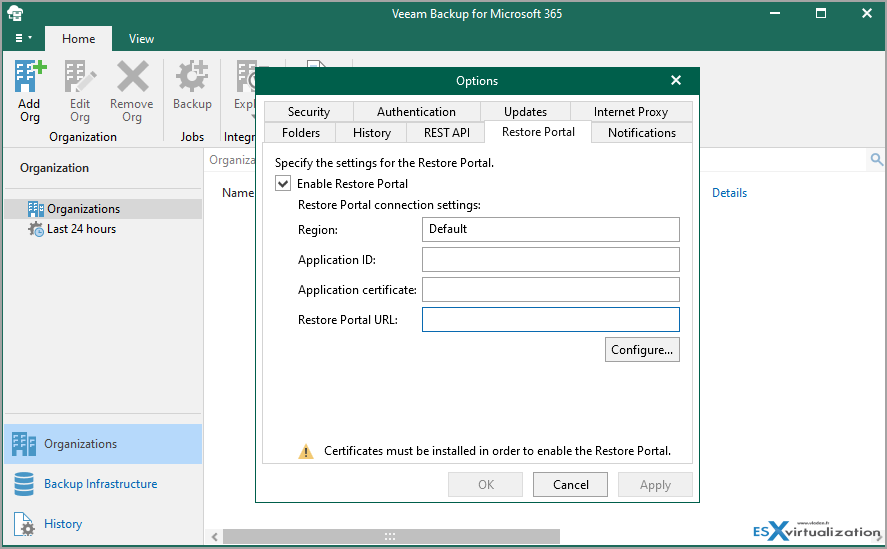 Restore Via Veeam Explorers
Veeam Explorers are used to restore objects from your backup files. You can chose between point-in-time or latest date. The latest date opens directly the Veeam Explorer for particular item.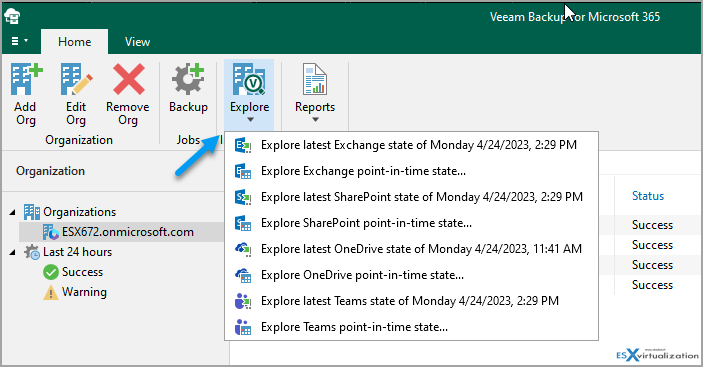 If you're Veeam Backup user, by now, you already know that Veeam Explorers has been around since a very long time. The different restore possibilities are clearly accessible through right-click menu. All exchange objects such as Calendar, contacts……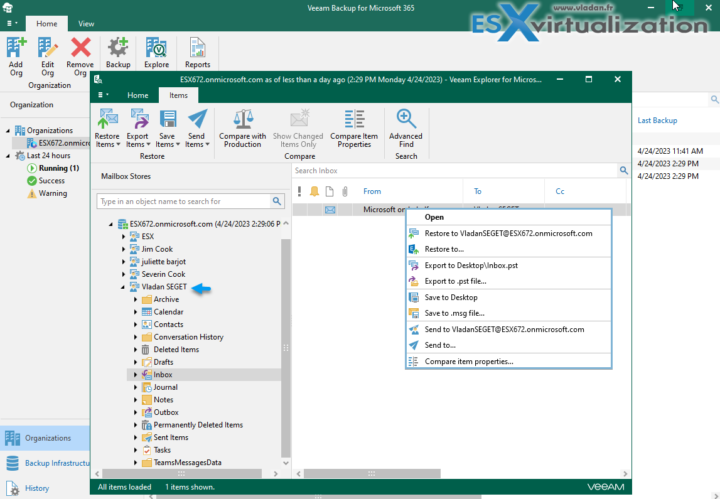 Performance
The UI is fast and responsive and there is no delay in execution. During my small test I had no issues or delays.
Veeam Backup for Microsoft 365 v7 is designed to provide efficient and fast backup and recovery operations for Microsoft 365 services. It uses the Veeam Explorer for Microsoft Exchange and SharePoint to ensure quick and easy granular recovery of data, reducing recovery time objectives (RTOs) significantly. The solution also provides fast backup speeds, thanks to its built-in change block tracking technology. This technology ensures that only the changed data is backed up, reducing backup windows and network bandwidth usage.
The product does executes incremental backups, after the first full backup. This makes sure that only the bits that has been changed since the last backup, are sent dot the backup repository.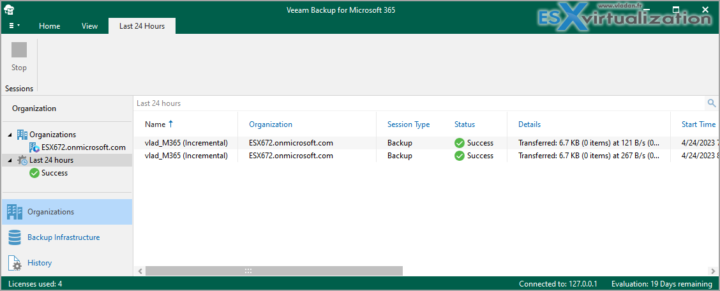 Usability
Veeam Backup for Microsoft 365 v7 is easy to install, configure, and use. It comes with a user-friendly interface that provides an intuitive backup and recovery process. Organizations can set up the backup job wizard quickly, and the solution provides a clear view of the backup status and job details. The solution's dashboard provides an easy-to-understand overview of the backup history, making it easy to track backup and recovery activities.
When you mount the ISO, you have different options to install. The installation process takes 5 min or less. The configuration process might take a bit longer as you need to add your backup repositories and cloud storage if you're using Object storage with the benefit of using immutability. If not, I'd highly recommend to do so! Also the setup of the backup portal which is a web-based portal that can save some significant amount of time of your admins as they can direct users to restore their deleted items by themselves.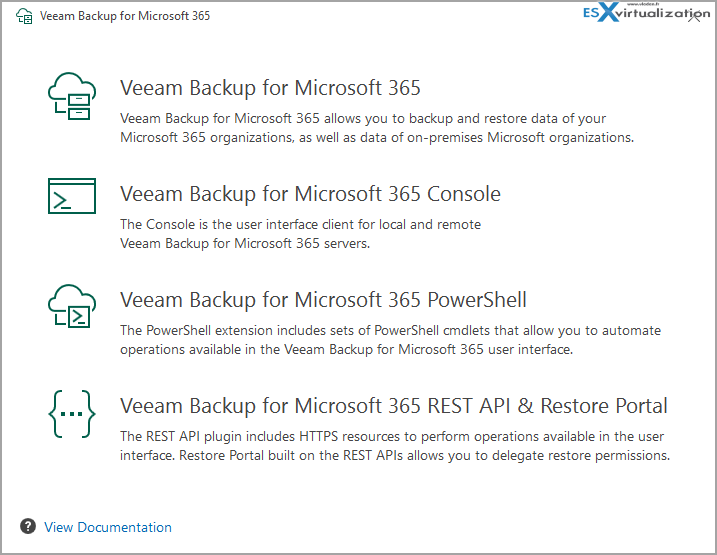 We won't go into much details about the initial configuration as this has been detailed in many posts and videos. I can highly recommend to watch this video from Karinne Bessette from Veeam that has done an excellent job walking you through the configuration steps, including the configuration of the restore portal (separate config). Definitely watch this video if you are blocked with some part of the configuration of your repositories or restore portal.
The solution also provides integration with Veeam Backup & Replication, allowing organizations to leverage a single console for managing their entire backup infrastructure, including Microsoft 365 services. The integration also allows organizations to extend their data protection beyond Microsoft 365 services to other platforms, such as virtual machines and cloud services.
Reporting
There are number of reports that are useful. You can show report by user or by mailbox (two different reports). Then you have a report showing the licensing consumption, and lastly, you have a report of storage consumption. Before executing the storage consumption report you can specify a date range for the reporting interval.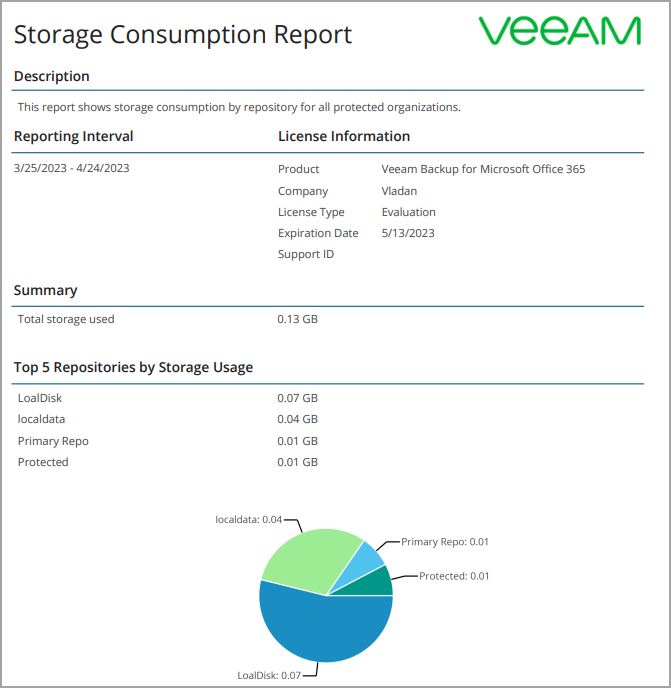 Suitability for Organizations
Veeam Backup for Microsoft 365 v7 is suitable for organizations of all sizes and industries that use Microsoft 365 services. Starting with very small businesses which can even benefit from FREE version covering up to 10 accounts. The Veeam Backup for Microsoft 365 v7 provides reliable data protection for critical data stored in Microsoft 365, reducing the risk of data loss due to various threats, such as accidental deletion, malware, or cyber attacks. The solution's flexible backup scheduling options and efficient recovery operations ensure that organizations can meet their recovery objectives and maintain business continuity in case of a disaster.
The solution's integration with Veeam Backup & Replication and VeeamONE and makes it an excellent choice for organizations that need to manage their entire backup infrastructure from a single console. The integration also enables organizations to extend their data protection beyond Microsoft 365 services to other platforms, making it a versatile solution for multi-platform environments.
Conclusion
Veeam Backup for Microsoft 365 v7 is an efficient and reliable backup solution for Microsoft 365 services. Its comprehensive set of features, fast performance, and ease of use make it an excellent choice for organizations of all sizes and industries that need to ensure data protection for their critical data stored in Microsoft 365.
Check Veeam Backup for Microsoft 365 v7 product page. With FREE community edition you can protect up to 10 users.
More about Veeam on ESX Virtualization Blog:
More posts from ESX Virtualization:
Stay tuned through RSS, and social media channels (Twitter, FB, YouTube)