As you might already noticed, since several years, StarWind has not only software products, but also selling hardware which is packaged directly with software. The StarWind VSAN appliances which I wrote about on this blog are known for a couple of years now, with their latest "SSD-Only" offerings align performance with reliability, but also with 24/7 support. In this post we'll have a look at their latest appliance called StarWind Backup Appliance (BA), which uses NVMe storage and offering blazing backup speeds and thus reducing backup windows.
That's the truth. Long time are gone where you could throw an old server hardware with spinning drives to do a job of your company backup server. With the high CPU loads and IOPS requirements, any modern backup server is now a beast. And it's for a good cause, because your backups can finish faster so your backup window is shorter. Imagine your backups taking 12+ hours normally, getting shrinked to 5-6 hours only. Time is a constraint in every company and if your backups can't be finished over night, you might have a look at this new StarWind Backup Appliance (BA) product.
StarWind Backup Appliance (BA) consist of a hardware and software. StarWind is a long time partner with Veeam, so as such, the backup product proposed within the hardware is Veeam Backup and Replication, which many users already know. The BA specs shows two base models, but they can be fully configurable. We'll have a look at this later in this post.
Quick quote from StarWind

Powered by NVMe storage, it completely removes the common backup repository performance bottleneck and the need to plan and fit into a specific backup window. Backups can now be performed at any time without impacting your applications and services.
StarWind Backup Appliance Bundle
You are able to request your desired hypervisor. The choice is between VMware vSphere (6.5 up to 7.0) or Microsoft Hyper-V (2016 up to 2022). As storage protocols, there are iSCSI, SMB3, NFSv4.1, NVMe-oF supported. The backup software is from Veeam Software, as mentioned above, where you can optionally have also Veeam One, which is a monitoring solution from Veeam.
The whole system is managed via StraWind Web UI with StarWind vCenter Plugin, and you also get StarWind Proactive Premium Support.
Backup, Restore and also Instant VM recovery with speed
Imagine your production VM with few TB of storage crashed, you need fast solution. Do an instant recovery of that VM directly from your NVMe storage! Your VM will power On instantly. Instant VM recovery helps improve recovery time objectives (RTO), minimize disruption and downtime of production workloads.
Technical Specification of StarWind Backup Appliance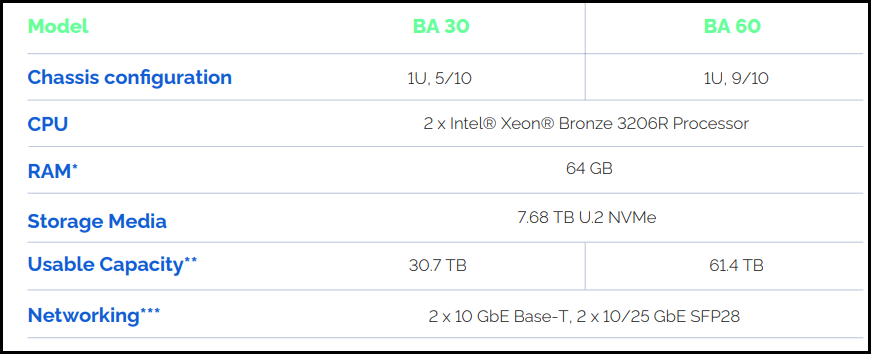 With the explosion of data which needs to be backed up, the need for fast backups and restores is rising. StarWind Backup Appliance (BA) is a solution for enterprises which needs All-in-one backup package including premium support. Check out the product page at StarWind here – StarWind Backup Appliance.
Recent StarWind news on ESX Virtualization:
More posts from ESX Virtualization:
Stay tuned through RSS, and social media channels (Twitter, FB, YouTube)