As I already detailed in our previous post about Nakivo Backup and Replication 10.10, the Real-time replication that has been released with this release, allows administrators to implement very low RTOs and RPOs. The technology uses I/O filters installed on each ESXi host within the cluster.
Quote:
Real-Time Replication (Beta) for VMware allows you to create replicas of VMware VMs and keep them updated with the source VMs as changes are made in real-time. If the source VMs go down, you can easily failover to the replicas with a few clicks.

In other words, you can achieve minimal data loss and maximum uptime with RPOs as low as 1 second and RTOs measured in minutes.
The Nakivo Backup and Replication V10.10 product is available for trial download.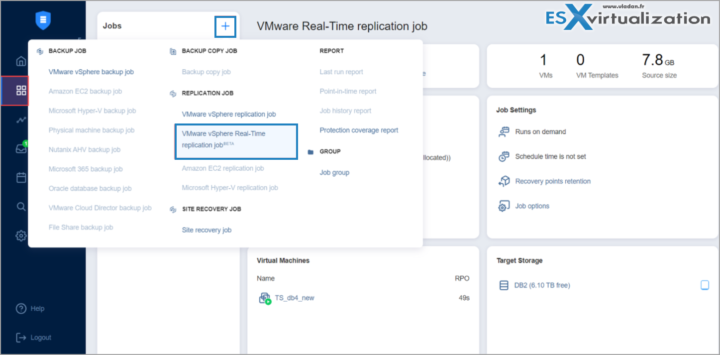 Real-time Replication –  NAKIVO 10.10 introduces real-time replication, allowing VMware administrators to achieve near-zero RPO by continuously replicating VMs to a target location. This means that even in the event of a system failure, you can recover data with minimal to no data loss, thus ensuring business continuity.
Improved RTO – With real-time replication, NAKIVO significantly improves RTO by reducing the time it takes to recover VMs. In the event of a failure, you can quickly failover to the replicated VMs, minimizing downtime and maintaining productivity.
Flexible Deployment – NAKIVO's real-time replication feature supports a variety of deployment options, including on-premises, offsite, or in the cloud. This flexibility allows VMware administrators to tailor their data protection strategy to their organization's specific needs.
Efficient Use of Resources – NAKIVO's real-time replication feature optimizes resource utilization by transferring only changed data blocks, reducing bandwidth and storage requirements. This efficiency ensures that your data protection strategy is cost-effective and scalable.
With Nakivo v10.10 you can perform real-time replication for VMware vSphere hosts. Unlike regular replication jobs, real-time replication jobs continuously copy data from the source VM as it is being generated. This allows you to perform a failover to replica with a recovery point objective in as little as 1 second, minimizing data loss.
Improvements in v10.10
Simplified the installation procedure of physical machine manual agent packages.
Trial downloads of Nakivo here.
More about Nakivo on ESX Virtualization
More posts from ESX Virtualization:
Stay tuned through RSS, and social media channels (Twitter, FB, YouTube)