Nakivo Backup and Replication 10.9 is currently in beta. You can download and test it by yourself by heading to this page. In addition, you'll receive a nice $30 Amazon eGift card when sharing some details with Nakivo support. This upcoming release of Nakivo Backup and Replication 10.9 will brings new features, such as Bare-metal recovery, Backup malware scan, direct recovery from tape or new vSphere 8.0 Update 1 support.
There is certainly more under the hood. For example, you'll be able to leverage and securely connect to remote resources of tenants, including VMware Free ESXi hosts, physical machines and NAS-based transporters. You'll also be able to do a cross-platform recovery and use site recovery via secure connection with simplified networking.
Go here to test the Nakivo Backup and Replication 10.9 Beta.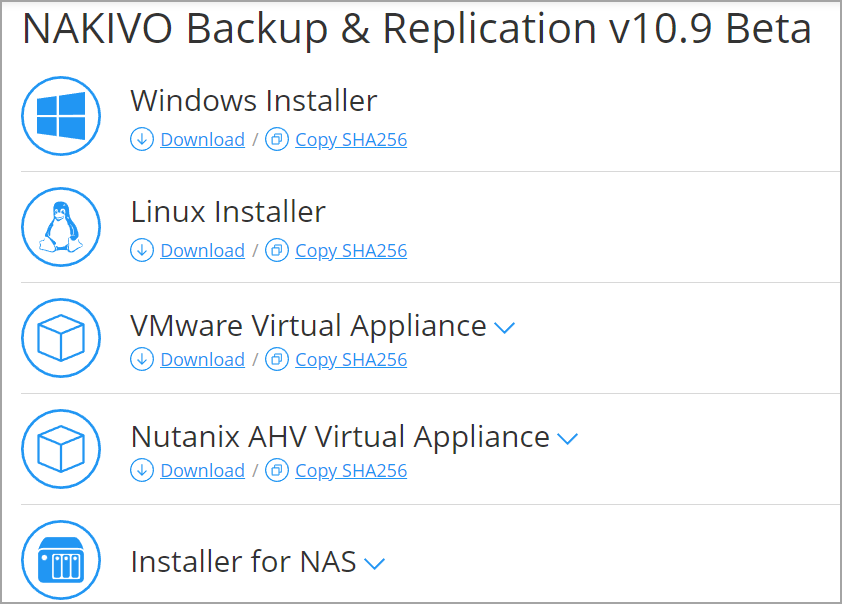 Here are all the new features:
(from the release notes)
Bare Metal Recovery – You can recover an entire Windows or Linux OS physical machine to "bare metal" on the same hardware using configured bootable media. This can be done with the help of bootable media, which can be created in the new Bootable Media Wizard. Bootable media can be used to boot a physical machine, connect to your instance of NAKIVO Backup & Replication, and recover the physical machine over the network using a backup in your repository.
Backup Malware Scan – NAKIVO Backup & Replication can use a supported antivirus software installed on a Repository Transporter or designated Scan Server to scan chosen backups during recovery and perform specified actions if malware is detected. Scan Servers may be added directly to the NAKIVO Backup & Replication inventory.
Recovery from Tape Backup – You can recover VMs and EC2 instances directly from tape backups.
Debian Support – Added support for Debian 10 and Debian 11.
External Database for Multi-Tenancy – Added the ability to use an external database for the NAKIVO Backup & Replication Director in multi-tenant deployments.
Expanded Direct Connect Functionality – In addition to the ability to discover remote vCenters and ESXi hosts, Direct Connect can now be used to discover Free ESXi hosts and physical machines (Windows and Linux OS). It is also possible to add and use standalone Transporters installed on NAS systems with Direct Connect.
Tape Capacity– Overhauled the Tape tab UI and added the ability to check tape cartridge capacity and free space in the Tape tab.
PST recovery for Exchange Server – Added the ability to export recovered Microsoft Exchange objects to .pst files.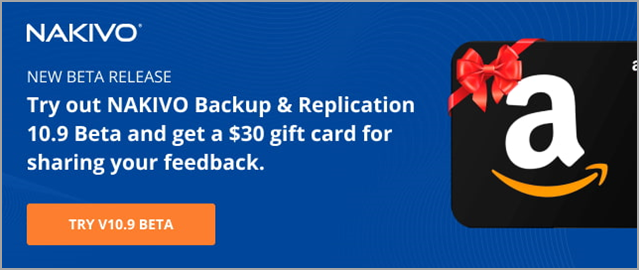 There are also many improvements from previous release:
Exchange Online Archive mailboxes, public folders, In-Place Hold items, and Litigation Hold items can now be selected for Microsoft 365 backup.
Users with only a Microsoft 365 Student SKU no longer require a paid NAKIVO Backup & Replication license.
Added the option to truncate Microsoft Exchange Server and SQL Server logs to the Nutanix AHV backup job wizard.
Added the ability to browse to a directory in the Destination step of the Hyper-V replication, recovery, and flash VM boot wizards.
ARM-based instance types may now be selected when deploying Amazon EC2 instances.
Reports can now display Vietnamese, Japanese, Korean, Chinese, Arabic, and US special characters.
SaaS repositories now display the space consumed by individual recovery points.
Lowered the minimum configurable block size for processing data to 4 KB.
Improved the UI refresh behavior for tables.
Go here to test the Nakivo Backup and Replication 10.9 Beta.
Link: Release notes
More about Nakivo on ESX Virtualization
More posts from ESX Virtualization:
Stay tuned through RSS, and social media channels (Twitter, FB, YouTube)