In the ever-evolving landscape of data protection, Nakivo Backup and Replication has established itself as a reliable and feature-rich solution. New version of Nakivo Backup and Replication 10.9 has been released. We have reported on the 10.9 beta already, but here are the latest news as the software vendor keeps adding new features that customers asking for.
The latest release of Nakivo has a possibility to scan your backup before restoring them into production, use bare metal recovery and recover a physical machine that has been corrupted or compromised (note only identical hardware works). Also, latest vSphere 8.0 U1 is fully supported by this backup and recovery product. There is more and we'll talk about it in this detailed blog post.
The product is evolving on regular basis and we usually cover every major release. Have a look at some of our older articles listed at the end of this post, covering Nakivo product. Nakivo can be installed pretty much on every platform (Linux, Windows, NAS, the cloud…) and it makes the product pretty flexible to work with.
Nakivo Backup and Replication 10.9 New Features
Bare-Metal Recovery – The ability to streamline and speed up the recovery of full physical machines is essential. Bare-metal recovery allows restoring an entire server or workstation from a backup to identical hardware without rebuilding the operating systems or reconfiguring application settings. The bare-metal recovery builds upon existing physical-to-virtual recovery functionality to give organizations flexible and fast recovery options.
The function works as follows. When you chose the Physical Machine Backup menu > Recover > Bootable Media, you will build an ISO file or Bootable USB stick allowing you to boot the server you want to restore.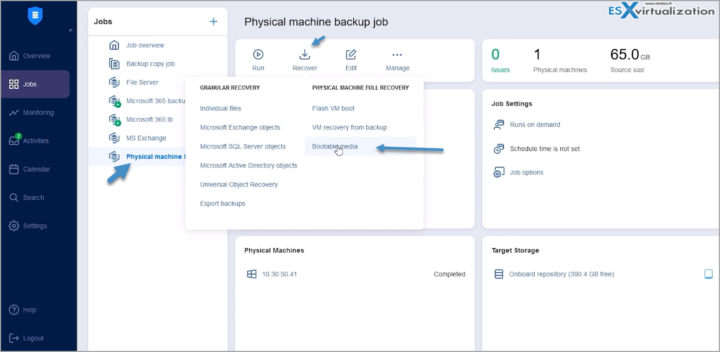 Once you have that ISO file or the USB stick created, you can boot the server and remotely start to recover. The boot process connects over the network, into your Nakivo backup server, you can then then pick the restore point to restore from, pick the hard drive destination to restore to and then the restore begins.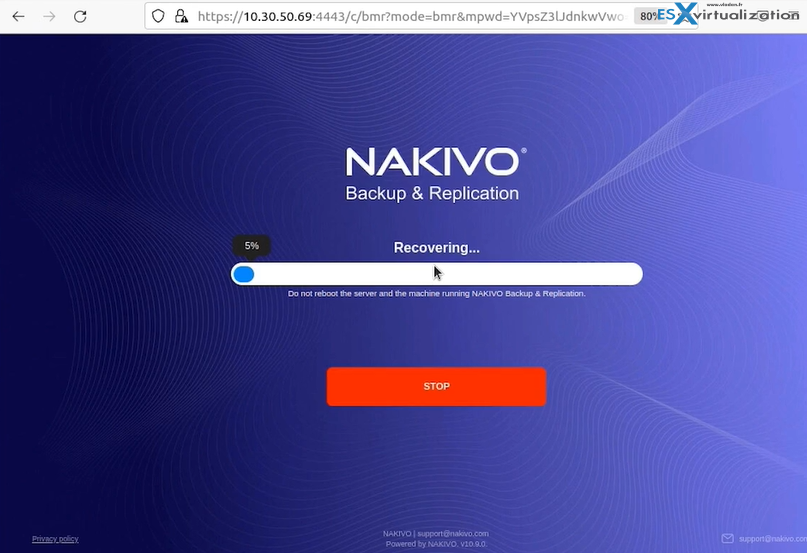 This allow you to:
Restore physical servers from backups to the same or identical hardware.
Eliminate the need to re-install operating systems and software.
Recover from incidents or roll back undesired changes/deletions made before.
Backup Malware Scan – As cybercriminals develop more accessible pathways to penetrate systems, businesses have to stay ahead by incorporating proactive defense measures. Version 10.9 extends the anti-ransomware capabilities of NAKIVO Backup & Replication with the Backup Malware Scan feature to help organizations ensure recovery of clean data. Customers can now integrate an external anti-malware software and scan backups for malicious code before using them for recovery. The new functionality can help organizations strengthen ransomware resilience and meet strict security requirements.
You can integrate external anti-malware scan depending on the solution you have already. Supported anti-malware software: Microsoft Windows Defender, ESET NOD32 Antivirus, Kaspersky Internet Security, Sophos Intercept X, Clam AV, Sophos Protection.
How to configure? Add your existing solution via the menu on the right as on the image below. Add your scan server solution via IP address.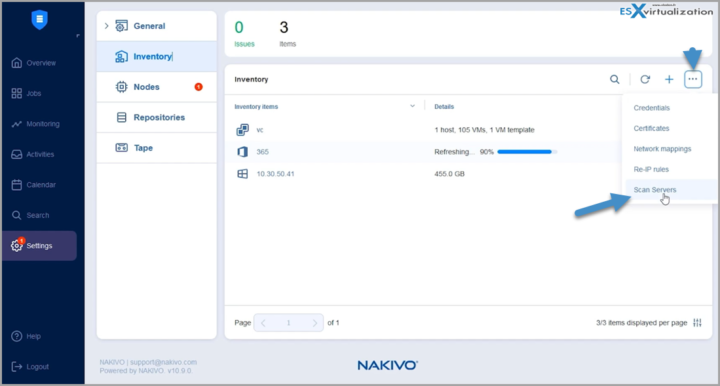 Then when you need to recover, make sure you enable the Malware Scan detection (by default is disabled) and specify your scan server which you just added.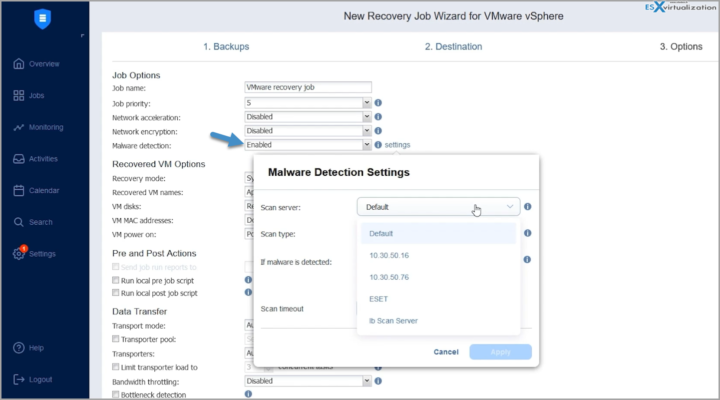 Direct Recovery from Tape – Now you have a possibility to recover directly from tape backups without intermediary staging repository. Yes. As tape media are universally recognized for its reliability and high cost-efficiency for backup data archival and long-term storage.
Starting from version 10.9, customers can perform fast recoveries with the new direct recovery from tape feature without using a staging repository first. They can recover full VMs, EC2 instances, and physical machines as VMware VMs from backups stored on tape media directly to their infrastructure, making tape backup cost-efficient and fast.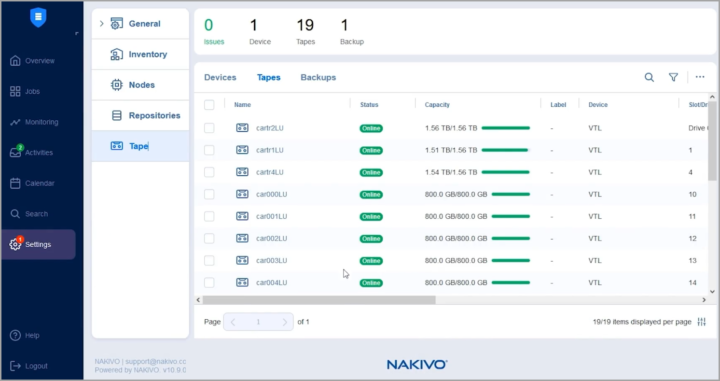 Support for New Platforms – VMware vSphere 8.0 U1 and Debian v10-11
Expanded Direct Connect Functionality – In addition to the ability to discover remote vCenters and ESXi hosts, Direct Connect can now be used to discover Free ESXi hosts and physical machines (Windows and Linux OS). It is also possible to add and use standalone Transporters installed on NAS systems with Direct Connect.
Final Words
Nakivo Backup and Replication 10.9 stands as a testament to the commitment of Nakivo in delivering powerful and comprehensive data protection solutions. With its enhanced VMware backup capabilities, improved Microsoft 365 backup functionality, flexible data recovery options, and advanced deployment and management features, Nakivo Backup and Replication 10.9 empowers organizations to optimize their backup and recovery processes while ensuring the security and availability of critical data.
More about Nakivo on ESX Virtualization
More posts from ESX Virtualization:
Stay tuned through RSS, and social media channels (Twitter, FB, YouTube)