Nakivo has just released a new beta which has an interesting functionality – a real-time replication. This is interesting as it allows you to reduce the RTO to a minimum. With traditional replication when setup let's say each half an hour or each hour, you obviously lose the last hour or last half hour of your work, but real-time? Minimum loss.
This Real-Time replication feature works only when you install a software module called I/O filter. The I/O Filter is a software module that installs into a cluster and allows intercepting and manipulating VM's I/O. In order to create and run a VMware Real-Time replication job, the source cluster(s) must have the I/O Filter tool installed.
Screenshot from Nakivo showing the new Job type called VMware vSphere Real-Time replication job.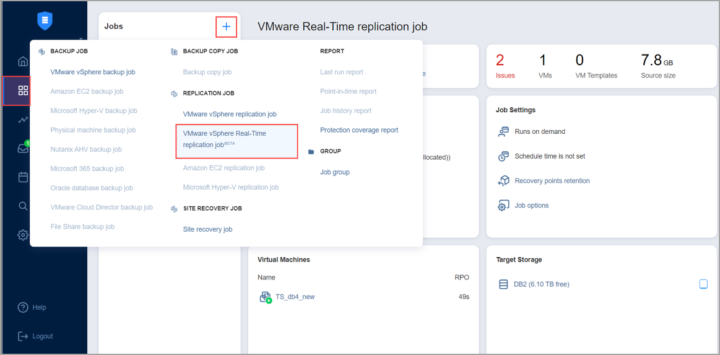 Before creating real-time VM replication jobs, make sure that you have installed the I/O Filter on the source host and the Journal Service on the target host.
What is a Journal Service?
Let's see what we can find about this on Nakivo's site, within the help center.
We can find the installation process within the Nakivo help center. There are quite a few steps to accomplish, starting the installation of the VMware ESXi VIB which is the actual I/O filter. By installing the VIB on your ESXi, you'll basically create an I/O filter daemon on each host within your cluster.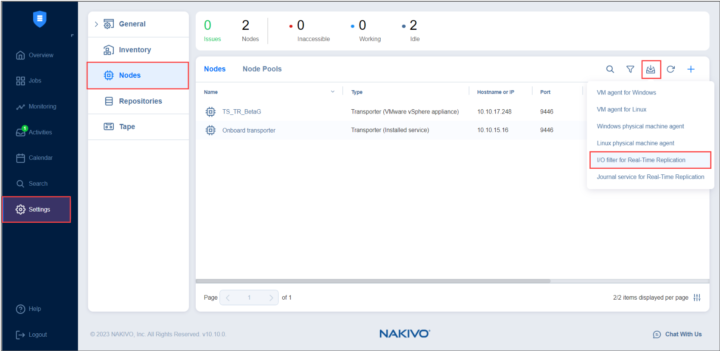 Then you'll have to create a new VM storage policy (nothing difficult, just follow the Nakivo Help Center page here).
Some notes:
Hosts need to be manually put into maintenance mode during the I/O Filter update.
The ESXi host's acceptance level must be set to a Community level. Therefore, only clusters using baselines are supported (no clusters using a single image are supported).
To check a host's acceptance level, select the host and navigate to Configure > System > Security Profile. The acceptance level is displayed under Host Image Profile Acceptance Level.
If you want to test this feature out, with the latest Nakivo Beta, there is also a removal procedure, for the I/O filters.
Quote:
By continuously copying changes from source VMware vSphere VMs as these changes are being made, Real-Time ReplicationBETA ensures that replica VMs at your secondary site are always up to date with an RPO as low as 1 second.
Join the Beta Program: Try Real-Time Replication
Want to try real-time replication? Join Nakivo v10.10 Beta Program, try the new Real-Time Replication for VMware functionality, and share your feedback with us to receive a $30 Amazon eGift Card.
Source: Nakivo 10.10 BETA
More about Nakivo on ESX Virtualization
More posts from ESX Virtualization:
Stay tuned through RSS, and social media channels (Twitter, FB, YouTube)