Nakivo Backup and Replication 10.8 is out and as I announced couple weeks earlier, the software now supports vSphere 8.0, but also adds some interesting new features that we'll talk about today. We'll talk about this in today's post. Nakivo has a lightweight and fast web-based UI that does not get slow like many web-based software solutions. The 10.8 brings also some interesting improvement, such as Job Merge, Job Priority, Improved backup retention (with possible switch to simplified wizard) and also New MSP console Improvements.
Nakivo software can be installed directly on bare metal server, in a VM, directly on selected NAS devices, supporting Windows and Linux OS.
Nakivo Backup and Replication 10.8 new features:
vSphere 8 Support
Nakivo Backup and Replication 10.8 is the latest version of the data protection software, and it comes packed with new features and support for the latest technologies. One of the most significant new features in this release is support for vSphere 8, the latest version of VMware's virtualization platform. Users can now protect their virtual machines running on vSphere 8 with the powerful data protection features of Nakivo Backup and Replication. This includes full and incremental backups, replication, and recovery of virtual machines, as well as advanced features like application-aware processing and object storage support.
S3-Compatible Object Storage Support
Nakivo Backup & Replication v10.8 now supports S3-compatible object storage, making it easy for businesses to store and manage their backups in a highly scalable and cost-effective manner. With this new feature, users can now create backups of their virtual machines, physical servers, and workstations directly to S3-compatible object storage, such as AWS S3, Wasabi, Minio, and more. This eliminates the need for expensive and complex storage solutions, and allows for easy scalability as storage needs grow.
The integration of S3-compatible object storage also allows for enhanced data protection and disaster recovery capabilities. Backups stored in object storage can be easily replicated to a different location, providing an additional layer of protection against data loss due to hardware failure or natural disasters.
In addition, S3-compatible object storage supports versioning, which means that multiple versions of a backup can be stored and easily retrieved in case of data corruption or accidental deletion.
Backups with Agents
Another feature which is useful is the ability to create backups of virtual machines running on vSphere 8 using the Nakivo Backup and Replication Agent. This agent is a lightweight software component that runs directly on the virtual machine and communicates with the Nakivo Backup and Replication server to create backups. This feature is especially useful for protecting virtual machines that are running on remote sites or in the cloud, as it eliminates the need for a separate backup server. This feature has been designed for physical systems, but works the same way for VMs. The backup files are created and managed by Nakivo Backup server from a single central location.
User Interface Improvements
Nakivo Backup and Replication 10.8 includes enhancements to the user interface and reporting features. The user interface has been redesigned to make it more intuitive and user-friendly, and the reporting features have been improved to provide more detailed and accurate information about backups and replicas. This makes it easier for administrators to monitor the status of their backups and replicas, and to identify and resolve any issues that may arise.
In addition to these new features, Nakivo Backup and Replication 10.8 also includes a number of other enhancements and bug fixes. This includes improved performance, better scalability, and support for new platforms and technologies.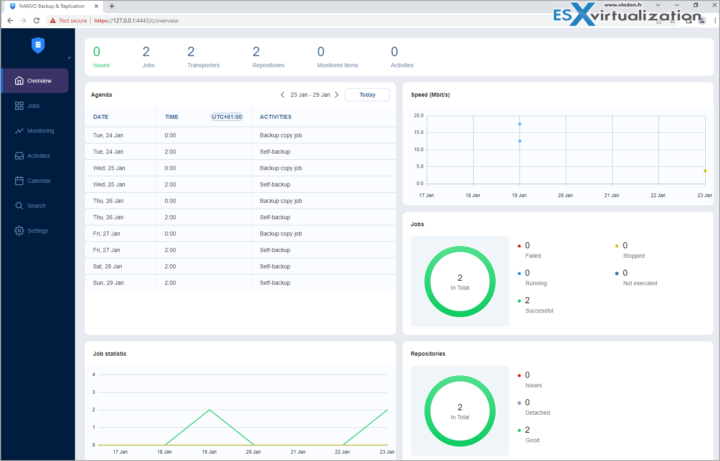 Direct Recovery from Tape
Now you can restore directly from tape instead of restoring to staging repository first. Faster workflow then.
Job Schedule Wizard and backup retention now with 1-step
new simplified wizard for configuring job schedules and retention settings in one step and in a single view. You can specify retention settings for each schedule within a backup or replication job and set expiration dates for recovery points for more granular control.
Job Priority
Really good this one. You can set the priority level for critical backup jobs to be processed first in the queue and ensure they are completed on time. Jobs will be assigned the lowest priority level (5) by default. You can then assign priority levels 1–5 to ensure that high-priority jobs (level 1) get the solution resources they need as soon as they become available to be processed first.
Job Merge
In 10.8 version, you can merge jobs of the same type into a single job to streamline backup management and spend less time on routine tasks.
MSP console improvements
You can now add also standalone instances of Nakivo to the multi-tenant instance as remote tenants. You can now monitor and manage all tenants – both remote and local – and from the same dashboard. Once added to the solution, a remote deployment is just another tenant, and you gain easy access to their data protection activities and infrastructure components.
In conclusion, Nakivo Backup and Replication 10.8 is a powerful and feature-rich data protection software that provides comprehensive protection for virtual machines running on vSphere 8. With support for vSphere 8's new storage features, the ability to create backups using the Nakivo Backup and Replication Agent, and enhancements to the user interface and reporting features, this release makes it easier than ever for administrators to protect their virtual machines and ensure the availability of their data.
Overall, the integration of S3-compatible object storage in Nakivo Backup & Replication v10.8 provides businesses with a cost-effective, scalable, and secure solution for storing and managing their backups. It also enables them to take advantage of the many benefits of object storage, such as versioning, easy scalability, and enhanced disaster recovery capabilities.
Link: Nakivo.com
More about Nakivo on ESX Virtualization
More posts from ESX Virtualization:
Stay tuned through RSS, and social media channels (Twitter, FB, YouTube)