As you know, your backup window is not something you can play too much with. You have limited time to execute your backup after office hours. Backups usually takes place after business hours as the next morning your data will be changed again by workers that come to work, right? So if your dataset starting to exceed the time limit you have fixed to yourself, and you no longer manage to create an incremental backup during the backup window, you don't have many options, just speed up your backups and use the latest technologies. One of those devices can be this Backup Appliance from StarWind.
With technologies like NVMe, your backups will fly. As the restores. Your old SAS/SATA drives won't cut it any more. NVMe is the future present. You need the fastest storage possible for backups, restores, and for isolated environments for testing if your restore points are clean from ransomware! Your first backup tier should be blazing fast and on-site, your second tier can be slower, on remote site, and the third tier should be in a remote cloud storage.
Backup vendors now integrate to test workloads before restoring them into production. Veeam has vPower, as you know, where you can spin-up group of VMs on an NFS datastore, and see whether they're clean, check the services, and then, decide to move them into production.
The Backup Appliance from StarWind is greatly hardware optimized, especially by using GRAID hardware RAID card for managing those NVMe devices.
GRAID delivers sophisticated software-composed data protection that offers exceptional features and ROI for IOPS-demanding workloads. One GRAID SupremeRAID™ card can easily manage 32 direct-attached NVMe SSDs, as well as deliver 16 million IOPS and 110GB/s throughput (coupled with 3rd Gen Intel® Xeon® Scalable CPUs, featured in StarWind). Being NVMe-oF-based, no performance is lost over the network. GRAID also takes RAID computation fully onto itself, so all your compute is dedicated only to your applications.
Note that the Supreme RAID card is a GPU based RAID device.
"While most of the all-flash array vendors in the market only deliver up to 1.5M IOPS, SupremeRAID™ makes 19M IOPS possible with a single card."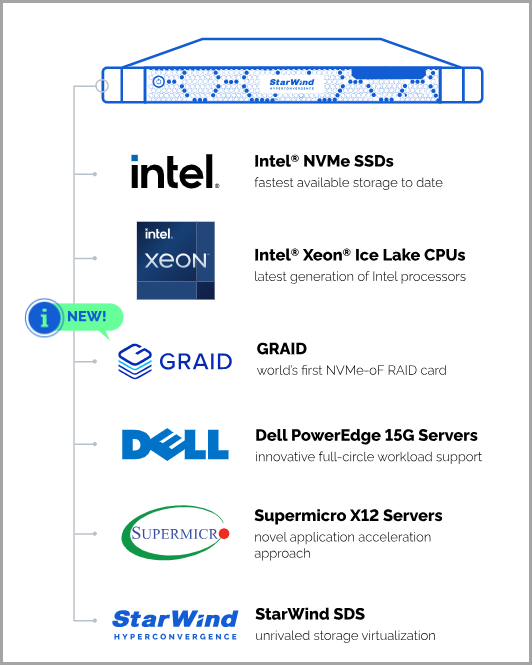 Backup infrastructure can be faster than primary storage!
Quote:
All-NVMe design, along with StarWind-native NVMe-oF Initiator, makes backup infrastructure faster than primary storage, enabling lightning-fast backup and restore.
This backup appliance from StarWind has latest hardware underneath:
Intel® NVMe SSDs and Intel® Xeon® CPUs, which allows reaching incredible levels of speed. Everything is enabled to function smoothly, like clockwork, thanks to the inclusion of StarWind SDS.
When fighting the battle with ransomware, your backup infrastructure must have the best performance possible, otherwise you won't fight with an optimized tools.
GRAID — the latest NVMe-oF-based RAID technology — is now part of StarWind Backup Appliance.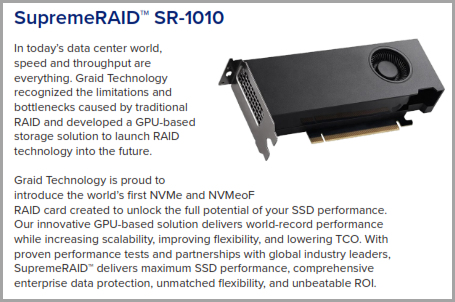 GRAID liberates CPUs from RAID load, freeing up the otherwise burdened compute to ensure the smoothest data protection and performance of any applications, even the most IOPS-hungry ones. GRAID has shown an astounding 16M IOPS and 110 GB/s throughput in a configuration of RAID5 with 3rd Gen Intel® Xeon Scalable Platform. StarWind Backup Appliance incorporates all those components, so you can expect the same fully future-proof functionality for your systems.
StarWind Backup Appliance Supported Hypervisors:
Microsoft Hyper-V 2016, 2019, 2022; VMware vSphere 6.5, 6.7, 7.0; configurable with any other industry- standard hypervisor
The backup appliance from StarWind works hand in hand with Veeam Backup and Replication. StarWind performance and monitoring dashboard uses web UI, but there is also StarWind vCenter plugin and obviously when buying such a product you have a StarWind ProActive Premium Support.
I think that it is worth checking this Backup Appliance from StarWind and have a look a some of the latest NVMe based device with top speed.
More posts about StarWind on ESX Virtualization:
More posts from ESX Virtualization:
Stay tuned through RSS, and social media channels (Twitter, FB, YouTube)