StarWind has released a new build of StarWind VSAN for Hyper-V recently. The latest release has ironed few bugs and brought some performance optimizations for Hyper-V environments.
If you're new to StarWind VSAN, you should know that it is a cost-effective hyper convergent solution (HCI) to run virtualization workloads. The solution is able to adapt to different environments, but its main advantage over the competition is that it's supported on commodity hardware.
It allows you to create shared storage from local disks, from direct-attached storage (DAS), and provide fault tolerance by 2-Way or 3-way replication to other nodes of the Hyper-V cluster. The software "mirrors" internal storage between hypervisor servers to create a fault-tolerant shared storage pool. So you don't have to buy an additional hardware device that would provide you with shared storage.
You can build a very cheap environment (for ROBO) for example, that only needs 2-nodes to be fully tolerant. Unlike other solutions, StarWind only needs 2-nodes. No third node is necessary as StarWind uses a heartbeat to avoid split-brain situations.
By configuring heartbeat, you avoid so-called "split-brain", situations when the HA cluster nodes are unable to synchronize but continue to accept write commands from the initiators. With StarWind Heartbeat technology, if the synchronization channel fails, StarWind attempts to ping the partner nodes using the provided heartbeat links. If the partner nodes do not respond, StarWind assumes that they are offline. In this case, StarWind marks the other nodes as not synchronized, and all HA devices on the node flush the write cache to the disk to preserve data integrity in case the node goes out of service unexpectedly.
Download Free Trial of StarWind VSAN Here.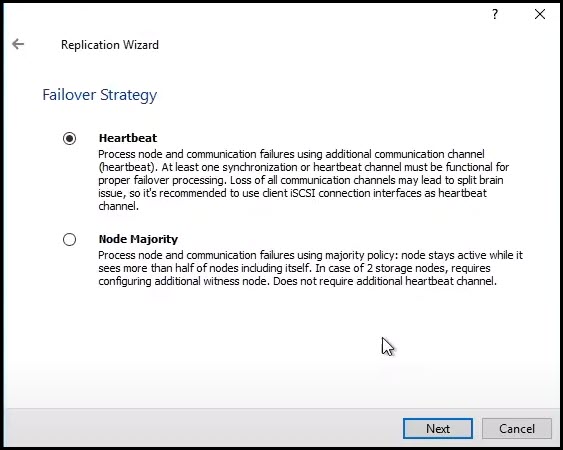 If the heartbeat ping is successful, StarWind blocks the nodes with the lower priority until the synchronization channels are re-established. This is done by designating node priorities. These priorities are used only in case of a synchronization channel failure and are configured automatically during the HA device creation.
Fixes and updates from the latest release notes:
Fixed the issue with hang-up on service stopping. On service stop, it could get stuck on the device closing in configurations with parameter "QueueWorkersCount" value more than 1.
Fixed the issue with hang-up on service stopping. In some cases, the service could not close the client connection gracefully. Now, the service closes it forcibly.
Fixed the issue with hang-up operations on the underlying storage. Some RAID could produce hang-up operations that would never complete. Now, the service completes such operations with timeout as a workaround. The timeout default value is 60 seconds.
Fixed the crash for client session closing.
Fixed the issue when email notification could cause HA device timeouts and failure of the network connection between partners.
Fixed the issue for STARTTLS authentication on SMTP — compatibility issues with some servers.
Performance optimization for the VSA-based version.
Screenshot from the Windows Console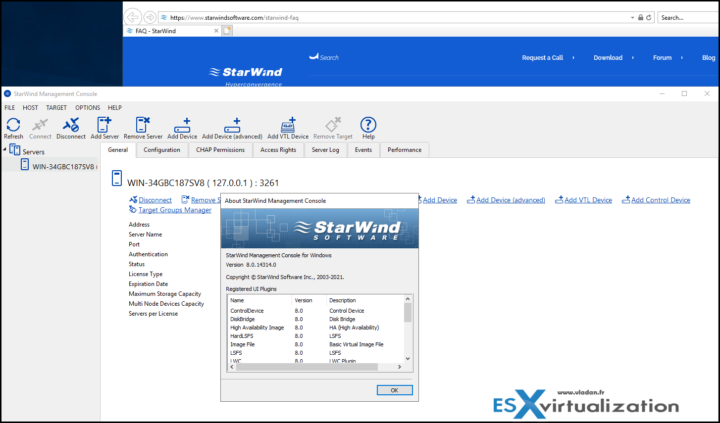 Management Console
Fixed control connection issues and improved logging and diagnostics abilities.
Fixed the issue with service events flooding.
Fixed minor issues in device creation wizards and dialogs.
StarWindX PowerShell Module
Fixed the issue with size conversion during RAM device creation.
Some Tips articles
Download Free Trial of StarWind VSAN Here.
Recent StarWind news on ESX Virtualization:
More posts from ESX Virtualization:
Stay tuned through RSS, and social media channels (Twitter, FB, YouTube)