Every admin is trying to stay resilient with hardware within their data center. Whether you're a data center admin or an admin of a small IT shop, non-gov organization or foundation. You want to be able to tolerate the possible failure of the hardware you're using. In order to do that, you're basically making your infrastructure redundant.
You buy two storage switches, two SAN devices, two hosts…. but what If I told you that you don't have to do that like that and that by using StarWind VSAN, all you need is two hosts and have a resilient minimalistic cluster which is enough. In fact, a 2-node StarWind VSAN does not even need switches that connect those two nodes. You can double the redundancy via internal NIC cards and have redundant networking connections.
"Keep it simple" (KISS) is often the best strategy. The beauty of the design is the fact that you save on hardware while keeping the functionalities, and the resiliency. High Available (HA) cluster can be used with underlying hypervisors from Microsoft, VMware or Xen. Perfect for ROBO. For VMware vSphere HA you need at least two hosts. For StarWind VSAN you also need only two hosts.  Here is what this architecture looks like, from high level perspective.
When used with VMware vSphere, the HA needs shared storage that StarWind provides with VSAN. That's where the VMs live. The storage is a simple mirror that replicates the changes done by the VMs. If one part of the mirror breaks (the server node goes down), the other node which is still active, keeps running the VMs that were running there before the other node went down. Obviously, vSphere HA will restart the VMs from the failed node onto the surviving node and you have to make sure to keep enough resources! If not, your VMs won't be restarted.
To Read:
VMware vSphere high availability (HA) is able to protect virtual machines (VMs) during hardware failures. If you have a VMware vSphere cluster configured and you activate HA, then if any of your hosts have a hardware problem, the VMs running on that host will be restarted automatically on the remaining hosts in the cluster. (if your cluster has only two hosts, your VMs will be restarted on the remaining host). vSphere HA can also protect against application failure by continuously monitoring a virtual machine and resetting it in the event a failure is detected.
You can use the default (preferred), which is the Cluster resource percentage. This option determines the percentage of resources available on each host.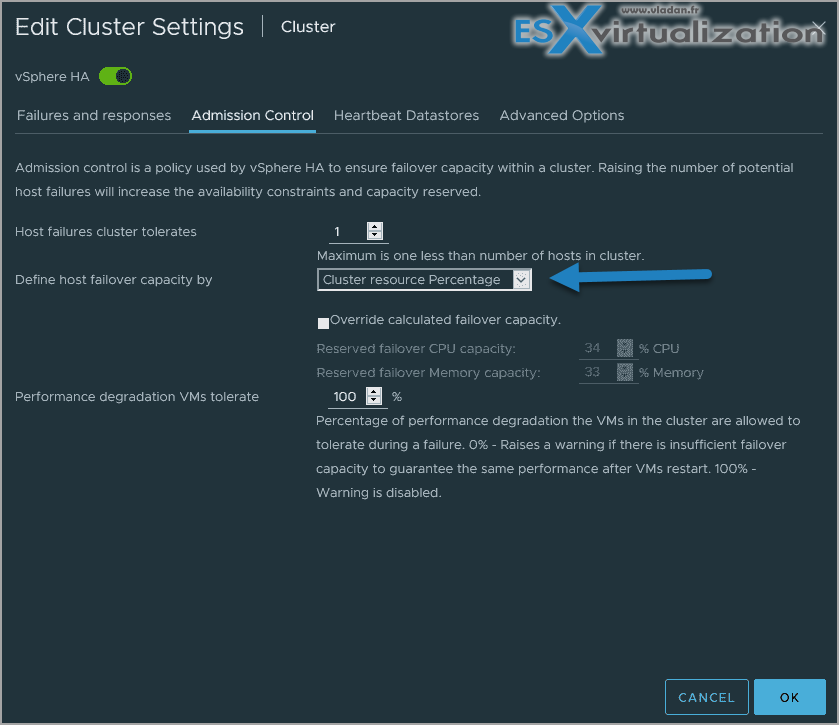 vSphere high availability (HA) host failures
Failure—The host stops functioning. This can be a power supply, motherboard or CPU problem, or the host has a purple screen of death (PSOD).
Isolation—The host becomes isolated from the network. In this case, the host is running but cannot communicate with other hosts. vSphere HA has detected this because the datastore heartbeat is working.
Partition—The host loses network connectivity with the primary host but is still connected to other secondary hosts.
StarWind VSAN is part of Hyper-converged infrastructure (HCI) solutions that rule this market.
Definition:
Hyperconverged infrastructure (HCI) solutions offer businesses the ability to virtualize storage, servers, and their connecting networks. Unlike converged infrastructure, hyperconverged infrastructure leans into software definition as opposed to hardware definition, enabling higher overall flexibility and better expense management over infrastructure use.

With HCI, businesses have greater capability to scale according to usage needs, and resources can be allotted more efficiently between virtualized functions. Hyperconverged infrastructure facilitates more efficient databases, virtual computing like VDI, storage management, and more. Administration of HCI usually resides with data center teams, e.g., server admins or data center admins.
StarWind website here
More posts about StarWind on ESX Virtualization:
More posts from ESX Virtualization:
Stay tuned through RSS, and social media channels (Twitter, FB, YouTube)